Market Recap: The market moved slightly higher Tuesday as mixed data kept the market in check most of the day. On the positive side, consumer confidence reached 70, beating estimates for 62. The report echoed the comments of the Michigan Consumer Sentiment Index last week that consumers are overall feeling more confident about our economy. Yet, the market was weighed down in its excitement by a weaker than expected report on durable orders and Case-Shiller Home Prices Index.
The market just continues to move higher. Nothing is slowing us down, and the market is slowly increasing. That is the scary part of this rally...it's healthy. It's not jetting up 100+ points each day. Instead, it is a slow churn. It can last awhile and may not get derailed until something changes. Here are two stocks we like to continue to take advantage of the market's upward trend.

Right now, we are a big fan of CF Industries (NYSE:CF) and FedEx (NYSE:FDX). CF is amazing. It has increased 46% in the past 2.5 months and still has a PE below 9. The company should be trading at nearly $400 if it was fairly valued, and it has no reason not to be. They are a solid company with great growth, good margin expansion, and operate in agriculture, an industry with low risk. We believe this company should be added to long-term portfolios, and we like buying call spreads on them as they are headed much higher this year. Further, we like FDX. Despite playing second fiddle to UPS (NYSE:UPS), FedEx is a solid company that has a lot of potential. They are looking for a solid EPS increase of 60%+ with 10% increase in revenue. The company is worth $100 if they increase their EPS to 1.30+ and maintain a 16.5 PE. We like selling bull put spreads and going long them into mid-March.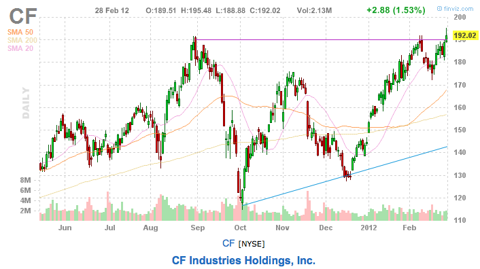 Tomorrow's Outlook:
We believe that the most important thing for tomorrow is economic data as well as developments over LTRO. We get the news on GDP Q4 Second Estimate. Further, we are getting crude inventories that will definitely be crucial to the next move on oil. More supply could hurt the prices of United States Oil (NYSEARCA:USO). At the same time, supply drops could confirm fears and help push oil to $110. We also will get Chicago PMI and the Fed's Beige Book. It is a busy day of data that all can move the market. Overseas, it is the end of LTRO, and how will the lack of free money affect the European markets. This news could keep the market in check tomorrow.
Oxen Group Moves:
We had a solid day here at The Oxen Group as we had were able to exit several positions for a profit. We were able to get out of Starbucks (NASDAQ:SBUX) long for a 1% gain. We also were able to get out of 1/2 of a Panera (NASDAQ:PNRA) bull put spread for an 8.5% gain that we got on the 135.130 strikes. Additionally, we added a short on HMS Holdings (NASDAQ:HMSY) and a long on FedEx with sold 85/82.50 bull put spread. We also exited Joy Global (NYSE:JOY) for even.
We have the following positions. In our Short-Term Equity Portfolio we are long Marriott (NYSE:MAR) and short HMSY. In our Options Portfolio, we are long McDonald's (NYSE:MCD), Apple (NASDAQ:AAPL), Panera Bread , Bed, Bath, and Beyond (NASDAQ:BBBY), and Discover Financial (NYSE:DFS). We are short Amazon.com (NASDAQ:AMZN). In our Earnings Portfolio, we are long FDX, Priceline (NASDAQ:PCLN), Activision Blizzard (NASDAQ:ATVI), Monster Beverage (NASDAQ:MNST), and Joy Global.
Chart courtesy of finviz.com.
Disclosure: I am long MAR.