This is Part 3 of a series about constructing a pure alpha Japan-oriented portfolio. The series will touch on topics such as diversification, tactical vs. passive strategy, systematic risks, generating alpha on the short side, etc. We will also discuss current market trends, identify outperforming assets past and present, and explore how best to capitalize on these trades. I would also like to invite everyone to participate in the comments below, as I would like to include discussion as part of future articles.
Introduction
Japan's premier pension fund - the Government Pension Investment Fund, or GPIF - has come under intense public scrutiny and, of course, political posturing from Japan's barely-existent opposition party - the DPJ - for its recent losses that coincidentally occurred as the fund switched from its traditional all-domestic-bond portfolio to a more diversified asset mix. As expected, the political media has moved quickly to blame this shift in strategy for the fund's recent losses in an attempt to gain political leverage. And indeed, with the TOPIX and Nikkei 225 down 15.4% and 12.5% year-to-date respectively, it would seem the GPIF's shift into equities may have been poorly timed; however, the fund's long-term strategic outlook is highly striking, especially considering the fund's typically positive growth prospect bias and conservative passive allocation strategy.
| Asset Class | Unrealized Gains/Losses (billions of yen) |
| --- | --- |
| Domestic bonds | 2,009 |
| Domestic equities | -3,489 |
| International bonds | -660 |
| International equities | -3,245 |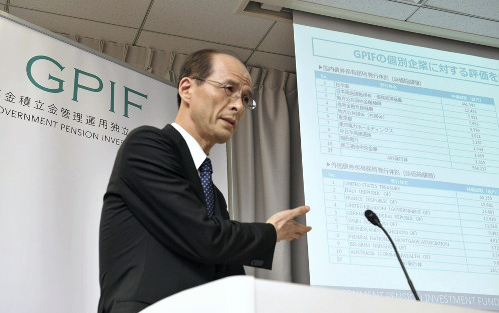 (Source: 読売新聞)
In October 2014, we revised our policy asset mix to a more diversified one, to achieve the investment return required for the public pension scheme... [the new policy] did result in considerable fluctuations in value over the short term, but the risks to our ability to secure the reserve needed over the long term have [actually] lessened...

-- GPIF President Norihiko Takahashi
July 24th, 2016: GPIF will disclose all pension management fund's holdings due to investment income deficit criticism
July 29th, 2016: Government pension fund lost over ¥5 trillion with stock market decline an influence
July 29th, 2016: GPIF President: "Fund must be operated with a long-term perspective"
In any case, thanks to this recent political backlash, the GPIF will now be disclosing all of its stock and bond holdings to the public! Now, of course, one must be prudent in examining how the GPIF manages its holdings, but - being aware of its certain biases and the principles of LDI (liability-driven investment) management - this information can give incredible insight into how the world's largest pension fund is allocating its resources to achieve stable returns in the long-term.
GPIF's Major Stock and Bond Holdings
Let's take a brief look at some of GPIF's major equity and bond holdings below.
As you can see, as I've noted previously in my research, similar to other funds in the Japanese mutual and unit trust environment, GPIF has had considerable exposure to (1) financials and (2) automakers - both very bad bets in 2015-2016. Financial equities suffered considerably because of the myriad of structural factors combined with monetary policy producing financially repressive conditions in Japan. And automakers suffered from a global slowdown in trade as well as numerous scandals regarding data rigging.
| Company | Market Value of Holdings (billions of yen) |
| --- | --- |
| Apple (NASDAQ:AAPL) | 603 |
| Exxon Mobil (NYSE:XOM) | 278 |
| Microsoft (NASDAQ:MSFT) | 277 |
You can also notice that GPIF seemingly tends to invest in equities by market capitalization regardless of any valuation metric. Akin to index investing, this kind of 'passive' asset allocation and market cap bias that pays no regard to management effectiveness, profitability, or trends is... less than optimal. Equity markets inevitably suffer from volatile corrections or simply longer periods of stagnation stemming from contractionary or deflationary macroeconomic conditions; this is not optimal for LDI schemes which require steady rates of return in order to pay their constituents and replenish their reserve bases.
| Country | Market Value of Holdings (billions of yen) |
| --- | --- |
| U.S. | 6,530 |
| Italy | 1,570 |
| France | 1,370 |
Regardless, this shows how GPIF decided to invest in equity markets... and perhaps why political opponents were quick to blame such decision for GPIF's losses. In reality, however, GPIF's losses may have more to with domestic bonds than meets the eye, even though such bonds managed to post a positive total return in 2015. Let's take a closer look.
GPIF's JGB Problem
Ever quick to direct a finger at anything perceived to be responsible for shortfalls at first glance, the media has overlooked a critical piece of information about GPIF's holdings: GPIF allocates most of its capital into domestic bonds not equities. Here is the policy asset mix below.
| Asset Class | Targeted Composition | Permissible Range of Deviation | Actual Composition* |
| --- | --- | --- | --- |
| Domestic bonds | 35% | ±10% | 37.76% |
| Domestic equities | 25% | ±9% | 23.35% |
| International bonds | 15% | ±4% | 13.50% |
| International equities | 25% | ±8% | 22.82% |
*As of Dec. 31st, 2015; 2.57% allocated into short-term assets
In fact, historically, Japan's major pension welfare service (which has undergone numerous name changes) has always been almost exclusively an all-domestic-bond portfolio; as close as mid-2012, GPIF still held nearly 70% of its assets in JGBs.
| Duration | Yield* |
| --- | --- |
| 2-yr | -0.18% |
| 5-yr | -0.17% |
| 10-yr | -0.08% |
| 30-yr | 0.32% |
*As of Aug. 2nd, 2016
Now, from a total return perspective, with the Japan Total Sovereign Bond Index up ~7.38% YoY, it may appear that domestic bonds have 'performed' better; however, in reality, those 'returns' are derived entirely from capital appreciation not yield, which is critical for LDI schemes.
Yield not capital appreciation is key for LDI schemes because they need that consistent income; it does not matter that the price of the bond has risen because selling the asset would be counter-productive. In any case, GPIF would have no one to sell the bonds to, because the actual public JGB market has been dead for some years, and not even the largest financial institutions want to participate in the market anymore.
This is GPIF's critical problem - that it still holds over 35% of its assets in these non-performing virtually-worthless JGBs. The recent underperformance of GPIF's new equity strategy is insignificant compared to the fund's overarching bond problem, especially since not only are JGBs returning negative yields but as are Eurozone sovereign bonds and some Euro-area investment grade corporate bonds.
It's telling that GPIF is desperately trying to quickly offload its bond holdings and increase its exposure to equities even though GPIF is aware that equities naturally have greater standard deviations and greater correlation with the international market environment (i.e. more volatility).
| Asset Class | Standard Deviation (%)* |
| --- | --- |
| Domestic bonds | 4.20 |
| Domestic equities | 25.23 |
| International bonds | 11.82 |
| International equities | 26.78 |
*Using data over past 20 years
| | Domestic bonds | Domestic equities | International bonds | International equities |
| --- | --- | --- | --- | --- |
| Domestic bonds | 1.00 | - | - | - |
| Domestic equities | -0.23 | 1.00 | - | - |
| International bonds | -0.04 | 0.06 | 1.00 | - |
| International equities | -0.09 | 0.66 | 0.55 | 1.00 |
Expectations for the Future
Let's dig a little deeper and look at some of GPIF's more complex calculations as well as its outlook for the future. It's important to note that the fund (as of this recent review) is assuming an investment horizon of 25 years. So, when we talk of concepts such as long-term equilibrium interest rates (e.g. natural rate of interest) or the inflation rate, this is the time span GPIF is assuming.
Compared with October 2014, in this periodic review, with regard to real long-term interest rates (equilibrium interest rates) in the future, we maintained 2.7% for Upside Scenario but lowered to 1.5% for Downside Scenario based on the Actuarial Valuation as implied interest rates declined. We assumed a 1.2% inflation rate for Upside Scenario and 0.8% for Downside Scenario. The expected returns of domestic bonds declined in every scenario with long-term interest rates falling recently and we changed the path of interest rates to the equilibrium level.

We used the same risk premium for domestic equities for Upside Scenario, but used a lower one for Downside Scenario in accordance with falling level of equilibrium interest rates. Although the latest data suggest higher risk premium of international bonds and equities, we also conservatively maintained the lower risk premium observed in October 2014, when we formulated the current PAM.
Now, keeping in mind that an equilibrium interest rate is the nominal interest rate minus the rate of inflation, let's examine what GPIF is saying here. GPIF has noted that its expectations for the equilibrium rate - 1.5 - 2.7% - has had to be consistently lowered. Seeing as GPIF has also provided us with its expectation for the average inflation rate over the next 25 years - 0.8 - 1.2% - we can imply only one scenario using the equilibrium and inflation rates: that GPIF expects the nominal interest rate over the next 25 years to be 2.3% to 3.9%.
Think about this for a second. Essentially, GPIF, which has a considerable bias towards expecting government stimulus to be successful, expects interest rates (whether real or nominal) to be considerably low over the next two decades and, as such, has had to consistently lower its expectations of returns for domestic bonds. Now, of course, anyone with common sense could tell you, "Of course, if the BoJ is targeting zero-bound even negative interest rates, then domestic bond returns are going to be subdued if not negative as well."
| | Domestic bonds | Domestic equities | International bonds | International equities | Short-term assets |
| --- | --- | --- | --- | --- | --- |
| Upside Scenario (%) | -0.4 | 3.2 | 1.4 | 4.0 | -1.6 |
| Downside Scenario (%) | -0.4 | 2.8 | 1.7 | 4.3 | -1.1 |
But, what is most striking is that what GPIF is implying is that Japan will likely continue to face deflationary, slow-growth, stagnant conditions that will keep inflation below the target rate of 2% for the next 25 years. Even the government pension fund knows that the sacred target rate is impossible to reach. (Although, recently, finally some official from the BoJ admitted that the rate target was unrealistic and would have to be officially cut by 2017.) If GPIF, which as I've said before has a considerable positive bias, is expecting conditions to be so dismal, than what does that say about my or your own Japan expectations?
Real Return
Nominal Return
Standard Deviation
Lower Partial Probability
Expected Shortfall (Normal Distribution)
Expected Shortfall (Empirical Distribution)
GPIF Total Expected Return Profile
Upside Scenario (%)
1.87
4.57
12.39
43.90
9.13
10.81
Downside Scenario (%)
1.89
3.79
All-Domestic Bond Portfolio
Upside Scenario (%)
-0.40
2.30
4.20
53.76
3.53
4.10
Downside Scenario (%)
-0.40
1.50
Upside Scenario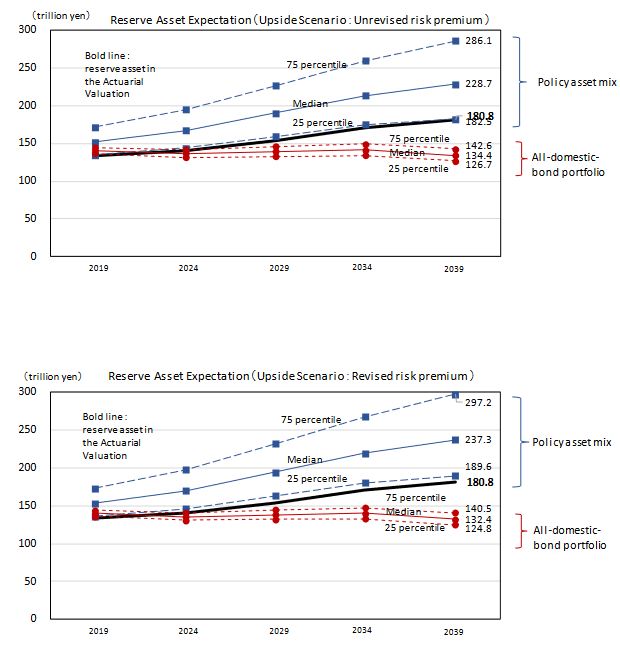 Downside Scenario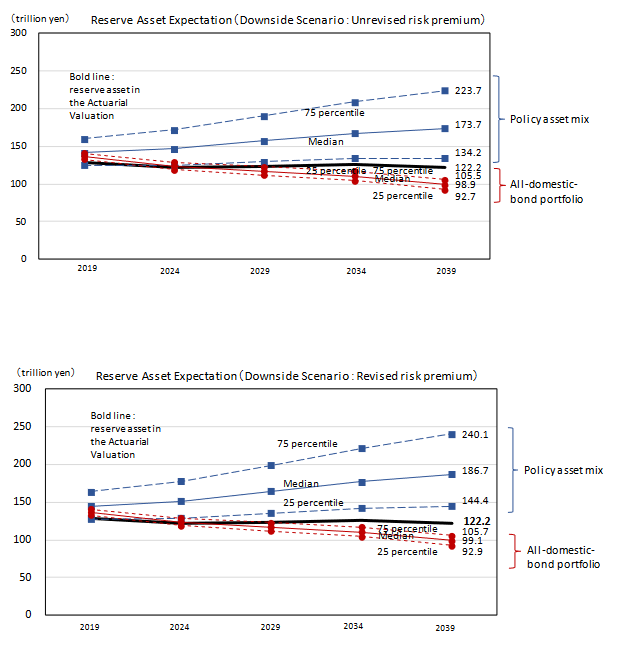 Conclusion
Of course, all of this pertains mostly to liability-driven investment strategy and for pure alpha investors who hedge against such economic conditions or seek to "stock pick", much of this is meaningless. But, it is still very interesting to see how expectations in Japan even amongst those in the highest echelons of monetary and fiscal management have fallen apart even after so much effort in stimulus. It truly begs the question of whether or not such actions in the name of stability are actually effective at such; if we measure by capital flows, then Japan has certainly failed.
Regardless, this tells us that there will be considerable flows into Japanese equities in the coming years, which, along with other major international pension funds escaping their domestic bond environments, could help sustain the high valuations we have been seeing in the equities markets and propel equities even higher.
Relevant ETFs: iShares MSCI Japan ETF (NYSEARCA:EWJ), WisdomTree Japan Hedged Equity Fund (NYSEARCA:DXJ), Deutsche X-trackers MSCI Japan Hedged Equity ETF (NYSEARCA:DBJP)
Disclosure: I/we have no positions in any stocks mentioned, and no plans to initiate any positions within the next 72 hours.
I wrote this article myself, and it expresses my own opinions. I am not receiving compensation for it (other than from Seeking Alpha). I have no business relationship with any company whose stock is mentioned in this article.
Editor's Note: This article discusses one or more securities that do not trade on a major U.S. exchange. Please be aware of the risks associated with these stocks.