Whole Foods Markets (NASDAQ:WFM) has succeeded by, pretty much, breaking the mold of the grocery industry. It offered high-end products with lots of service and, perhaps most important, charged premium prices. As competitors have started to offer similar "healthy" fare, Whole Foods' model is starting to feel some pressure. The question for investors is, "What now?"
Growing fast
If you compare Whole Foods' growth to that of grocery industry giant Kroger (NYSE:KR), it's hard to deny that Whole Foods has found a vital niche. For example, over the past decade, Whole Foods' top line has nearly tripled while Kroger's revenues have grown 65%. Kroger's results are, frankly, fairly impressive given that competition in the grocery business has put numerous competitors out of business. And keep in mind that the competitive landscape now includes retail giants like Wal-Mart (NYSE:WMT) and Target (NYSE:TGT), where scale is a true competitive advantage.
So Kroger deserves some serious credit for being able to grow at all as a stand alone grocery store. But the disparity between the growth at Kroger and Whole Foods shows that Whole Foods has, indeed, managed to find a vital niche that others hadn't. Better yet for Whole Foods, it's a fairly profitable niche. For example, Whole Foods' gross margin was 35% last year, with an operating margin of about 5.6%. Kroger's gross margin was 22% and it's operating margin was 3.3%. Taking it all the way to the bottom line, Kroger's net margin was 1.8% last year compared to Whole Foods' nearly 2.5%.
In fact, Whole Foods' results last year were solid compared to retail juggernaut Wal-Mart. The retail giant, which also happens to be one of the largest grocery operators in the United States, had an operating margin of 25%, a gross margin of 5%, and a net margin of 3% last year. If a retail company of any type can compare itself favorably to Wal-Mart it's doing something right.
And for Whole Foods the points of differentiation are important, because it's hard to be a "different" grocery store. The biggest difference is the food, which in Whole Foods' case is "healthy" fare along the lines of free range meats, so-called natural foods, and unique prepared meals. Basically it attracted customers who are looking for something more than the typical grocery store offers. Whole Foods also focuses on the shopping experience, setting itself apart in another way from the generic grocery store. Most important financially, however, it has been able to charge premium prices for all of this.
They caught on...
But the interesting thing about competitive advantages is that, eventually, competitors catch on and start to mimic successful companies as best they can. That's exactly what's happened, with grocery stores increasingly focusing on both their food options and service. So what does Whole Foods do if it's no longer able to differentiate itself in the same way?
This isn't a small issue. Comparable store sales have been weak all year long for Whole Foods, with sales at stores open more than a year down nearly 2% over the trailing year. In fact, I'd argue the company is facing an existential crisis. It could, in the end, be the difference between Whole Foods becoming a great company and an acquisition target. There are only a couple of options from here.
The option that I think would make the most sense is to double down on what makes Whole Foods different. That means offering unique food products and a top-of-the-line shopping experience. The problem is that this decision would likely mean upping prices or, at the very least, choosing not to compete on price. That's counter to the normal trend in the grocery industry, which is generally to lower prices in an effort to attract customers.
Whole Foods could alienate some customers by getting even more expensive than it already is. But perhaps that's not such a bad thing. Whole Foods' niche is serving people willing to pay up for quality, not people looking for bargains. Obviously cost is a material issue, but Whole Foods' target is customers who care more about the food and experience than the price. That's the grocery store's sweet spot and, in some ways, is similar to the model Disney (NYSE:DIS) uses in its amusement park business.
But Whole Foods hasn't gone done that path, instead it has been focusing on cutting its prices to better compete with cheaper alternatives... like Kroger, Wal-Mart, and Target, all of which increasingly sell the same types of food that Whole Foods does along with more typical grocery fare. In effect, old school grocery stores are offering enough of the "healthy" foods that separates Whole Foods from the pack that they can stop their customers from defecting. But Whole Foods needs to be careful because cutting costs is the same game that's led to the demise of many once-great grocery chains.
The best example of this shift at Whole Foods is the decision to launch a new, lower-cost concept based on its store branded products. Essentially it's moving down the price scale with "generic" branded products. That will lower prices, but it certainly doesn't make Whole Foods' business model stand out. If Whole Foods isn't careful, the concept will come off kind of like an Aldi. Aldi is a fine business, but it isn't Whole Foods. It's hard to believe enough customers will be happy with fewer options, even if the prices are "cheaper," to justify this new grocery concept. Worse, cheap just isn't what most people think of when they think Whole Foods and this move could tarnish the entire brand.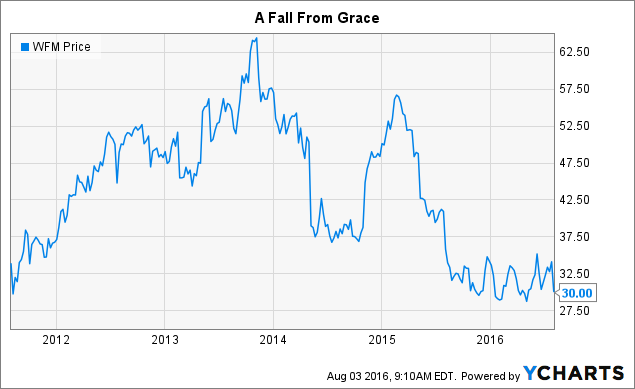 Still growing
To be fair to Whole Foods, it continues to grow its top line by opening new stores. So, on some level, the growth story isn't done here. And offering a low-cost store format is definitely a way to keep opening new stores. But the top line hides the weakness at existing stores. That's going to be a bigger problem over the long term once Whole Foods has saturated the U.S. grocery market, if it hasn't already done so.
How Whole Foods deals with the competitive threat from grocery stores will really be what determines whether it is a great company or an eventual flame out. Up until now it's beaten typical grocery stores by playing a different game. Now it looks like it's starting to compete by doing what every other grocery store does-focusing on cutting food costs. It's hard to believe that will be the winning model since so many competitors have tried it and failed.
If you are a Whole Foods shareholder, or are just looking at the stock, which is down 50% from it's 2013 highs, the numbers may be less important today than the reasoning behind the company's business moves. If Whole Foods can't hold on to its differentiated industry position in some material way, then it risks being just another grocery store fighting on price. That's a very different story from the one that made Whole Foods, well, Whole Foods. The next couple of years could be pivotal in Whole Foods' history, so make sure you watch strategy closely. And don't underestimate the risks now facing shareholders, they are of a different sort than they once were.
Disclosure: I am/we are long DIS, TGT.
I wrote this article myself, and it expresses my own opinions. I am not receiving compensation for it (other than from Seeking Alpha). I have no business relationship with any company whose stock is mentioned in this article.