Today's non-manufacturing PMI came in at 55.5 which is 0.4 points below expectations and one point below June's print of 56.5 points.
Services have completely ignored the manufacturing slowing trend. The PMI currently at values that are very common after the credit crisis and a bit below the highs between 2014 and 2015. This is very good news for the service economy. In addition to that, we saw only three industries that reported contraction compared to fifteen industries that reported growth.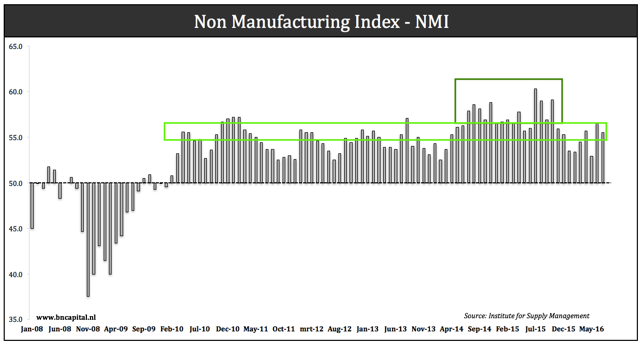 Click to enlarge
New orders increased 0.4 points despite a lower NMI index. Backlog of orders increased 3.5 points and entered the growth zone again. Both are very strong signs for the services economy.
Employment lost 1.3 points lead by an employment drop in the transportation & warehousing industry.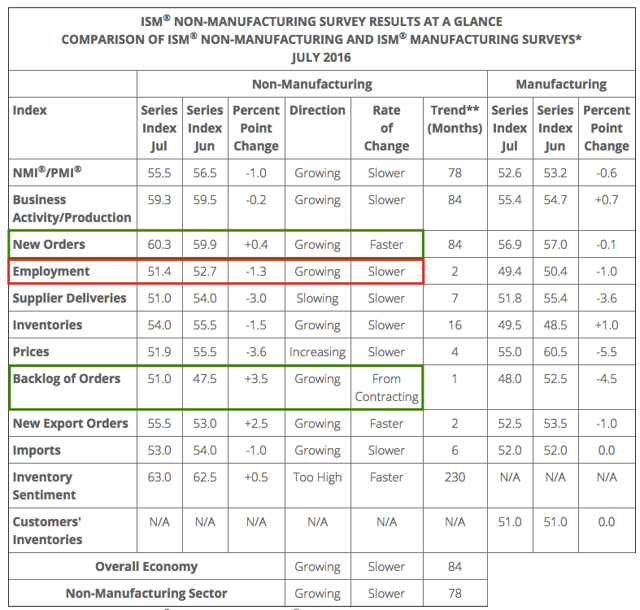 Click to enlargeSource: ISM
Construction sentiment stayed at very low levels. According to ISM comments, this is due to lower capital spending.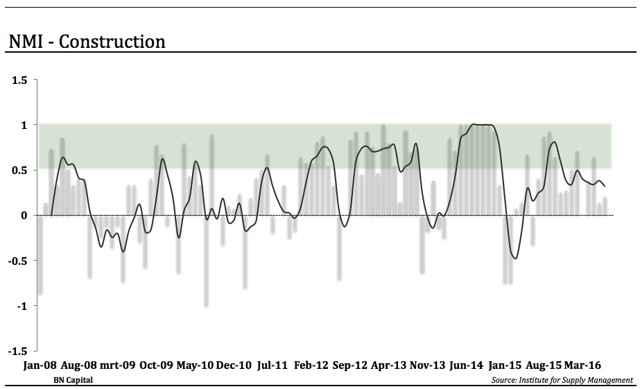 Click to enlarge
Management & support companies keep performing very well. Not one single month of contraction since 2013.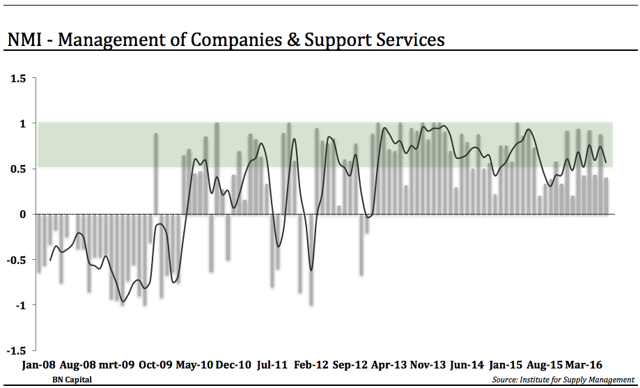 Click to enlarge
Below, you find an entire overview of all NMI industries and the comments provided by the ISM.

Click to enlarge
I like this services report. Service companies keep offering great trades on the long side. However, I am not going to use the services index as my guideline for the economy. There are a lot of signs that point towards weakness. I therefore use these reports to get good trades to hedge my short positions in other industries. I will keep writing trading ideas in the next few weeks.
Thanks for reading my article, as always feel free to leave a comment if you have questions or remarks.
Disclosure: I/we have no positions in any stocks mentioned, and no plans to initiate any positions within the next 72 hours.
I wrote this article myself, and it expresses my own opinions. I am not receiving compensation for it (other than from Seeking Alpha). I have no business relationship with any company whose stock is mentioned in this article.