Starting off with one of the biggest pieces of news to hit the offshore exploration space, Esso Exploration and Production Guyana Limited was able to prove the commercial viability of the Liza discovery in the Stabroek Block off the coast of Guyana. ExxonMobil Corporation (NYSE:XOM) is the operator of the venture with a 45% stake, with its partners Hess Corporation (NYSE:HES) and CNOOC Limited (NYSE:CEO) owning a 30% and 25% interest in the consortium, respectively.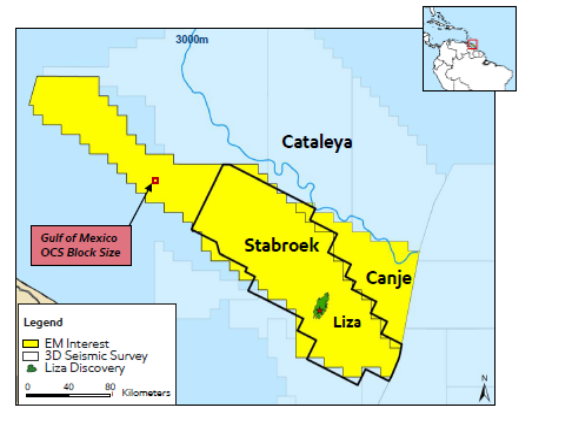 Source: ExxonMobil Corporation May 2016 Presentation
The Liza-1 and Liza-2 wells were drilled to a total depth of 17,800 - 18,000 feet through 5,550 - 5,720 feet of water, which is shorter than most recent significant discoveries in the Gulf of Mexico. In 2015, the Liza-1 well hit 295 feet of oil bearing sandstone reservoirs, which was followed up by the Liza-2 well encountering 190 feet of oil bearing sandstone reservoirs this year.
On top of costing less to drill than the average deepwater GoM well (which tend to drill down through 7,000+ feet of water to a total depth of 25,000+ feet), the Liza exploration wells uncovered far more recoverable hydrocarbons than what the venture probably thought it would. At first, success at the Liza-1 last year pointed towards 500 million BOE of recoverable resources in the prospect that was guided to be heavily weighted towards crude oil.
As the consortium struck gold on the first try it decided to move ahead with another well see if this find was for real, even in the face of a terrible crude pricing environment. When some of the results from the Liza-2 well were made public at the end of June 2016, Esso Exploration and Production Guyana had proved that Guyana could become one of the world's next oil exporters. To supplement its knowledge, the venture pursued a 3D seismic endeavor that mapped out 17,000 square kilometers of its ~26,700 square kilometer (6.6 million acres) Stabroek Block that was completed a couple of months ago.
With all of its newfound knowledge in mind, ExxonMobil, Hess, and CNOOC now see the Liza discovery housing 800 million BOE - 1.4 billion BOE of recoverable resources that is primarily oil. That's a lot of crude, and this is only the beginning.
Drilling at the Skipjack well 25 miles northwest of the Liza-1 well began on July 17, with results expected by the next time Hess Corporation reports its earnings. Hess' management team noted that "the seismic signature (of the Skipjack prospect) looks very similar to the one on Liza, so but until we get a well in the ground we can't be 100% positive as to the outcome, but very encouraging, very excited."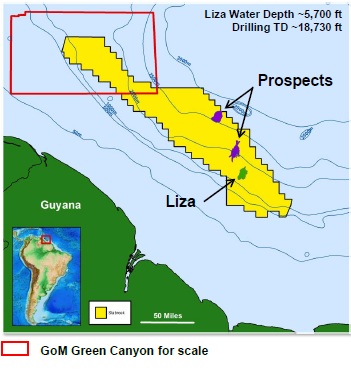 Source: Hess Corporation June 2016 Presentation
Once the Skipjack well is completed, the consortium is going to drill another well targeting the Liza discovery to further appraise the prospect. That should help narrow the potential resource range of the Liza find with the possibility that Esso Exploration and Production Guyana will once again raise its guidance as to how much crude could be pulled from the discovery. The first two Liza wells targeted the Upper Cretaceous formations, and there is the possibility deeper wells could unearth additional resources in the future.
Hess Corporation noted that the venture plans to drill around four wells in the Stabroek Block in 2016, but the consortium has left it open as to whether to drill a fourth Liza well, drill another well targeting the Skipjack prospect, or test out another potential prospect next. That will most likely depend on how successful the upcoming two wells are. The venture may end up drilling only three wells this year but it is definitely preparing for plenty of additional exploration and appraisal activity next year and beyond, on top of commercial development of the Liza prospect.
Where to go from here
ExxonMobil noted that it would use an FPSO, floating production, storage, and offloading, vessel to develop the Liza find alongside the necessary subsea infrastructure. However, based on comments from ExxonMobil's Q2 conference call, the Liza discovery won't produce first-oil until "early into the next decade at this point". There has been talk of possibly adding another rig to the region to speed up the exploration and appraisal process but in light of the low crude pricing environment weighing heavily on cash flow streams, that decision probably won't be made unless the venture's upcoming well results really hit it out of the park.
In regards to the regulatory and tax regime in Guyana, ExxonMobil signed a PSA with the nation back in 1990. During an interview with The Oil & Gas Year, Guyana's Minister of Natural Resources Raphael Trotman stated that there was a demand to revise that agreement so "Guyana gets a good share - 50% minimum." That isn't unreasonable, but it is worth noting that the profits from this discovery is going to follow the more traditional Latin American route than those in countries like America and Canada, where the upstream operator takes most of the profits.
There are obstacles that will need to be dealt with before transitioning to commercial development, including on the regulatory, permitting and tax side of things, and those are all manageable problems. What ExxonMobil, Hess, and CNOOC are really waiting on is additional exploration and appraisal data. They know there is plenty of recoverable crude in the region but they want to get a better idea of how to capitalize on such a discovery.
If the Skipjack well uncovers additional recoverable resources, it may make sense to develop both finds together or to plan ahead for a satellite project tied in to the Liza development. If the Liza-3 well ends up pushing recoverable crude estimates up further, then the venture's development plan would probably change. There is also a need to temper excitement as offshore exploration efforts are tricky and can lead to cost overruns and delays when rushed.
With that in mind, the consortium has mentioned that plans for commercial development are in the works, if only in the very preliminary stages. Low Brent pricing has aggressively pushed down on third-party oilfield service and rig renting costs, making it a prime time to capitalize on a downturn with long life, low decline, and very economical discoveries like the Liza find. All three partners have the liquidity required to move forward on commercial development and appear eager to do so when the time is right, which could be soon relatively speaking. Once the Liza-3 well has been completed and the data has been analyzed, there could be serious movement in that direction.
Final thoughts
During the next earnings season, Hess Corporation commented that its management team should be able to offer up not only results from the Skipjack well but also provide some guidance on what the capital requirements for commercial development of the Liza discovery could look like. ExxonMobil will most likely provide some color on what its plan for Guyana is as well, offering a template for investors to get a better understanding of what Esso Exploration & Production Guyana's plan is for the small South American nation. It appears CNOOC Limited is along for the ride as the company has been characteristically light on details.
Guyana has seen its GDP double from 2005 to 2015 to around $3.2 billion USD, with a population around 750,000. A find of this size could fundamentally change the trajectory of the country forever, and so far the government has been fairly straightforward about what it expects from oil & gas firms. Guyana is looking for long term partners to sign 20-year plus contracts with, based on the Minister of Natural Resources' comments. Considering the tremendous success in the 26,700 square kilometer Stabroek Block ExxonMobil Corporation, Hess Corporation, and CNOOC Limited have all had, I'm betting these energy firms are more than willing to double down and progress with commercial development in an expedient manner.
Disclosure: I am/we are long HES.
I wrote this article myself, and it expresses my own opinions. I am not receiving compensation for it (other than from Seeking Alpha). I have no business relationship with any company whose stock is mentioned in this article.