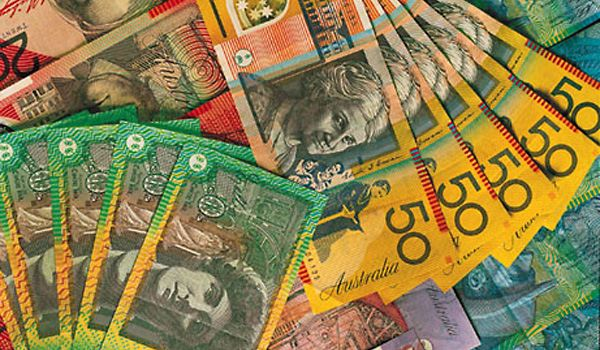 As we predicted the Reserve Bank of Australia cut its cash rate to a new record low of 1.5 percent on Tuesday. But what we didn't expect was that the positive reaction to the cut was going to be so short-lived. Some 24 hours after the cash rate was cut the resilient Australian dollar (NYSEARCA:FXA) was right back to its pre-rate cut level. The big question now is where next for the Australian dollar?
First things first, we don't believe this rate cut has been a failure. We put the reaction down to the fact that as the date approached, a rate cut became increasingly likely and as such it became priced in by traders and the market at large. Had the cash rate not been cut we could be looking at an Australian dollar up around 78 U.S. cents or higher in our opinion, such has been the weakness of the U.S. dollar (NYSEARCA:UUP) in the last week or so.
Although we are incredibly confident that the Australian dollar will eventually drop to 65 U.S. cents, the timing for this eventuality is increasingly stretching out and it could yet climb higher before going lower. Ultimately we feel as long as interest rates remain low in the United States, most of the world's central banks will be unable to control their currencies effectively. A case in point would be the Bank of Japan, the runaway Japanese yen (NYSEARCA:FXY), and its negative interest rate policy. So far everything the Bank of Japan has thrown at its currency in the hope of achieving its inflation targets has been nothing short of an abject failure.
Unfortunately for the Bank of Japan and the Reserve Bank of Australia in particular, it seems as though every time there is a chance that Janet Yellen and the Federal Reserve will be able to raise interest rates, a single piece of data comes out that rules them out. The most recent being the disappointing second quarter gross domestic product reading of 1.2 percent. This has led to almost all economists ruling out rate increases until 2017, leading the U.S. dollar to come under heavy selling pressure as demonstrated below.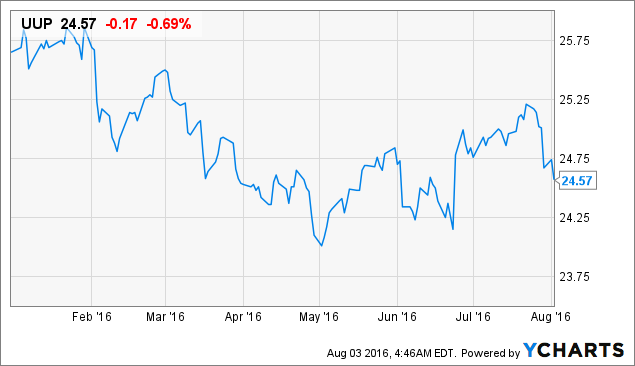 What will the Reserve Bank of Australia do next?
Quite frankly - nothing. Unless the Australian dollar appreciated considerably and forced its hand, we don't expect the Reserve Bank of Australia will consider cutting interest rates again next month. Instead we feel it will play the waiting game, hoping that the US economy improves enough to bring rate increases back onto the table.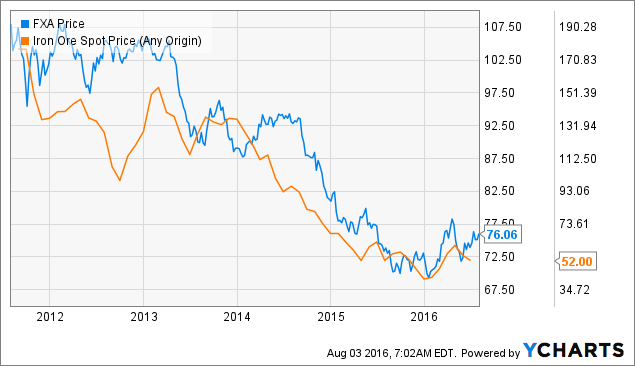 Alternatively, a drop in iron ore prices could do the job, though this could be a net negative for the Australian economy. We're quite sure it would much rather a strong iron ore price and a weak currency. But this may be unlikely unfortunately.
As you can see above, the price of iron ore correlates quite strongly with the price of iron ore. We expect iron ore prices to drop in the second half of the year which could put downward pressure on the currency. According to recent data, China's stockpiles of iron ore are increasing at a similarly rapid rate to iron ore prices. A lift in inventories together with a lift in prices is quite unusual and could hint at a correction coming shortly.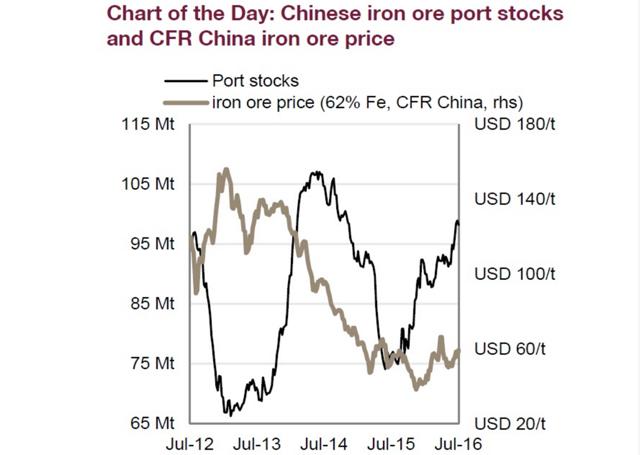 Click to enlarge
Sourced from Business Insider
Our next move.
Unfortunately, much like the Reserve Bank of Australia, our next move is to do nothing. As well as other aforementioned factors, we believe the Australian dollar will take an almighty hit once US rates start to normalize. For us, the potential gains from shorting it to 65 U.S. cents and below more than make up for the upside risk as well as the opportunity cost.
We are not alone in this sentiment. One of Australia's biggest banks, National Australia Bank (OTCPK:NABZY), has just called out the Australian dollar at 76 U.S. cents as being a great short opportunity. Analysts at NAB have forecast the AUD/USD pair to finish the year at 70 U.S. cents. We'd settle for that at this stage.
As always good luck with your trades! We'll keep you posted with any changes to our forecast and/or positions as and when they happen.
Disclosure: I am/we are short FXA.
I wrote this article myself, and it expresses my own opinions. I am not receiving compensation for it (other than from Seeking Alpha). I have no business relationship with any company whose stock is mentioned in this article.