We are on a mission to build the ultimate yield portfolio, follow us for regular updates on classic yield names like Cisco (NASDAQ:CSCO), IBM (NYSE:IBM), and Microsoft (NASDAQ:MSFT), as well as consistent high yield equities you've likely never heard of. This is a one-stop shop for income investors looking to protect their dividend income streams from dreaded yield reductions, and discover new gems for their income portfolios.
Use of Cash: The use of cash test provides a visual overview of the various cash uses that a company has been allocating cash towards. It shows the relative size of the cash uses versus the outstanding cash balance available to the company. It is a quick and simple way to view how the company has used its cash over the past 10 years, and is indicative of what the company may do in the next 10 years with its cash reserves. We examine dividend payments to all shareholders (including payments to preferred dividend holders) as well as net repurchases which includes equity issued via stock option plans, etc… as well as interest payments on debt; this offers a more wholesome view of how the company allocates capital.

Click to enlarge
Source: Company reports
Total capital allocation at IBM decreased last year as the company spent $3.4B on M&A; IBM has been a consistent company acquirer, particularly in the cloud space, as it attempts to maintain its top-line despite a shrinking legacy business.
So far this year, IBM acquired 11 businesses, including Truven Health Analytics and the digital assets of The Weather Company. We expect these tuck-in acquisitions to continue.
Share buybacks have been lumpier than dividends which have seen consistent increases over the past 10 years; in fact, since 2010 IBM has doubled its dividend per share and the dividend has grown by about 500% since 2006.
IBM's cash pile has decreased from $51B in 2007 to $24B in 2015; as of Q2 2016, IBM had only $10.6B of cash on hand and $44.5B of debt. As IBM's leverage increases, we expect share repurchases to slow down, but dividends should continue, although there is a risk to further divvy hikes.
10-Year Dividend Yield and Payout Ratios: Higher dividends are great but not if they come at the expense of dividend sustainability. Assessing the payout ratio is a key metric in determining the sustainability of a dividend, and is calculated as dividend per share divided by earnings per share (DPS/EPS).
In the case of IBM, we have seen both increasing dividends per share climbing from $1/sh in 2006 to today's $5.60/sh; recently, the dividend growth has come at the expense of a higher payout ratio; however, at just 35% we still see the payout ratio as easily sustainable, as IBM still generates significant cash to support a divvy at this level or even higher.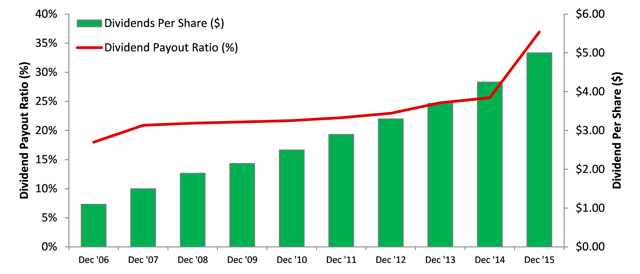 Click to enlarge
Source: Company Reports
Long-term Dividend Growth: It is important to view dividend sustainability across market cycles, following the prolonged bull market we have seen in recent years, it is necessary to look a bit further out to get a more balanced view of dividend sustainability.
IBM has been paying dividends since 1913, a remarkable track record. Over the past 25 years, we have only seen IBM cut its dividend twice in 1993 and 1994 when the company was facing significant turmoil as a result of falling behind the changing times. Critics at the time pointed to successful strategies that worked so well in the 1960s were not so effective in the 1990s. As a result, IBM fired its CEO, slashed its dividend in back to back years and went back to the drawing board. It is clear that the company got back on its feet quickly as dividends have either seen increases or been flat for the last 21 years. This includes the tech bubble burst in early 2000 and the global financial crisis in the late 2000s. Annual dividend growth has been about 20% for two decades, a remarkably strong trend.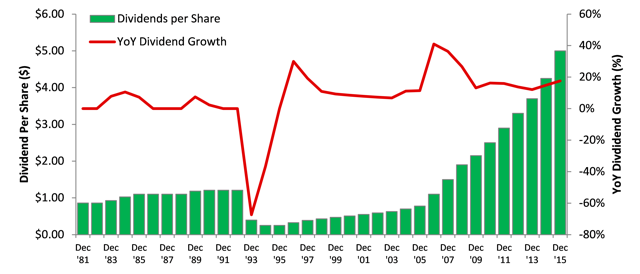 Click to enlarge
Source: Company reports
Credit risks: One of the largest risks to dividend sustainability is a leveraged company facing large debt payments and/or putting its credit ratings at risk, which would lead to higher interest charges.
IBM has about $45B in debt outstanding; however, the maturity profile is very consistent with about $5B coming due in each of the next five years. Given IBM's credit rating of Aa3 (Moody's), we expect IBM will not have any difficulties rolling over debt tranches, and given the low interest rate environment, it will likely benefit from lower interest rates on new issues. We see no immediate concerns with IBM's debt profile, but will continue to watch as repurchases are financed with debt, which is not sustainable indefinitely.
IBM has a Net Debt/EBITDA ratio of 2.0x which means the company is still relatively conservatively leveraged, we think IBM could comfortably increase leverage towards 2.5x, indicating a sizeable buffer. Additionally, IBM's interest coverage ratio is 19.4x, which means the company should have no problem making its interest payments. We think IBM is beginning to reach saturation in terms of how much debt it is willing to add to finance M&A, buybacks, and dividends.

Click to enlarge
Source: Company reports.
The analyst community expects free cash flow to drop this year and next before seeing a modest rise in 2018. While current levels of FCF are sufficient to support existing M&A levels, the current dividend, and some buybacks, we think IBM is increasingly likely to cut back on capital allocation. Buybacks are the first thing to go, which we have already seen this year, next up are likely to be dividend increases. To reiterate, we do not expect IBM to cut its dividend, but do see an increasingly likely scenario that IBM will not raise its dividend past $5.60/sh for several years.

Click to enlarge
Source: Company reports
Summary: IBM offers a strong yield in the mid-3% range, is comfortably leveraged, and has been a steady dividend payer for over a hundred years. We are very comfortable with IBM's dividend metrics, and see the dividend as fully sustainable at current levels, as its payout ratio is only 35%. While we see no risk to the dividend at current levels, we do see risk to further dividend increases over the coming years on the back of declining FCF and high debt levels.
Disclosure: I/we have no positions in any stocks mentioned, and no plans to initiate any positions within the next 72 hours.
I wrote this article myself, and it expresses my own opinions. I am not receiving compensation for it (other than from Seeking Alpha). I have no business relationship with any company whose stock is mentioned in this article.