I sold my position in PIMCO Strategic Income Fund (NYSE:RCS) today. When I bought it last September it had an uncharacteristic discount near -3%, which turned out to be a low point for a months-long decline. By mid-September the stock's price had started rising. There was a downward interlude at year's end driven by tax-loss selling-a lot of folks suffered losses in the fund last year-but it came back with a vengeance in 2016. Sufficiently so that I was now up 26%. The interesting thing was that throughout the fund's run-up, NAV was essentially flat or declining for the period. That 26% gain is entirely the result of the swing from a -3% discount to a 27.7% premium. NAV on my purchase date was $8.04; today it's $7.87, a -2.1% decline.
Here's the chart, annotated from cefconnect.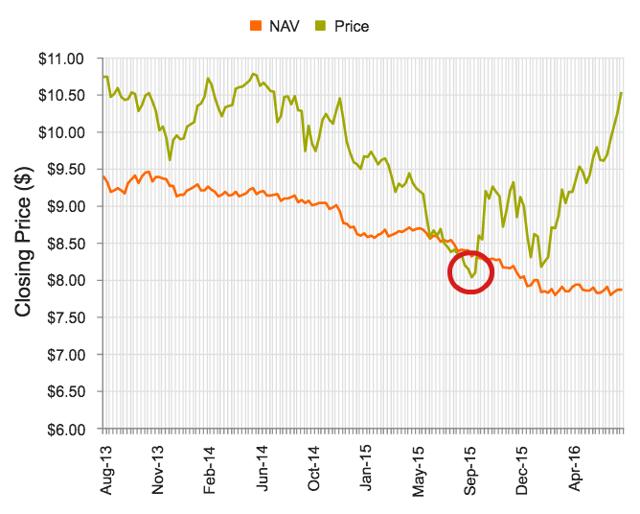 The period circled in red is when I brought RCS's atypical discount to readers' attention and when I made my first purchase. Note especially the NAV in orange. There's not much there to support this year's extreme run-up in price. So, one has to ask if the price line is at a top. Logical says it has to be. But there's often not a lot of logic in the behavior of CEF investors. It's not at all impossible for the price (and premium) to keep climbing. But I don't see that happening. I'll try to explain why.
The general pattern for income-generating CEFS is for the premium/discount to fluctuate with yield. Buyers bid up a fund with a high yield on NAV, bringing the yield down to a level that the market is happy with. PIMCO funds seem to get an additional "PIMCO-premium" as well, so they tend to reside above the linear trend line for a category-wide chart of Discount/Premium vs. NAV yield. I've discussed this type of plot extensively in several articles. I use it when I survey CEF categories to help me find funds that may merit a close look. RCS's NAV yield is now 12.2%. With the premium, the yield on price is 9.55%, certainly attractive, but not so high that it's likely to continue driving the premium still higher.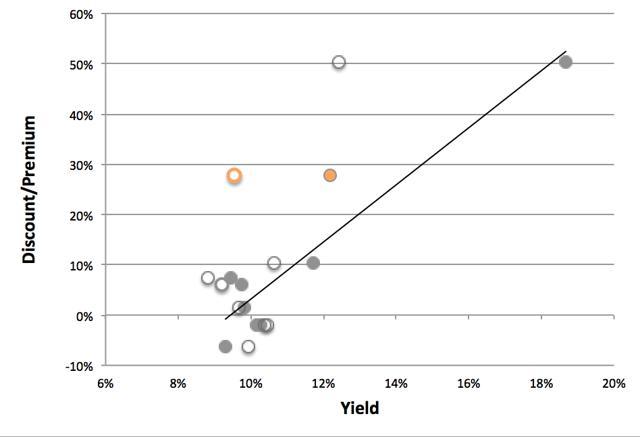 Click to enlarge
The chart above illustrates the situation. It includes all of the PIMCO taxable fixed-income funds (data from cefanalyzer). By using only PIMCO funds, I hope to minimize the influence of the PIMCO-premium effect that I referred to above. The filled circles are NAV yields, the open circles are market yields. The trend line is for NAV yield. RCS is shown in orange.
An individual fund's NAV and market yield point will, of course, line up horizontally on this chart, with the distance between them reflecting the discount/premium level. Notice how discount/premium status pulls NAV yields toward market yields near 10%. Notice, too, how far off the NAV-yield trend line RCS is relative to the other PIMCO funds. This chart strongly suggests to me that RCS's premium is due for some pruning in the near future. As long as the NAV yield remains high, it will almost certainly retain its premium, but not as high as the current level. Coupled with the unremarkable NAV performance, I'm inclined to think there is not much more, if any, gain left to be had from RCS from movement the premium. It will, of course, continue to pay its shareholders an impressive income.
The other factor influencing my decision to sell is the declining to flat NAV. RCS appears to be under-earning its distribution a bit. For fiscal year to date as of June 30, the distribution coverage ratio was 93.1%. I don't want to make too much of that number though. It can turn around quickly and I have a lot of confidence in PIMCO's ability to manage the distributions. Furthermore, the rolling 3-month coverage ratio is over 100, showing that the fund has moved in the right direction. So while coverage is certainly not at a crisis level and doesn't merit undue alarm, it's not arguing in favor of holding onto the fund either.
There is, of course the near 10% income the fund is generating. And if the premium does start to slide, that will even go up a bit. That income will be lost by selling the fund, and in today's CEF climate it may be difficult to replace. Regular readers know that I've been writing recently on equity funds. Something like Miller/Howard High Income Equity Fund (NYSE:HIE), near 11% yield (discussed here), or LMP Capital & Income Fund (NYSE:SCD), 9.2% (here), could be suitable candidates. Or, to stay with PIMCO in fixed-income, there's PIMCO Dynamic Credit Income (NYSE:PCI), which is paying 9.9%, has a 6.25% discount and a rising NAV curve. It looks to me to be the best valued of the PIMCO offerings right now.
There's another fund I've been writing about that was available at fire-sale prices last September. It, too, has rewarded investors to the point that profit-taking may be prudent. That would be AllianzGI Convertible & Income Fund (NYSE:NCV) with its 11.8% market yield. I've been considering that position as well and some commenters have noted that they sold the fund. I'm planning to get into my own conclusions on NCV tomorrow.
Disclosure: I am/we are long HIE, NCV, SCD, PCI.
I wrote this article myself, and it expresses my own opinions. I am not receiving compensation for it (other than from Seeking Alpha). I have no business relationship with any company whose stock is mentioned in this article.
Additional disclosure: I am not an investment professional and this article does not constitute investment advice. I am passing along the results of my research on the subject. Any investor who finds these results intriguing should consider it as my research notebook, and will certainly want to do all due diligence to determine if any security mentioned here is suitable for his or her portfolio.