Overview
Rolls-Royce Holdings (OTCPK:RYCEF) (OTCPK:RYCEY) is a UK based engine manufacturer with a storied history dating back to 1906. More renown for the eponymous branded cars (the manufacturing business of which is now owned by BMW and was split off in 1973), Rolls was the maker of the engine that powered many of Britain's World War 2 aircraft. It has a strong connection with the glory days of British manufacturing.
In 1971, the company went into receivership and was nationalised by the government and then privatized in 1987. Rolls today is a GBP 15bn (US$ 20bn) company with a main listing on the London Stock Exchange under the ticker RR and OTC listings in the US. It is a member of the FTSE 100 market index and is global in reach, primarily centered around the UK.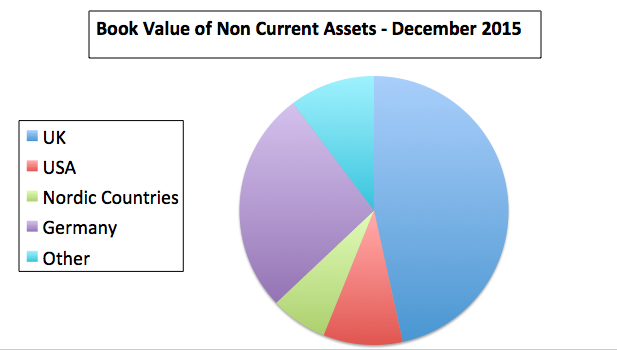 Source : Rolls Royce
The company has 5 divisions : Civil Aerospace, Defence Aerospace, Power Systems, Marine and Nuclear. Across its 5 divisions, it has over 50,000 engines currently in service, including 13,000 civil aircraft engines with over 500 airlines and 16,000 military aircraft engines with 100 armed forces globally. It also provides gas turbine engines to the offshore marine industry, the Power Systems provides reciprocating engines and complete drive solutions and its Nuclear division principally supplies and manages nuclear reactors on the Royal Navy's submarines.
Of its 5 divisions, Civil Aerospace has traditionally been the biggest and is presently the world's second largest manufacturer of jet engines. Its segmental underlying results for the year ended 31 December 2015 are shown below. I mention 'underlying' rather than 'reported' as this is an important point of distinction in understanding Rolls' financial situation and results, which I will come back to later on in the article.

Source : Rolls Royce
In addition to supplying engines, the company also makes considerable profit from servicing them. In fact, this is one of the most bullish upsides that management often cites. Whilst the supplying of engines is usually a cash losing proposition in the early stages of the product cycle, once a significant number of them are in service the group's profit grows owing to the fact that margin on servicing engines is greater than the margin on supplying them. This is the biggest reason that Rolls trades at such a high valuation like it does; around 4x Price/Book Value, 17.5x LTM EV/EBITDA and an underlying PE of 97x - something I will touch on later.
The recent uptick in share price I think has left Rolls' valuation looking stretched - both relative to peers and in absolute terms. Whilst I think over the longer term (5-10 years or so), management's strategy may well play out, I think there is substantial downside risk over the intervening period.
Recent Performance
Rolls' results for 2015 were largely in line with its earlier guidance. Underlying revenue was GBP13.4bn (compared to management guidance of GBP 13.4bn - 14.4bn), underlying EBIT was GBP 1,492m (compared to management guidance of GBP 1,385m - 1,535m) and underlying NPAT was GBP1,081m (compared to guidance of GBP 1,012m - GBP 1,141m).
The financial results for the first half of 2016, however, were significantly worse. Underlying NPAT fell some 77% from a year ago to GBP 77m. EBITDA fell from GBP 905m to GBP 555m - a fall of some 39% whilst EBIT fell from GBP 456m to GBP 158m; some 65%. The biggest culprits were the Civil Aerospace, where EBIT declined 91% and Marine where it fell 78%. The reasons were easy enough to understand. The Civil business is transitioning to new products which has impacted margins (as older products come under price pressure). Also, the regional and business jet business is suffering. The Marine business is feeling the effects of declining offshore investment from the energy industry.

Despite the release of relatively lackluster results both at year end and last week, the shares rallied substantially on both days. The reason for that has more to do with the company's managing down of expectations for 2016 rather than anything else in my view.

Source : Googlefinance.
The fact is management had done such a convincing job of talking down 2016 expectations and setting the bar so low that investors are relieved that the results are not even worse. This you can see below - with consensus estimates for 1H 2016 EBIT on July 21 (just before the results were released) about 80% below actual.

Source : Rolls Royce, Author
Management of investor expectations for 2016 began back in November last year, when the relatively newly appointed CEO Warren East announced that the business faced GBP 650m EBIT "headwinds". The biggest issues facing the company, in the words of the CEO, are product transition from the older Trent 700 engine to newer models, the general slow down in the energy industry (reducing the demand for offshore marine engines) and the slowdown of the smaller, regional and business jet markets. None of these issues are issues that are likely to be resolved quickly and investors took fright and dumped the stock.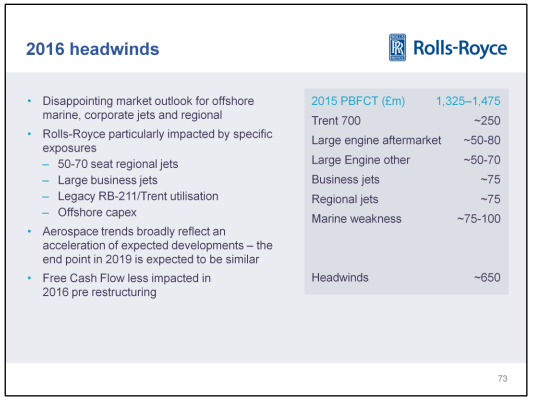 Source: Rolls Royce, November 2015
Since then, management has made a point of continually reminding investors of how challenging 2016 will be.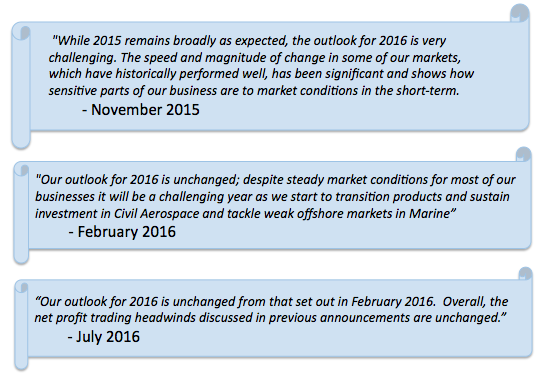 Whilst I have no issue with blunt honesty from a CEO, I think in Rolls' case, shareholders have taken on a shell shocked mentality to expect the worst when results are released after each trading update. This, I believe, has lead to the stock staging a relief rally in February when it met its 2015 guidance and also last week when, although the first half 2016 results were terrible compared to a year ago, they were still better than analysts expected. Further, management stuck to its earlier 2016 full year guidance and didn't cut any further.
I find this bemusing as whilst the 2016 guidance was already set low, the company will now find it challenging to meet it given the poor performance over the first half. Despite this, the stock managed to rally 15% on the day of the results release and hit a new 52 week high.
A Challenging Second Half 2016 Ahead
Management's reiteration of its November 2015 target for 2016 means that it's expecting 2016 EBIT to come in GBP 650m below 2015 levels, as shown above in the '2016 Headwinds' slide. This would put full year 2016 EBIT at GBP 842m and EBITDA at GBP 1,652m compared to 2015 actual results of GBP 1,492m and GBP 2,302m respectively.
This means that in order to hit these 2016 forecasts, management expects second half 2016 EBIT to come in at GBP 684m, or some 333% higher than the GBP 158m generated in the first half. Further, using 2015 depreciation and amortization (GBP 810m), it suggests management expects EBITDA in the second half to be GBP 1,097m vs the GBP 555m in the first half. That's a 98% increase in EBITDA over the second half vis a vis the first half, which would be quite a turn around.
It would also appear that the analyst community shares my pessimism over management's expectation for the second half. As at July 21, the average consensus forecast for full year 2016 EBIT was GBP 764m- some 10% below management's estimate. Again, using 2015 depreciation and amortization charges, it suggests the consensus estimate of 2016 EBITDA is GBP 1,574m, Vs management's GBP 1,652m.
At the NPAT line, the difference between management's expectation and consensus is even more telling. Consensus at July 21 for full year 2016 EPS was 26.2p - implying NPAT of GBP 482m. Using management's estimate of 2016 EBIT and subtracting 2015 finance charges (which have been quite stable over the past years at GBP 60m) and applying 2015 tax rate of 25%, gives an implied management 2016 NPAT estimate of GBP 587m. This is 22% above consensus.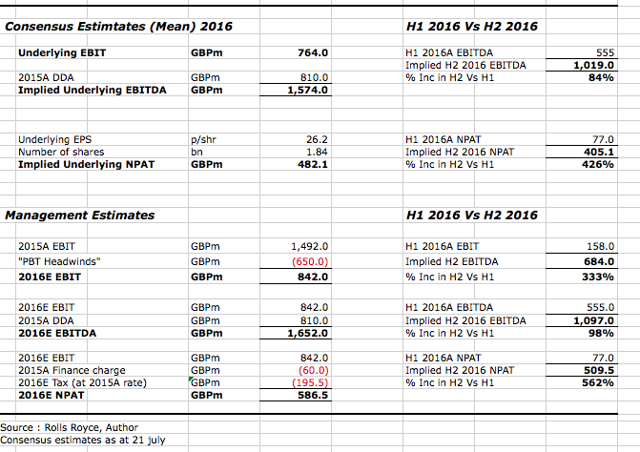 I have shown the full year 2016 comparison between management estimated EBITDA and NPAT vs consensus estimates.

Source : Rolls Royce, Author
How Does Rolls' Valuation Stack Up?
Rolls has significantly underperformed its peer group over the past couple of years, as can be seen below.

Source : Googlefinance
So, in light of this underperformance, how cheap or expensive is rolls compared to its peer group? The simple answer to this, even based on management's challenging earnings assumptions, is that Rolls is pretty expensive. Based on the lower consensus estimates the stock is even more expensive.
Below I have set out the PE multiples of Rolls and several of its peers. Note, however, that I am unable to find forecast 2016 PE multiples for the UK companies - only trailing PEs. For the US companies - where forecast 2016 consensus PE multiples are available, these are shown on the right, together with Rolls' forecast 2016 PE based on management's estimate of NPAT (as above) and consensus.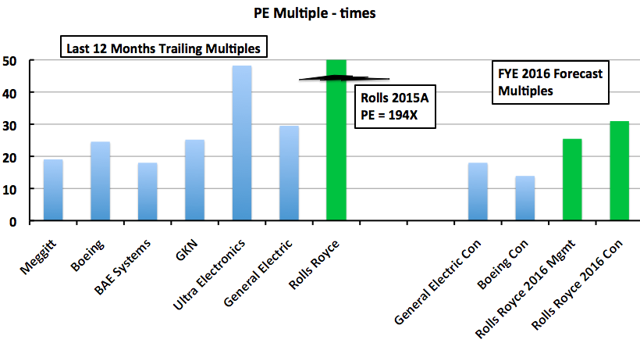 Source : Morningstar, Yahoo Finance.
Based on the above, should Rolls' 2016 PE decline to the average of Boeing and GE's (15.9x), this would imply a fall in Roll's shareprice to 508p based on management's NPAT estimate and 418p based on consensus - falls from the current shareprice of 800p of 37% and 48% respectively.
On an EV/EBITDA basis, Rolls seems similarly expensive. Based on 2016 management EBITDA forecast of GBP 1,652m and an enterprise value of GBP 17.2bn (based on 20 June debt, cash and pension liabilities), it's currently trading on an EV/EBITDA multiple of 10.4x. Using consensus estimates for EBITDA of GBP 1,574m, the multiple becomes 10.9x. On a trailing basis, the EV/EBITDA multiple is 7.5x which, if management and analysts weren't expecting such a large fall in earnings this year, would appear reasonable.
A Largely Funded Pension Scheme ... For Now
Another concern I have about Rolls is the structure of its pension scheme.
Currently, Rolls has 2 defined benefit schemes in operation - one for UK employees and one for non UK employees. As at 30 June, the UK one was in surplus by around GBP 1,527m and the non UK one was in deficit by GBP 1,386m. The net of the 2 was a surplus of GBP 141m - and this is what Rolls has recorded on its 30 June balance sheet.
The point that worries me though is the actual size of the obligations (scheme liabilities). As at 31 December (the half yearly report doesn't disclose this), the total scheme liabilities were GBP 11.6bn and the total scheme assets were GBP 12.6bn. The current size of the deficit at 31 December is manageable but it's the assumptions the company has used to discount its scheme liabilities that is of concern to me.
Like most defined benefit schemes, Rolls' is heavily reliant on government, municipal and corporate bonds and other low yield/low risk, long dated income producing assets to provide income to meet its long dated liabilities. As at 30 June, the company disclosed that it had valued it scheme liabilities based on an assumed yield on AA corporate bonds of 3.6% - the same assumptions it used in 2014. This is effectively the discount rate it applies to the liabilities to value them

Source : Rolls Royce
However, over this year yields have fallen substantially, driven by many central banks pushing yields on government bonds into negative territory (Japan and Europe). This has had a trickle down effect on other bonds and, currently, the yield on an average AA corporate bond with a 10 year maturity is around 2.4% and with a 20 year maturity it's 3.4%. This might not seem a big movement but when dealing with liabilities over GBP 11bn, it is substantial. This suggests to me that over the next few years, if bond yields remain at these depressed levels or even fall further (which recent events would suggest is likely), then Rolls will be forced to value its scheme liabilities using a lower discount rate and hence arrive at a significantly higher value of them. This could push its pension into substantial deficit and require it to make additional contributions over the GBP 250m or so it made last year.

Source : Valubond
A Swollen FX Hedge Book ... The GBP 3.7bn Elephant in the Room
Another aspect of Rolls' business that makes me nervous is the frankly massive size of its FX hedge book.
Currently Rolls generates some US$5bn in revenues a year denominated in USD owing to the nature of the manner in which its products and services are priced. Given it reports in GBP, the company, perhaps rightly, is focused on managing the volatility of the USD/GBP exchange rate so as to manage exchange rate volatility and risk. To do this, it has an extensive program of FX hedging and as at 30 June 2016, the size of this hedge book related to the USD/GBP was US$35bn - and increase of some US$6bn from what it was at 31 December. At $35bn, this is enough to cover the company's total expected USD FX exposure for over 6 years.
The average rate of Rolls' US$35bn USD/GBP hedge book is 1.57. The problem though is that with the UK vote to leave the EU last June 23, the GBP fell significantly against all currencies and against the dollar it is now 1.32. In fact, over the 6 months to June 2016, the USD/GBP rate fell from 1.48 in December to 1.34 in June. The fact that Rolls' average USD/GBP rate in its hedge book was 1.57 meant that it had to book a GBP 2.2bn charge - which hit its reported NPAT.
Under IAS39 and IFRS, the company must recognize the mark to market value of its hedge book on its balance sheet each time it reports. Currently the value of hedge book is GBP (3.7)bn owing to the much lower GBP/USD market rate vis a vis Rolls' average hedge book rate of 1.57.
IFRS and IAS 39 also allow the company to effectively produce 2 sets of accounts - one that recognizes the loss on its hedge book (the reported results) and one that ignores it (the underlying results). The reported NPAT for the first half of 2016 was a loss of GBP 1.8bn, on account of the GBP 2.2bn charge it booked for its out of the money hedge book. The underlying NPAT was a profit of GBP 77m. This is the reason Rolls is always as pains to emphasize its underlying results over its reported figures.
Below is the relevant extract from Rolls' H1 2016 accounts which reconciles the two.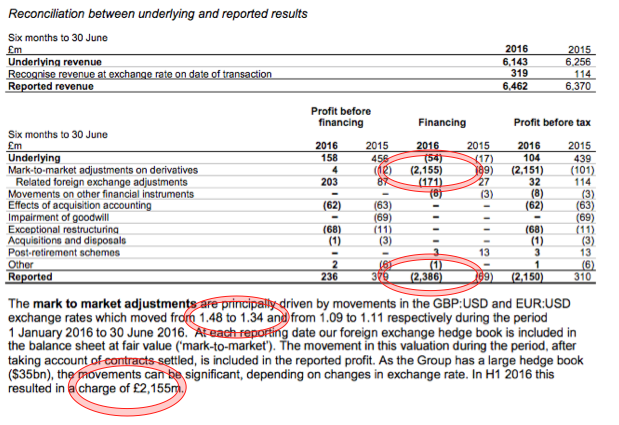 Source : Rolls Royce
I have no issue with Rolls or any other company pushing their underlying results over their reported ones. After all, the accounting standards allow this and, as Rolls management points out, the mark to market loss of the hedge book is really a non cash charge.
However, in Rolls' case, given the magnitude of the current mark to market loss on its hedge book and the fact that the UK vote to leave the EU is likely to have fundamentally weakened the GBP for a long time to come, I think the issue is perhaps more significant and longer lasting than management lets on. This is suspect is the true reason why management elected to increase the size of the hedge book by GBP 6bn last half, to average down the average rate of its hedge book, which it did.
Another concern I have, which may or not be a material issue, is Rolls' debt covenants. As at 30 June, Rolls had some GBP 3.3bn in borrowings. I'm sure its lenders would have some form of covenant in the borrowing agreement which was based on a minimum net tangible asset value and gearing. The fact that Rolls' net assets took a GPB 2.2bn hit in June from its hedge book could be a problem under these covenants. This then leads onto the most pressing question facing Rolls right now.
Is a Rights Issue Around the Corner ... ?
The hedge book was marked to market at 30 June, when the GBP/USD rate was 1.34. Whilst currently it's 1.32, most economists are saying that it could well fall to around 1.20 - 1.25 over the coming months. Should it fall 1.20 at December, that would create another loss of at least GBP 2.2bn at year end. If the company makes only a modest underlying profit for H2 2016, this loss could leave the company dangerously undercapitalised.
Assuming a fall in the rate from 1.48 to 1.34 created a GBP 2.2bn loss in H1 2016 (as set out above), then a fall from 1.34 to 1.20 in H2 2016 could be at least as big again, creating another GBP 2.2bn loss. Assuming the company makes around GBP 480m in underlying profit (as per the 21 July consensus estimates) for H2 2016, that could leave the company with around GBP 2bn in equity and in need of a large rights issue. No need to spell out what this would do to the share price.

Source : Author
Conclusion
Rolls management has done an excellent job these last 12 months in managing profitability expectations down for 2016. As a result, investors have been conditioned to regard any news that isn't catastrophic as good news and this dynamic has propelled the share price following what was a very lackluster performance over the first half of 2016. Indeed, following the release of 1H 2016 results late last week, the share price rose 15% to hit a new 52 week high.
All this has blinded investors to the risks around Rolls. The company has a US$35bn USD/GBP hedge book which, at an average rate of 1.57, is severely out of the money. The company booked a GBP 2.2bn charge over the first half in relation to it and, should the GBP fall further against the USD this half year, there could well be another similarly sized charge booked.
The company also has a very large pension scheme which, whilst largely funded today, has some GBP 11.6bn in liabilities. Given the likelihood of 'lower for longer' bond yields, there's a risk that Rolls' pension scheme could quickly become significantly underfunded.
All this is occurring at a time when Rolls' main business driver - its Civil Aerospace business - is transitioning and profitability of its Marine business is being threatened.
Rolls' balance sheet is already looking quite thin following its first half results. Another half like the last one would most likely lead to a rights issue and severe downward pressure on the stock price. At current levels of around 800 pence/share, Rolls is an excellent short opportunity.
Disclosure: I/we have no positions in any stocks mentioned, but may initiate a short position in RYCEF over the next 72 hours.
I wrote this article myself, and it expresses my own opinions. I am not receiving compensation for it (other than from Seeking Alpha). I have no business relationship with any company whose stock is mentioned in this article.
Editor's Note: This article discusses one or more securities that do not trade on a major U.S. exchange. Please be aware of the risks associated with these stocks.