Endeavor Silver (NYSE:EXK) Q2 Financial Results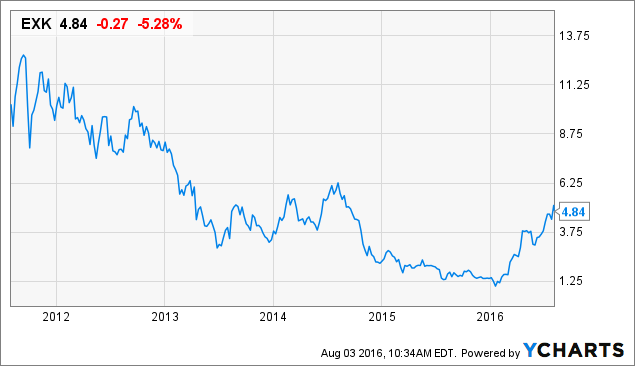 EXK data by YCharts
Mexican silver miner Endeavor Silver has reported its second quarter 2016 financial results, and I thought it was a pretty good quarter for the company even though silver production decreased by a pretty large amount.
In the quarter, Endeavor says it produced 1.55 million ounces of silver, a 14% decrease from last year. However, gold production also increased 17% to 15,649 ounces, and, more importantly, the company reported a 38% decrease in cash costs to $5.37 per silver payable ounce and a 38% decrease in all-in sustaining costs to $10.53 per ounce. This is huge as Endeavor's realized silver price per ounce was $16.34 in Q2, resulting in margins per ounce of nearly $6.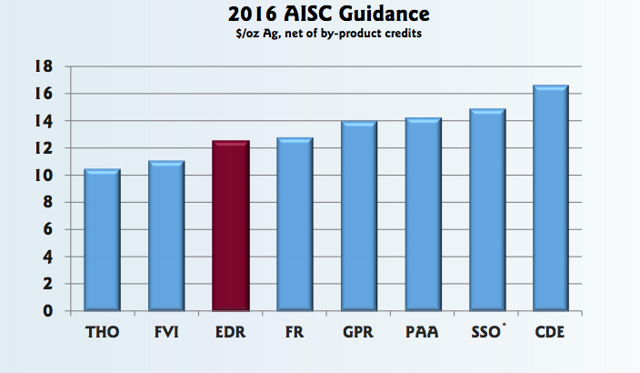 Click to enlarge
(Credit: Endeavor Silver Presentation)
Based on Endeavor's 2016 AISC guidance of just over $12 per ounce, it's one of the lowest cost silver producers, lower than peers First Majestic (NYSE:AG), Great Panther Silver (NYSEMKT:GPL), Pan American (NASDAQ:PAAS), Silver Standard (NASDAQ:SSRI) and Coeur (NYSE:CDE).
In terms of earnings, Endeavor clearly benefited from the lower costs as it reported mine operating earnings of $12.9 million (up 88%), mine operating cash flow of $17.3 million (up 5%), and net earnings of $1.7 million (up 274%).
Endeavor's balance sheet also has benefited from the profitable quarter as well as from an equity financing.
The company ended Q2 with $56.8 million in cash and equivalents and just $14 million in debt ($10 million in credit facility in current liabilities and $4 million in long-term debt). The company raised $30.8 million in Q2 through two at-the-market equity financing rounds.
Also, this cash balance does not reflect the $13.9 million in additional equity financing that closed subsequent to quarter end. And with silver prices higher in Q3, Endeavor will likely report stronger earnings next quarter. So I expect the balance sheet to only strengthen from here.
As mentioned in my recent article on Endeavor, the turnaround in precious metals prices means the company is back in growth mode, so it plans on spending more on exploration and development going forward. As a result, the company has increased its capital budget to $17.4 million and its exploration budget to $10.1 million, and raised its 2016 production guidance to 9 - 9.8 million silver equivalent ounces.
In terms of exploration, Endeavor is now focused on drilling and completing a pre-feasibility study at its Terronera project, a preliminary economic assessment at the El Compas project (which was acquired in the Oro Silver Resources acquisition on May 30), and will drill at Guanacevi, Guadalupe and El Cubo. Mapping and permitting also is set to take place at various projects in the second half of the year.
This quarterly earnings report only adds to my bullish thesis on Endeavor's stock. I think the company's improved profitability and balance sheet puts it in a stronger position to get back to being a growing gold and silver producer. I recommend buying shares on any future pullbacks.
Disclosure: I/we have no positions in any stocks mentioned, but may initiate a long position in EXK over the next 72 hours.
I wrote this article myself, and it expresses my own opinions. I am not receiving compensation for it (other than from Seeking Alpha). I have no business relationship with any company whose stock is mentioned in this article.