Shares of American Airlines (NASDAQ:AAL), along with the entire sector, have been under significant pressure since the onset of 2015: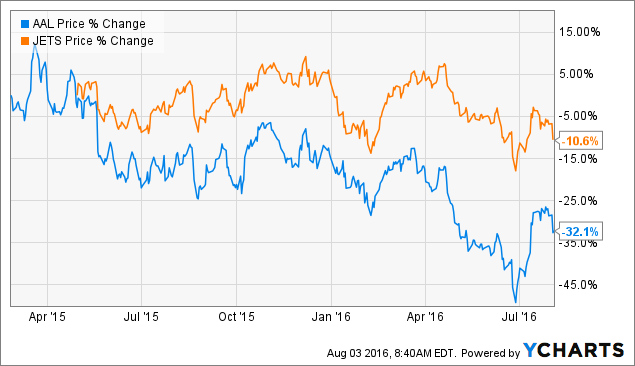 AAL data by YCharts
Both the industry and AAL show a downward trajectory in value, but the degree to which price has fallen is staggeringly different. One would think that American would be one of the only bright spots in an otherwise gloomy sector given that it has been achieving record breaking quarters while aggressively returning capital to shareholders. The stock also has a painfully low P/E of 3.17 (according to Yahoo! Finance), leaving shareholders baffled as to why the market doesn't appreciate the surge in profits seen since the merger between American and U.S. Airways. Of course, there is a negative stigma surrounding the airline industry as it has always been seen as a quick way to lose money. The rampant consolidation seen among airlines since the turn of the century had some people convinced that the industry was changing. The jump in share price in AAL and among its competitors in 2014 shows why this opinion was starting to gain traction in the marketplace: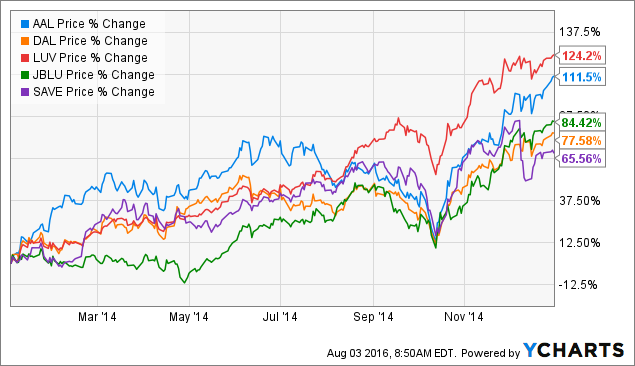 AAL data by YCharts
There has been ample coverage of the airline industry's current environment both on SA and other sources of stock information so I'm going to channel my focus on what is next for American and how management can combat the difficulty it is facing. Above I mentioned the expansive shareholder return program utilized by American over the last few years; this is a strategy that will need to be revisited in the coming quarter.
The company returned $1.7 billion to shareholders in the form of buybacks this past quarter, effectively reducing its float by 20% year-over-year. On the Q2 Conference Call, CFO Derek Kerr noted that American's share count has been reduced 29% since the merger. He also mentioned that the current capital return program has $1.2 billion remaining on its share repurchase authorization, $500 million below the run rate seen this past quarter. The airline's management team will most likely be tasked with creating a new capital plan this quarter. AAL has $9.5 billion in available liquidity - $3 billion higher than the minimum requirement set by the board - and have decided to defer delivery of 22 Airbus jets, thus reducing its expected CapEx by $500 million in 2017 and by $700 million in 2018. Kerr also stated that the firm's CapEx will peak in 2016 despite its fleet renewal program still underway; net debt will follow the same pattern, according to Kerr. On top of that, continued pressure on oil prices will result in a year-over-year fall of $1.3 billion in fuel expense for American. AAL will have a large cash hoard and will need to allocate its capital wisely if it wishes to see its stock back in the 50s like it was in early 2015. There are a few options for AAL (the following are not mutually exclusive; in fact it's likely management will opt for a blend of some sort):
1. Increase dividend
Right now American's $0.10/share quarterly dividend represents a yield around 1.25% on an annual basis. A potential move by CEO Doug Parker and co. could be to boost the dividend to both please shareholders and potentially reduce the volatility in shares. Having a strong dividend can provide a cushion for a fall in stock price when the market reacts to breaking news - which in the airline industry is common. In Q2 2016, AAL returned $58 million to shareholders which comprised only 3% of the $1.7 billion in total capital returned in the quarter. That figure could easily augmented without having adverse effects on liquidity. Even doubling the quarterly dividend would result in annual payouts of just over $400 million, using the current share count as a basis. That figure will fall over time as more share buybacks are expected. The dividend hasn't been increased since it was reinstated in mid-2014.
2. Continue the high pace of repurchases
American could keep it simple and continue to do what it's been doing. Although it hasn't been the most effective on share price in the short term, it's relatively easy to see a pitch by management that stresses focus on the long-term while taking advantage of a depressed stock in the meantime.
3. Focus on paying off debt
Debt is one thing that seems to go under-the-radar by investors when discussing AAL. Talks about declining PRASM, price competition, and shareholder returns tend to dominate the conversation (with this article being no exception so far). According to Bloomberg, American will have just under $10 billion in debt principal coming due by 2020. That amount is dispersed among those years, but the figure is still large and should be on the mind of management. Given Kerr's statement that net debt will follow the same trajectory to that of CapEx and peak in 2016, there is strong reason to believe debt management will be a focal point for the board. The debate is whether American should accelerate its strategy regarding callable debt; the company paid $1.9 billion in debt in the past quarter.
As is the case in many complex decisions, I believe the answer is not exclusively one of the above options, but rather a combination. Doubling the dividend would be reasonable as the annual cost of $400 million is a small portion of the capital returned to shareholders. It also is not too aggressive of an increase and lays a foundation for further increases in the future should management deem that appropriate. With regard to share and debt repurchases, I would give priority to debt because cash flow will begin to fall in the coming years as price competition unfavorably affects and the company's taxes increase once the its large DTA is used up. As mentioned in this SA article, American won't pay cash taxes until 2019 or 2020 (Derek Kerr projection). Prioritzing debt payments will give American more flexibility in the future and will still allow substantial share repurchases to be conducted. It's not unreasonable to assume that AAL could still buyback over $1 billion in common shares per quarter under this strategy. Whatever decision management reaches, it will be paramount that it allocates capital as efficiently as possible to turn the market sentiment on its stock.
Disclosure: I/we have no positions in any stocks mentioned, and no plans to initiate any positions within the next 72 hours.
I wrote this article myself, and it expresses my own opinions. I am not receiving compensation for it (other than from Seeking Alpha). I have no business relationship with any company whose stock is mentioned in this article.