Highlights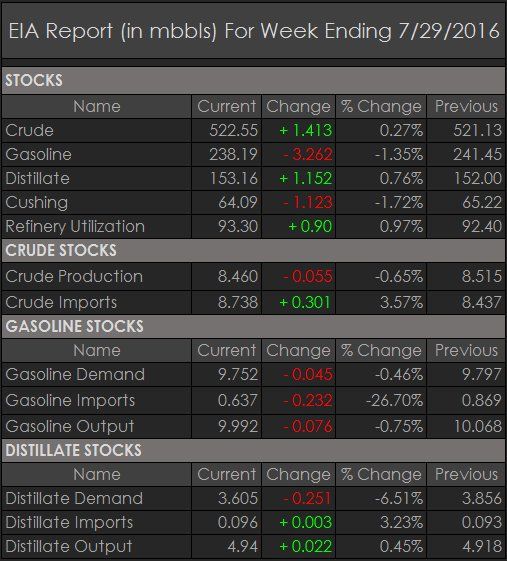 Source: EnergyBasis
This week's inventory report was a bit interesting. If you look at the headline figures - such as crude saw a build or gasoline saw a large draw - we think investors would be misled. Crude did see a build of 1.413 million bbls, but the increase largely came from crude imports spiking to 8.738 million bbls/d. Without the increase, crude stock would've seen a draw of 0.694 million bbls.
As we highlighted in last week's inventory report, a high figure for imports is largely a function of floating storage being dumped onshore. This will likely persist until the end of the year. Afterward, we should see imports drop significantly to around 6.5 million bbls/d.
U.S. crude production fell last week to 8.46 million bbls/d. Lower 48 production didn't change, while Alaska saw declines of 55k bbls/d. The loss in Alaska is likely just a revision downward from the previous weeks when the EIA reported a sharp rise in production. During this time of the year, Alaska production usually sees declines as some production is taken offline due to maintenance.
The big story this week is the large decrease in gasoline stock. Despite refineries increasing utilization, demand for gasoline was relatively strong and storage decreased. One reason for the large decrease is the decrease in gasoline imports, which saw it drop by 232k b/d. That contributed to 1.624 million bbls.
Market participants are really only looking at two data points at the moment: gasoline storage and refinery utilization. During this time of the year, gasoline demand is usually very strong, but it's the refinery throughput that has everyone concerned. As refiners enter maintenance season, it will be interesting to see just how much capacity they take offline to fix the gasoline glut. They can blend gasoline into other petro products or produce more diesel. Whatever the case may be, if refiners want to see crack spreads rebound, the gasoline glut needs to go away.
Overall, this was a slightly bullish report. The large draw in gasoline stock and increase in refinery utilization likely surprised many of the market participants. Oil prices are responding nicely to this report, and like we said in this article, we think the current bear market is short-lived.
We hope you enjoy our weekly oil (NYSEARCA:USO) inventory reports. Be sure to check out some of our old articles, and click on the follow button above if you would like to receive our "Oil Markets Daily" articles. In addition, we also have a premium subscription platform that's tailored to long-term value-oriented investors. We provide recommendations of stock ideas and portfolio composition. We look forward to you joining the HFI platform.
Disclosure: I/we have no positions in any stocks mentioned, and no plans to initiate any positions within the next 72 hours.
I wrote this article myself, and it expresses my own opinions. I am not receiving compensation for it (other than from Seeking Alpha). I have no business relationship with any company whose stock is mentioned in this article.