Click to enlarge
Source: Omega Healthcare Investors
In today's ultra-low interest rate environment, yield-starved investors have made equity REITs one of the hottest sectors around. However, Omega Healthcare Investors' (NYSE:OHI), share price, despite ongoing impressive growth, has gone nowhere.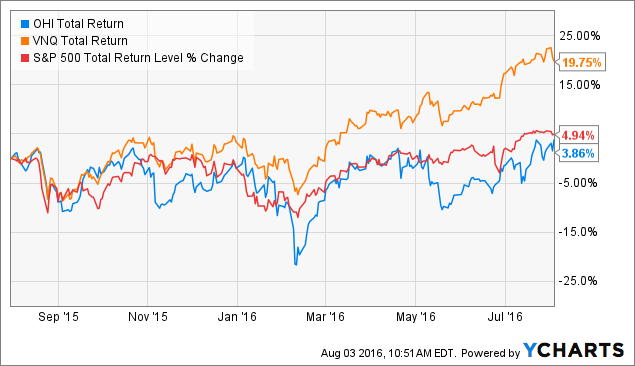 OHI Total Return Price data by YCharts
While this underperformance may disappoint many Omega shareholders, it also creates one of the best long-term investment opportunities in today's overheated market. Let's examine Omega's latest results to see just how well management is executing on the REIT's massive growth potential. More importantly, find out just how ridiculously undervalued shares really are, and why you should consider adding more shares of Omega Healthcare to your diversified dividend portfolio today.
Blowout Q2 results
Source: Earnings release
| | | | | | | |
| --- | --- | --- | --- | --- | --- | --- |
| Metric | Q2 2016 | Q2 2015 | Year-Over-Year Change | First Half 2016 | First Half 2015 | Year-Over-Year Change |
| Revenue | $228.8 Million | $197.7 Million | 15.7% | $441.7 Million | $331.1 Million | 33.4% |
| FFO | $172.3 Million | $100.7 Million | 71.1% | $326.0 Million | $180.4 Million | 80.7% |
| AFFO | $173.0 Million | $149.7 Million | 15.6% | $338.3 Million | $245.2 Million | 38.0% |
| Weighted Average Diluted Shares Outstanding | 199.2 Million | 194.5 Million | 2.4% | 198.8 Million | 164.6 Million | 20.8% |
| FFO/Share | $0.87 | $0.52 | 67.3% | $1.64 | $1.10 | 49.1% |
| AFFO/Share | $0.87 | $0.77 | 13.0% | $1.70 | $1.49 | 14.2% |
| Forward Dividend | $0.60 | $0.55 | 9.1% | $1.18 | $1.07 | 10.3% |
| AFFO Payout Ratio | 69.0% | 71.4% | -3.4% | 69.3% | 71.8% | -3.5% |
Any way you slice it Omega's latest quarterly, and first half results were sensational. Not only did revenue grow strongly, but more importantly funds from operations, or FFO, and adjusted funds from operations, AFFO, exploded. This allowed for extremely strong dividend growth, while still resulting in payout ratios that not only remain among the best in the industry, but also fell year over year.
This impressive growth was a result of Omega's $1.65 billion acquisition of Aviv REIT Inc., which closed April 1, 2015, and made Omega Healthcare into America's largest skilled nursing facility, or SNF, REIT.
But while such a large acquisition may be responsible for Omega's explosive growth, there is good reason for investors to remain confident that Omega's best growth days still lay ahead of it. For example, in Q1 and Q2 of 2016, the company invested $494 million and $220 million, respectively, into purchasing new facilities. The company also invested $59 million in the first half of this year into construction and renovations.
Better yet, despite real estate assets becoming overvalued in much of the country, Omega was able to get very attractive cap rates for this invested capital. For example, in April Omega acquired three assisted living facilities in Texas for $66 million. These properties are under 12-year leases with cash yields of 6.8%, 7.2%, and 7.4%, in years one, two, and three respectfully, with annual 2.8% lease increases beyond that.
Similarly, in May, Omega purchased three SNFs in Colorado and Missouri for $31.8 million at outstanding cash yields of 9.0% with annual escalators of 2.5%.
However, the most profitable investment of the second quarter was an $8.5 million, five-year mezzanine loan with an 11% interest rate.

Click to enlarge
For the rest of the year, management is guiding for strong, ongoing AFFO growth that should result in a full-year payout ratio of 71%. This is a result of another $400 million in highly lucrative investments Omega hopes to close on by the end of the year.
One of the strongest dividend profiles in the industry is even better than it initially appears
Successful dividend investing requires focusing on three aspects of a company's dividend profile: yield, payout security, and long-term growth prospects. After all, nothing will crash a stock's share price faster than a track record of dividend cuts. In addition, studies show that a good rule of thumb for projecting long-term total returns is yield + dividend growth.
Sources: Yahoo Finance, Fastgraphs, FactSet Research, Multpl.com, Moneychimp.com
| | | | | |
| --- | --- | --- | --- | --- |
| REIT | Yield | AFFO Payout Ratio | 10 Year Analyst Projected Dividend Growth | 10 Year Projected Total Return |
| Omega Healthcare Investors | 6.9% | 69.0% | 3.5% | 10.4% |
| S&P 500 | 2.1% | 39.1% | 5.8% | 9.1% |
As you can see, Omega's generous payout is extremely well covered by the company's AFFO. In addition, based on the latest long-term analyst dividend growth forecasts, it appears that Omega Healthcare should easily beat the market over the coming decade.
However, keep in mind that projected total returns, while a useful tool for getting a general idea of how well a stock may do in the future, should never be the primary reason you buy shares. After all, analyst projections, especially long-term ones, are educated guesstimates, and so should always be taken with a grain of salt.
However, in this case, I think that 3.7% dividend growth over the next 10 years is not just a reasonably safe assumption, but an overly conservative one. For example, my own valuation model assumes that Omega will be able to maintain a CAGR half as large as its growth over the past year. In addition, given its low current AFFO payout ratio, I think that management will be able to increase the payout slightly faster than growth in AFFO/share.
So modeling a long-term payout ratio of 80%, and 10-year AFFO/share growth of 6.5%, I estimate that Omega's dividend growth rate will be a far more impressive 7.5% over the next decade. Given Omega's exceptionally strong, and consistent track record of dividend growth over the past one, three, five, and 10 years, I think that projected growth rate is far from unreasonable.
Source: Gurufocus
| | | | |
| --- | --- | --- | --- |
| 1-Year Dividend Growth | 3-Year Dividend Growth | 5-Year Dividend Growth | 10-Year Dividend Growth |
| 10.3% | 9.2% | 10.9% | 10.4% |
Given Omega Healthcare's current 6.9% yield, a 7.5% dividend growth rate points to an estimated 14.4% projected total return. This should allow Omega to continue outperforming both the REIT industry, and broader market.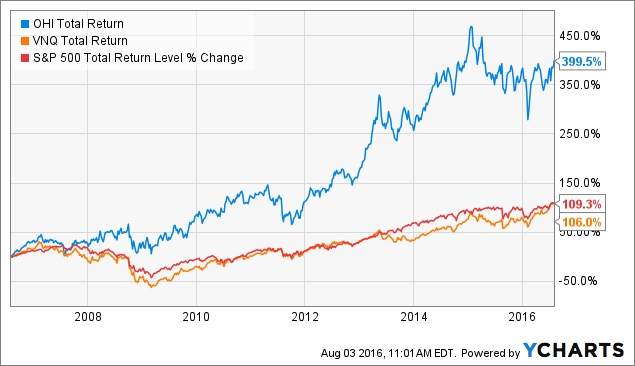 OHI Total Return Price data by YCharts
After all, Omega's 17.3% CAGR over the past decade, has absolutely crushed the Vanguard US REIT ETF (NYSEARCA:VNQ), and the S&P 500's total returns of 7.5% and 7.7%, respectively. Don't get me wrong, I realize that past performance is not a guarantee of future results. However, I think that it's reasonable to assume that Omega Healthcare has the potential to remain one of America's best dividend growth stocks long into the future.
Market is greatly mispricing Omega shares
Sources; Yahoo Finance, Fastgraphs, Gurufocus
| | | | | | | |
| --- | --- | --- | --- | --- | --- | --- |
| Yield | 5-Year Average Yield | P/AFFO | 20-Year Average P/AFFO | P/NAV | 13-Year Median P/NAV | Average Historical Discount |
| 6.9% | 6.4% | 11.7 | 12.2 | 2.12 | 2.12 | 4.0% |
While Omega Healthcare is only trading at a 4% discount to its average historical yield, price to AFFO, and price to net asset value, that small figure hides the fact that it remains incredibly undervalued relative to its future growth potential. That's because the market continues to discount all SNF REITs due to the high perceived risk of future changes in Medicare and Medicaid policy.
Sources: earnings releases, Gurufocus
| | | | | |
| --- | --- | --- | --- | --- |
| TTM AFFO/Share | Projected 10-Year Growth Rate | DCF Fair Value Estimate | Implied 10-Year Growth Rate | Margin of Safety |
| $3.30 | 6.5% | $65.28 | -8.9% | 47% |
On the other hand, when you consider Omega's likely future cash flows, it becomes obvious the shares are incredibly undervalued. Now, I'll be the first to admit that a discounted cash flow analysis isn't a perfect valuation method, and thus, should never be the sole basis for buying or selling a stock. After all, long-term growth projections are prone to a large margin of error.
That being said, a DCF analysis can act as a useful tool to give a general idea of what kind of long-term growth projections are priced into shares at the current price. This allows for a good general idea of a company's intrinsic value, and margin of safety; two of the most important factors in successful, long-term dividend investing.
In this case, I modeled 6.5% AFFO/share growth, which is half of Omega's growth rate over the past year. I also used the S&P 500's historical 9.1% CAGR since 1871 to line up the fair value estimate with the price at which investors should be able to match the market's total returns over the next 20 years.
At the current share price, it appears that the market is pricing in -8.9% growth over the next decade. This is ridiculous given Omega's long-term track record, and ongoing strong growth catalysts. And with a margin of safety of 47%, I think it's safe to say that Omega remains a screaming buy, even accounting for the uncertainties inherent in a 20-year valuation model.
Risks to consider
The largest long-term risk to Omega Healthcare is the primary cause that it, as well as all SNF REITs trade at such attractive yields despite investors' desperate hunt for yield. The SNF industry is a low-margin business, and many facility operators such as Genesis Healthcare (NYSE:GEN), are heavily reliant on Medicare and Medicaid funding. This creates long-term political, and regulatory risk that changes in government healthcare funding policy can potentially threaten Omega's very survival, as happened in 2002.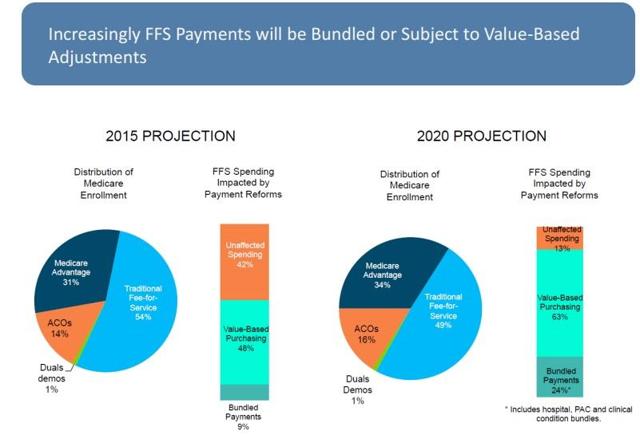 Click to enlarge
Source: Omega Healthcare investor presentation.
In addition, new government programs such as the Affordable Care Act will likely mean changes in the government's healthcare reimbursement policy. That being said, I'm confident that Omega's experienced management team, having successfully navigated the doomsday Medicare changes of 2002, will also be able to adapt to these changes.
Another risk to keep in mind is that any increase in interest rates could result in a violent decline in Omega's share price. For example, after the Federal Reserve raised interest rates for the first time in nine years back in December of 2015, Omega shares crashed nearly 20% over the following two months.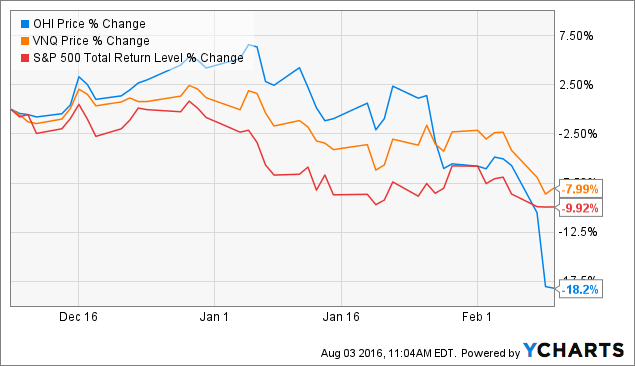 OHI data by YCharts
Such price volatility is a potentially great thing for long-term investors, as it allows for the locking in of even better yields. However, investors with short time horizons, such as retirees needing to fund living expenses, should probably avoid owning Omega as well as other SNF REITs for this reason.
Bottom line: Wall Street is ignoring Omega's exceptional execution, creating a fantastic long-term opportunity for moderately high-risk dividend investors
Don't get me wrong, I'm not saying that Omega Healthcare is a "sleep well at night" or SWAN, stock like more diversified, blue chip medical REITs such as Welltower (NYSE:HCN). BUT while the SNF industry will always contain some political and regulatory risk, Omega's latest sensational results, combined with its industry leading scale, and quality management team, mean that those risks are more than offset by the REITs incredibly attractive valuation.
Disclosure: I am/we are long OHI.
I wrote this article myself, and it expresses my own opinions. I am not receiving compensation for it (other than from Seeking Alpha). I have no business relationship with any company whose stock is mentioned in this article.