Annaly Capital Management (NYSE:NLY) reported earnings after the market closed on 08/03/2016. The results were what I would consider a mixed bag that was overall in line with expectations. Core EPS, the major metric Annaly Capital Management uses, was $.29 for the quarter (in line with consensus estimate). Book value ended the quarter at $11.50, down from $11.61 at the start of the quarter. That means the TER (total economic return) for Annaly Capital Management was $.19. TER is equal to the change in BV, -$.11 plus the dividend of $.30.
My Prediction
I predicted book value of $11.55, so this comes in $.05 below my estimates. The goal in estimating book value is get within 2%. My estimated book value for NLY as of 07/29/2016, about a month after the quarter ends, indicates that BV should be higher. The values are provided to subscribers.
Observations
Annaly Capital Management now reports their premium amortization expenses in an excellent format. Since I started writing heavily on the mREIT sector, one of the most challenging issues was the lack of transparency. Annaly Capital Management is making the choice to be intentionally transparent. Analysts usually have to dig for numbers like this, but NLY provided them: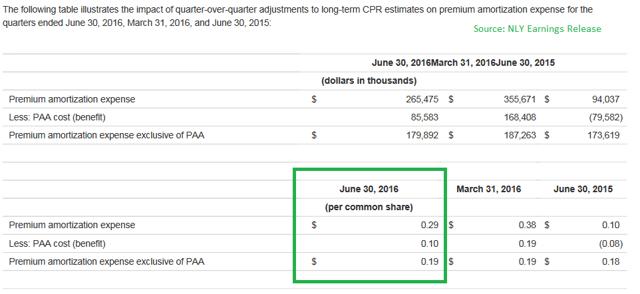 Click to enlarge
The premium amortization expense for the quarter was $.29, but that accounts for a substantial increase in the amount of expected prepayments based on the interest rates observed during the quarter. One of the quirks for reporting on positions like MBS (mortgage backed securities) is that the amortization gets recalculated each quarter. The impact of retroactive adjustments drives $.10 in amortization expense. If we remove that $.10, we can see that the normal rate of amortization expense in this interest rate environment would be $.19 per quarter.
From an analyst's perspective, this is a beautiful presentation.
Is the Dividend Safe?
One of the biggest questions investors will want to know about is the dividend. If Annaly Capital Management reported Core EPS of $.29 and a total economic return of $.19, will they still pay the $.30 dividend?
I see no reason for it to be trimmed yet. Given that it is at a nice round value of $.30 and has been steady for quite a while, I think management would be very hesitant to chop it. Keep in mind that prepayment rates on MBS are a huge factor in determining the level of net interest income. As of 08/03/2016, the 30-year MBS prices (and thus rates) are very similar to the end of the second quarter. If these rates moved slightly higher and the yield curve steepened, NLY would be able to project lower prepayment rates and thus lower amortization expense. In that scenario, they would be able to cover the dividend for future periods (assuming the same borrowing costs).
Management has also been moving the portfolio to use more credit sensitive assets, which offer higher yields (to compensate for risk). It should be stressed that the high yield on credit assets may cover the dividend with less difficulty, but credit sensitive assets should never be considered "safe". In a nutshell, I don't think they need to trim it, but investors shouldn't become too complacent.
Slight Decrease in Shares is an Illusion
The weighted average diluted shares outstanding moved slightly lower for the quarter, but shares outstanding on the date the quarter ends was up slightly. Why? The average value looks across the quarter and shares were repurchased during Q1. Consequently, the weighted average shares outstanding for Q1 was higher than the shares that remained outstanding after the buybacks. Q2 is the first quarter in which the weighted average reflects the entire gains from the first-quarter buybacks.
Performance on the Quarter
For book value decreasing in a quarter that wasn't too rough, I give the performance a C. It was neither bad nor great. The portfolio wasn't positioned for this to be a dream quarter, so there isn't much of a surprise there.
On the other hand, I give them a solid A for the presentation of information. While some mortgage REITs make it difficult for investors (and analysts) to get the most useful information, NLY has been stepping it up lately. They are doing what they can to improve clarity and that is a positive sign. The better investors and analysts can see inside a mortgage REIT, the less volatility there should be in share prices.
Do The Results Change My Outlook?
The earnings and book value were extremely close to my estimates, so no reason for it to change my outlook. I do love the presentation, though. I've been concerned about Annaly Capital Management being a little too expensive. Consequently, my view is a slight to moderate bearish view.
Higher prices were a clear trend throughout the industry, but the discount to book value leaves less room for appreciation in Annaly Capital Management than in some of their peers. There is nothing fundamentally wrong with NLY as a mortgage REIT. They are a fairly solid mortgage REIT. However, I believe there are some options trading at more attractive prices. Consequently, I must predict underperformance. Since investors are going to want some specifics, I'll provide one. I expect American Capital Mortgage Investment (NASDAQ:MTGE) to outperform NLY. I am long shares of MTGE. I have a few other picks for outperformance, but I'll just provide one for this article.
Want to Know More About Mortgage REITs and Preferred Shares?
Since the Mortgage REIT Forum is a new exclusive research platform, the first 100 subscribers will be able to lock in their subscription rates at only $240/year. My investment ideas emphasize finding undervalued mortgage REITs, triple net lease REITs, and preferred shares. With the market at relatively high levels, there is also significant work on finding which securities are overvalued to protect investors from losing a chunk of their portfolio.
Disclosure: I am/we are long MTGE.
I wrote this article myself, and it expresses my own opinions. I am not receiving compensation for it (other than from Seeking Alpha). I have no business relationship with any company whose stock is mentioned in this article.
Additional disclosure: Information in this article represents the opinion of the analyst. All statements are represented as opinions, rather than facts, and should not be construed as advice to buy or sell a security. This article is prepared solely for publication on Seeking Alpha and any reproduction of it on other sites is unauthorized. Ratings of "outperform" and "underperform" reflect the analyst's estimation of a divergence between the market value for a security and the price that would be appropriate given the potential for risks and returns relative to other securities. The analyst does not know your particular objectives for returns or constraints upon investing. All investors are encouraged to do their own research before making any investment decision. Information is regularly obtained from Yahoo Finance, Google Finance, and SEC Database. If Yahoo, Google, or the SEC database contained faulty or old information it could be incorporated into my analysis. Tipranks: Tag this as Sell NLY. No other tags.