GIM: A Cheap Global Income Fund With Experienced Managers
Templeton Global Income (NYSE:GIM) is an unleveraged global closed-end bond fund that seeks a high level of current income along with some capital appreciation.
Normally, the fund invests at least 80% of its net assets in debt securities of US and foreign issuers, with a large dose of emerging markets debt. The lead portfolio manager is the well known Michael Hasenstab, Ph.D. He is assisted by Sonal Desai, Ph.D.
Michael Hasenstab also manages the $48 billion Templeton Global Bond Fund (MUTF:TPINX) along with the Templeton Emerging Markets Income closed-end fund (NYSE:TEI).
Michael has a long track record, and has outperformed his peer group more often than not. He is not afraid to make big bets on foreign currencies. For example, he is currently short the euro and yen, but has long bets on the Mexican peso. He has also been betting against US Treasuries, which has hurt performance thus far in 2016.
(Data below is sourced from the Franklin Templeton website unless otherwise stated.)
GIM is currently selling at a discount to NAV of -9.90% compared to the 6-month average discount of -10.17%. Over the last year, the highest discount has been -17.20%, and the lowest discount has been -7.59%.
Source: cefconnect
The three month Z-score for GIM is still negative, but the 6-month and 12-month Z-scores are now positive. Because of the closed-end fund rally in 2016, most fixed income CEF Z-scores are now well into positive territory (smaller-than-normal discounts).
3-month Z-score = -0.52 (3-month average discount = -9.43%)
6-month Z-score = +0.18 (6-month average discount = -10.17%)
1-year Z-score = +0.80 (1-year average discount = -11.66%)
Source: cefanalyzer
Interest Rate Sensitivity
Michael Hasenstab believes that the Federal Reserve will find a way to raise interest rates this year. He believes rates are going higher in the U.S. because inflation and growth are not consistent with where Fed policy should be. The fund duration of GIM is only 1.11 years, while his peer group tends to have higher durations of five years or more.
GIM has also been net short the Japanese yen, which put pressure on performance earlier this year.
Here is a sample of 3-month correlations for the NAV of GIM compared to various benchmarks. The correlations are scaled between -100% to +100%:
GIM NAV 3-Month Correlation Data
GIM versus 20+ Year Treasury Bond = -49.97%
GIM versus 3-7 Year Treasury Bond = -38.72%
GIM versus 1-3 Year Treasury Bond = -17.25%
GIM versus 1-3 Year Int. Treas. Bond = + 3.96%
GIM versus Bank Loan = +63.67%
GIM versus Emerging Market Bond = +69.37%
GIM versus Equity Emerging Markets = +83.39%
GIM versus TEI = +94.67%
Source: cefanalyzer
Note that the correlations with Treasury Bonds are all quite negative, especially to the 20+ Year Treasury Bond. The NAV of GIM has been very highly correlated (around 95%) with the sister closed-end fund TEI.
Distributions
GIM had been paying $0.025 per month since March 2014, when the monthly distribution was cut from $0.035. There were also large year-end special distributions paid out in 2013 and 2014, but nothing extra in 2015.
Asset Class Breakdown (as of 06/30/2016)
| | |
| --- | --- |
| Fixed Income | 83.6% |
| Derivatives | -4.5% |
| Cash & Equivalent | 20.8% |
Currency Distribution (as of 06/30/2016)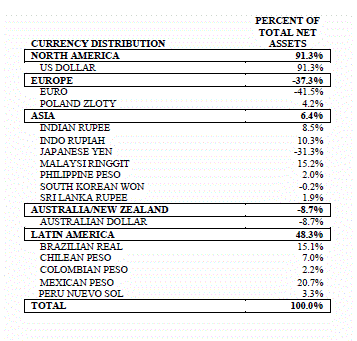 Country Distribution (as of 06/30/2016)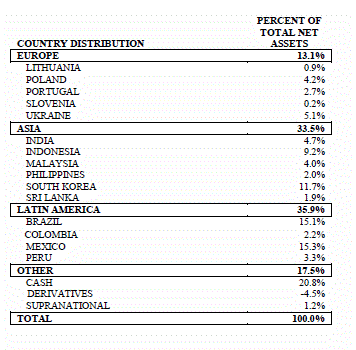 Given the mix of countries that GIM holds in its portfolio, one would expect the fund to have more foreign currency exposure versus the US dollar. But that is not the case, since the US dollar is 91.3% of net assets. The main short currencies are the euro, yen and Australian dollar.
Dividend Yield Enhancement Opportunity
With dividend yield enhancement, you are not depending on a change in the discount to net asset value, so this method for capturing "alpha" is useful for buy and hold investors with a longer-term trading time horizon.
Let's compute the discount alpha and adjusted expense ratio for GIM.
Baseline expense ratio = 0.73%
Distribution yield (market) = 4.72%
Whenever you recover NAV from a fund selling at a 9.90% discount, the percentage return is 1.00/0.9010 or about 10.99%. So the alpha generated by the 4.72% distribution is computed as:
(0.0472)*(0.1099) = 0.0052 or about 0.52% a year in discount capture alpha. Note that this calculation is quite conservative, since it does not assume any special year-end distributions. Any additional distributions would add to the discount capture alpha.
Adjusted Expense Ratio = 0.73 - 0.52 = 0.21%
GIM Discount History Since 1994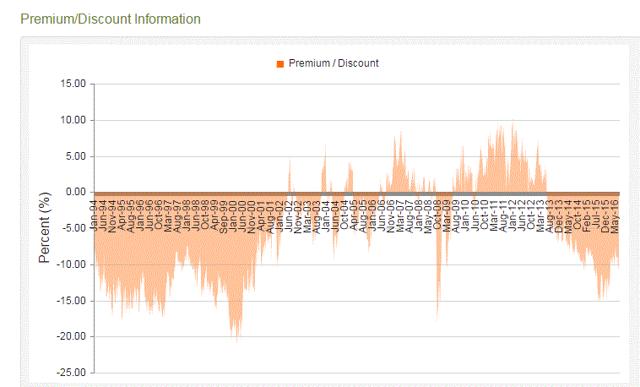 Click to enlarge
Ticker: GIM Templeton Global Income Fund
-Total Net Assets = 948.4 million
-Annual Distribution Rate = 4.72%
-Dividend Frequency = Monthly
-Current Monthly Distribution = $0.025 per share ($0.30 per year)
-Baseline Expense ratio = 0.73%
-Adjusted Expense Ratio = 0.21% (after discount alpha)
-Discount to NAV = -9.90%
-6-month Avg. Discount = -10.17%
-Weighted Average Duration = 1.1112 years
-Leverage = None
-Average 3-Mos. Daily Trading Volume = 272,084 shares
-Average 3-Mos. Daily $ Volume = $1.73 million
Sources: cefconnect, yahoo finance, Franklin Templeton
GIM looks attractive now for both a long-term investment or a shorter-term discount capture trade. It has very low interest rate sensitivity and should hold up reasonably well if there is higher inflation and interest rates in the future.
It also has lower expenses than most of its closed-end fund peers. It is a good diversifier for other fixed income holdings which may have more interest rate exposure.
The discounts for most of the global and emerging market closed-end funds have come down quite a bit from the end of last year, but over the longer term, GIM has sometimes traded at a premium over net asset value. Look at the time period between 2010 and 2013. Under the right market conditions, this may happen again in the future.
GIM has decent liquidity and usually trades around 270,000 shares a day. The bid-asked spread is often just one penny, and you can usually get some price improvement on market orders.
Disclosure: I am/we are long GIM.
I wrote this article myself, and it expresses my own opinions. I am not receiving compensation for it (other than from Seeking Alpha). I have no business relationship with any company whose stock is mentioned in this article.