Here we have a company with the following characteristics:
Earnings per share (EPS) will grow 20% this year and 18% in 2017.
Revenue will grow at 15% this year, 11% the next.
The company has some $560M in net cash, some 15% of a market capitalization of $3.7B.
Earnings per share are expected to be $1.81 this year and $2.05 the next, which gives the company a price/earnings ratio (P/E) of 13, falling to 11 for next year.
The company expects to generate in excess of $100M in free cash flow this year.
The company is a leisure wear producer Skechers (NYSE:SKX). In an otherwise expensive market, such a financially solid and healthy growing company would warrant a considerable higher multiple, as indeed its peers do. Yet, the stock price has lagged the sector: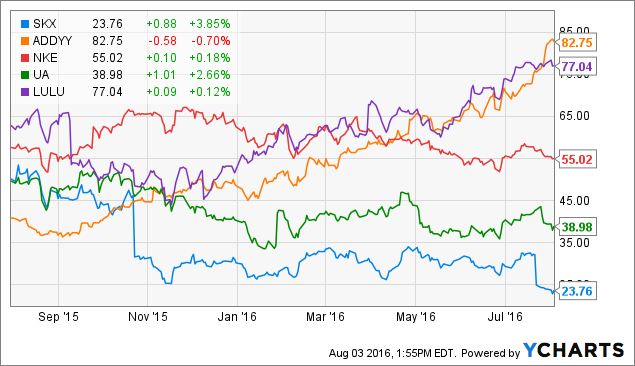 Whilst the shares are by far the cheapest: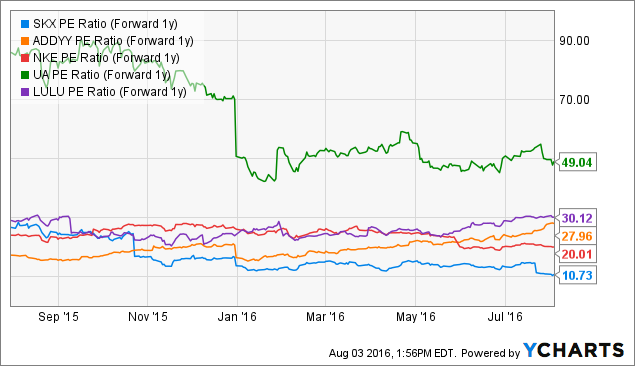 SA contributor David Trainer argued:
The stock now has a price to economic book value ratio (PEBV) of just 1.0, which implies that NOPAT [net operating profits after tax] will never grow higher than today's level over the remaining life of the company. It's hard to justify such a pessimistic expectation while growth is still in the double digits.
We couldn't agree more. The stock experienced 9 consecutive days of decline post Q2 earnings, entering deeply oversold territory, with the RSI just over 20.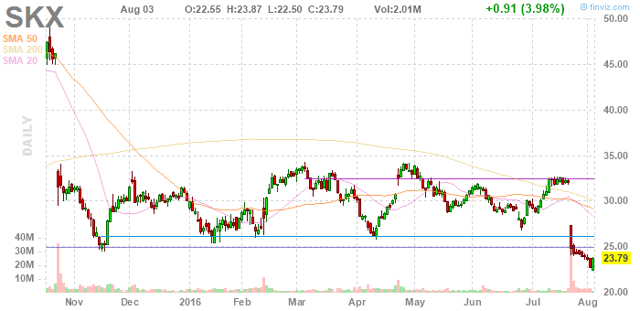 Click to enlarge
How did it come to this? Well, Q2 results disappointed:
EPS came in at 48 cents, 3 cents below estimates.
Revenue growth was just 9.7% from Q2 2015; that is a mighty slowdown in growth, or so it seems.
Operational margins declined from 14% to 11.4% year on year (YoY).
The company lowered guidance for Q3 ($950M-$975M), below where analysts thought it would be (a little above $1B).
However, there were some special circumstances that depressed Q2 results, both real and optically:
Domestic wholesale shrunk by 25% in April as sales were pulled forward to Q1; this was already announced during the Q1 CC.
Exactly the opposite happened in Q2 2015, producing a double optical whammy comparing the YoY quarters.
Then there were also other factors impacting the results:
An $8.3M currency headwind (5 cents per share).
A fire in a Malaysian warehouse and a one-off VAT in Brazil, together good for 2 cents per share.
With the 7 cents per share, the company would have easily beaten expectations, as it happens. The bad optics comparing Q2 with that of last year can be put into perspective if we compare the first half year with that of last year:
Revenue increased by 18%.
Operational income rose 19%.
Operational margins rose from 12.8% to 12.9%.
Gross margins rose from 45.4% to 46%.
That already looks a lot better. However, there is no denying that its home market is experiencing problems. US wholesale rose a paltry 3.2% in the first half of the year, and same-store sales stagnated in Q2.
The company expects that the same-store sales will resume growth in Q3 (by 4%-5%), but that remains to be seen. Its own stores are doing better, which is helpful for margins. The company will add some 200 stores this year.
Analysts have reduced expectations for EPS from $2.11 to $1.81 this year, and from $2.53 to $2.05 in 2017. That is still an EPS growth of almost 20% this year, and almost 14% the next.
International
Overseas sales now account for almost 42% of revenue, and this part both continues to boom and it's where the opportunities are. Sales increased almost 40% (retail by 41% and wholesale at 34.6%).
Same-store sales rose by a whopping 9%, which really is good news. Sales in China doubled every year for the last three years and are now $400M, with plenty of opportunities growth left.
India is another strong growth opportunity. The company opened 7 new shops in Q2, bringing the total to 44, but sales more than doubled.
Conclusion
While there is a real domestic slowdown, this is exaggerated by an unfavorable comparison with Q2 last year and some one-off factors. International sales are still booming, margins are steady, the balance sheet very healthy, and the company still generates large amounts of cash.
The shares are too cheap for such a profile, compared to the market and the sector, especially if moderate domestic growth will return in Q3, as the company guided.
This is the first stock we've been buying after we sold everything, and after it crashed in the wake of the Q2 figures.
Disclosure: I am/we are long SKX.
I wrote this article myself, and it expresses my own opinions. I am not receiving compensation for it (other than from Seeking Alpha). I have no business relationship with any company whose stock is mentioned in this article.