The recent investor's conference call and announcements from Sturm Ruger (NYSE:RGR) gave us some color on what direction Ruger is heading and some info showing that they look to be taking market share from rivals. Perhaps the biggest announcement was the future "retirement" of CEO Michael Fifer and that may be the biggest reason for its selloff. (If you are a fan of his, don't worry he gets paid well and still will have a seat on the board in the future as well as assisting Christopher Killoy who will be the new CEO on May 9th, 2017.)
Numbers and Introducing the Next CEO
Mr. Killoy, the current president and COO, gave the prepared remarks which included the best info for owners of Ruger's stock. In the statement he mentioned,
The estimated sell-through of the company's products from the independent wholesale distributors to retailers, which we believe to be the best available measure of demand, increased 20% in the second quarter of 2016 and 18% in the first half of 2016 from the comparable prior year period.
Since increases in NICS checks show a 15% increase in the second quarter and 16% over the first half, we can assume that Ruger is picking up market share by a few percentage points. (NICS is not a perfect check on sales, however it is a relatively useful proxy for demand.) NICS checks in July 2016 again showed large increases in background checks supporting the idea that demand is high. July marked the 13th month in a row of all-time highs in background checks. (I will continue to publish the correct numbers for you, with as little spin as possible, as I did in my previous articles)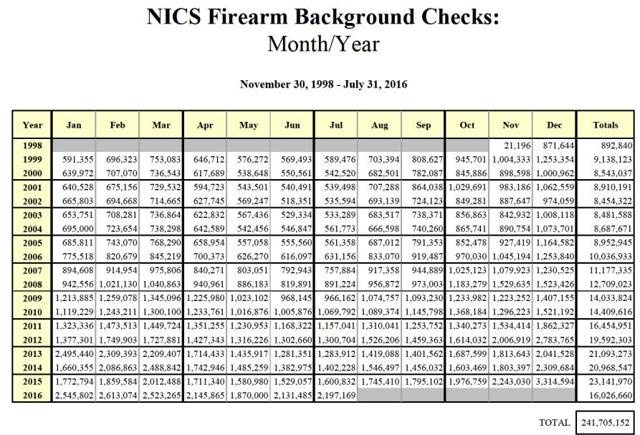 Click to enlarge
source www.fbi.gov/services/cjis/nics
Positive Numbers with New Products
New products are the lifeblood for Ruger and Smith & Wesson (NASDAQ:SWHC). Ruger has shown an increase in new product sales (which they calculate as products that were introduced less than two years ago). Sales of new products represented "$103 million or 30% of firearm sales in the first half of 2016." This would include the American Pistol, the Precision Rifle, and the AR-556 modern sporting rifle among other things.
The Possible Negative
The least friendly bit of information was the comment that demand for products continues to exceed Ruger's capacity. They have been working to increase capacity, but by their own admission have not been able to keep up which could be a future loss of sales. Since the fall and winter season tends to be the busiest in terms of sales, we will have to see how well Ruger executes on meeting demand.
Valuation
Valuation is the trickiest subject as politics can drive demand. I do not believe there is another category of stocks that is so vilified and many times so highly shorted. (Roughly 11% of shares are shorted at the moment) A PE ratio of 18 is definitely a stock most people will sell and walk away from, but in an industry enjoying growth over 20% year over year, which Ruger and Smith & Wesson are seeing, makes this PE ratio highly reasonable. In fact, I continue to believe if these numbers were for a different industry or a technology related company investors would be happily paying PE's of 30 or 40! (Amazon is currently over a PE of 180.)
Smith & Wesson is the closest U.S. comparable company and their PE ratio is nearly equivalent with the recent sell off for Ruger. (Currently Ruger is down 5% and trading around $66 a share and SWHC is selling at $29.70 for a PE of 17.6) With Ruger's rock solid dividend paying over 2% and growing with sales - due to Ruger's dividend policy of putting 40% of quarterly profit into dividends - people are not finding the true value Ruger has over its competitor... or maybe they just wanted Ruger to announce the purchase of a supplier similar to what Smith & Wesson has done.
Should Ruger purchase a company it has a supplier agreement with, like CRKT knives (Columbia River Knife & Tool) or another plastic supplier, the market will likely raise Ruger to higher PE multiples. Without a major announcement we are likely to see it slowly move higher with sales quarter after quarter.
As of July 2nd, 2016 Ruger had cash of $103 million on hand and continues to have no debt.
Disclosure: I am/we are long RGR, SWHC.
I wrote this article myself, and it expresses my own opinions. I am not receiving compensation for it (other than from Seeking Alpha). I have no business relationship with any company whose stock is mentioned in this article.