The second quarter of 2016 saw Phillips 66 Partners' (NYSE:PSXP) distribution coverage ratio move back up to 1.21x after falling from 1.44x in Q4 2015 to 1.15x during Q1 2016, even in the face of higher distribution payouts. This is due to the midstream MLP's distributable cash flow shooting up by $20 million to $84.4 million in Q2 versus $64.4 million in Q1 on the back of the various catalysts I mentioned in my earnings preview. As of this writing, Phillips 66 Partners yields 3.83%.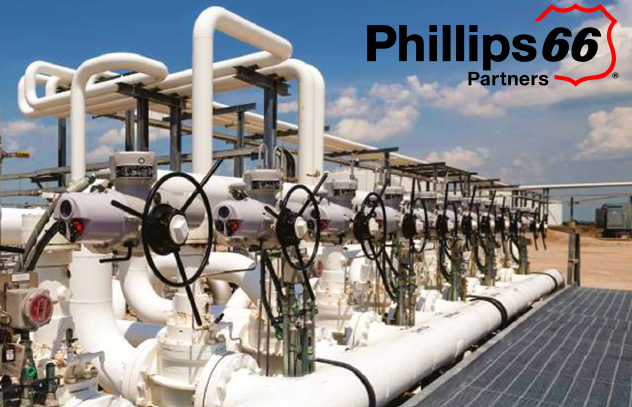 Source: Phillips 66 Partners Q2 2016 Presentation
Phillips 66 Partners purchased the remaining 75% in Phillips 66 Sweeny Frac LLC, after acquiring a 25% interest in February, alongside the Standish Pipeline from its parent company Phillips 66 (NYSE:PSX) during the second quarter. The refinery operator Phillips 66 is banking on midstream growth to help balance out the volatility in the refining sector and has a huge investment in Phillips 66 Partners. During the first half of this year, Phillips 66 took in ~$700 million from its stake in Phillips 66 Partners.
The 92-mile Standish Pipeline carries refined petroleum products from Phillips 66's Ponca City refinery in Oklahoma to terminals in Wichita, Kansas. Sweeny Frac LLC owns the recently built 100,000 bpd NGLs fractionator that is tied into Phillips 66's Sweeny refinery complex in Old Ocean, Texas, and the Clemens Cavern facility 15 miles away.
During the Q2 conference call, Phillips 66 Partners' management team commented that the NGLs fractionator was processing "about 80,000 barrels a day". Over the next few quarters PSXP wants to bring that up "towards that 100,000 barrels a day. And we'll just continue to tweak and optimize that and hope we drive that a bit higher." It may be realistic to assume that PSXP could easily add another ~10,000 bpd of volumes, further padding its DCF streams.
The Clemens Cavern asset is made up of five new NGLs storage units that can house 7.5 million barrels of Y-grade NGLs (ethane, butane, propane, and natural gasoline that fits certain guidelines), butane, and propane. Phillips 66 Partners had some expansion capex allocated to the asset this year to complete those storage facilities, and there is room for future expansions which is bullish. Organic growth opportunities is how midstream operators make the most out of dropdowns.
As the cash flow from the Sweeny Frac asset is protected through a ten year minimum volume and minimum storage agreement with Phillips 66, Phillips 66 Partners acquired a very stable source of DCF generation.
Balance sheet update
It didn't come cheap, however, which is why Phillips 66 Partners turned to capital markets. After issuing out 12.65 million new units in Q2, PSXP raised $655.6 million which it used to repay most of the three sets of $225 million notes payable to PSX (for a total of $675 million) that it took on to acquire those operations, leaving $19.4 million to be covered outside of the equity issuance. That was covered at the end of June. As the price tag on that deal was $775 million, PSXP issued out $100 million in equity directly to PSX as well.
On top of all that equity being issued out, Phillips 66 Partners utilized its at-the-market program to issue out another 262,858 units in May. That move raised a net $14.2 million for general purposes and debt reduction. It's worth keeping in mind that while PSXP did materially increase its unit count, its coverage ratio still increased even after another 5% quarterly payout boost as the cash raised was put to good use. The midstream MLP now has 92,814,935 units outstanding between its common units and units owned by the general partner.
At the end of Q2 2016, Phillips 66 Partners had $83.6 million in current assets, $61.6 million in current liabilities, and $1.34 billion in long term debt (includes $212 million in notes payable to PSX due 2020 and the $40 million on its drawn credit line). The midstream MLP's previously undrawn $500 million credit line had been tapped for $40 million last quarter, leaving $460 million in additional access to liquidity on top of its cash on hand ($35.7 million) and ATM program. The ATM program, created last quarter, gives PSXP the opportunity to raise up to $250 million in capital markets, minus the $14.2 million it just raised, as need be.
PSXP's leverage ratio improved materially in Q2 versus Q1, dropping down to 3x EBITDA versus 3.8x, as its EBITDA rose from $73.8 million to $97.3 million. That is below its long term goal of 3.5x EBITDA and as the firm retains plenty of liquidity, its financial position is stable.
Starting this quarter, Phillips 66 Partners will get to book a full quarters worth of cash flow from all of those assets. That will provide a nice uplift to its DCF streams, enabling continued payout growth as the additional DCF generation outpaces the impact PSXP's increased unit count has on its total payout growth.
Organic developments in play
The Bayou Bridge pipeline was turned online last quarter in late April, setting the stage for a nice ramp up in DCF generation as the second portion of that project is slated to start up during the second half of next year. With its partners, Phillips 66 Partners helped bring a crude oil pipeline online that routes crude from terminals in Nederland, Texas, to refineries in Lakes Charles, Lousiana. In 2017, the second leg will be built from Lake Charles to St. James, Lousiana.
On the conference call, Phillips 66 Partners noted that the volumes the pipeline was transporting was at "a pretty good rate" but that it couldn't disclose the exact info "because it's competitive information for our sponsor". In regards to the second leg of the development management was optimistic, noting that "the construction on that project is progressing well, we're in the right away and permitting phase and we don't see anything getting in the way of laying that pipe starting later this year and into next year and starting up."
Before then, the 91-mile long Sacagawea Pipeline up in North Dakota is slated to come online this quarter. The Sacagawea Pipeline will feed crude oil production out of McKenzie and Mountrail counties (with some from Dunn as well) to its Palermo Rail Terminal facility, with a goal of reaching over 100,000 bo/d in volume. Turning the Sacagawea Pipeline online will not only give PSXP another DCF generating asset but it will also boost the utilization rate at its Palermo complex.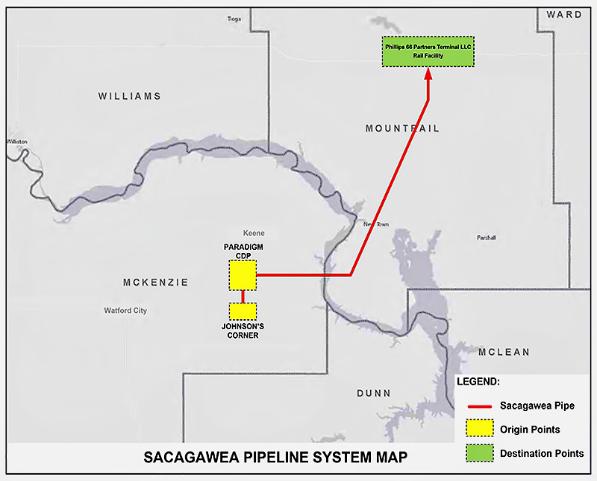 Source: Sacagawea Pipeline Website
Right now, the terminal is being fed crude by trucks, which is far more expensive and removes a lot of incentive to boost volumes. With the capacity to ship out 100,000 barrels of oil a day from the region, supported by 300,000 barrels of crude storage facilities, the synergies should have a very positive impact on PSXP.
Going forward, specifically in the event of a pricing recovery (which would prompt drilling to pick up in North Dakota, boosting oil output), Phillips 66 Partners has the option to double the capacity of its Palermo Rail Terminal's shipping capabilities to 200,000 bo/d and/or increase the terminal's oil storage capacity eight-fold to 2.4 million barrels. Phillips 66 Partners owns 70% of the Palermo Rail Terminal JV and half of the JV that owns 88% of the Sacagawea Pipeline.
Final thoughts
Overall, a good quarter for Phillips 66 Partners. Its coverage ratio moved higher, its leverage ratio moved lower, its DCF generation was able to compensate for the increased unit count, and the midstream MLP's outlook looks fairly bullish during the second half of this year. The purchase of an additional 2.5% stake in the Explorer Pipeline Company in July will further enhance its DCF generation as its investment in that venture climbs to 22%.
There has been positive movements on the Dakota Access Pipeline front, with commercial operations possible by next year. The Army Corps of Engineers approved most of the permits the crude pipeline needs very recently, creating a more transparent timetable. While arson and protests will continue to be a hindrance, the venture secured financing for the Dakota Access Pipeline and Energy Transfer Crude Oil Pipeline developments in early August. Phillips 66 owns 25% of both those projects, which will most likely end up getting dropped down to Phillips 66 Partners.
As the West Texas Intermediate oil benchmark moved back below $40 a barrel, Phillips 66 Partners' unit price came under pressure but long term, this income growth play remains on track for 25% - 30% annual distribution growth. Its relatively low leverage ratio, strong distribution coverage ratio, very promising DCF growth trajectory, and ample access to liquidity through its credit line and ATM program will carry Phillips 66 Partners much higher during a recovery.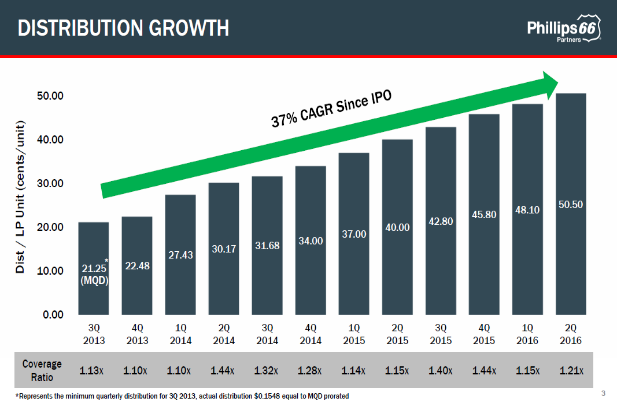 Source: Phillips 66 Partners Q2 2016 Presentation
On August 3, Phillips 66 Partners and Plains All American Pipeline (NYSE:PAA) agreed to form a 50/50 joint venture in the STACK region in Oklahoma. The STACK is home to the oil-rich Woodford and Meramec shale plays that have become very attractive over the past two years. Incremental well returns are competitive with the best unconventional plays in America and drilling activity has been heating up as that has become increasingly apparent (read more about the STACK's economic potential here).
In the event WTI moves over $50/barrel, the STACK is one of the plays upstream operators would add rigs first, making this not only a good move to capitalize on recent increases in activity but also sets the stage for a significant amount of organic growth projects in the years ahead.
For $50 million in cash, Phillips 66 Partners is buying into the 55-mile STACK Pipeline, which has the capacity to carry 100,000 bo/d from the play to Cushing, Oklahoma, and 200,000 barrels of oil storage capacity at the nearby Cashion Terminal. To build off of the partnership the JV plans to invest $15 million in an additional 100,000 barrels of crude storage capacity, a truck station at Highway 33, and an associated lateral pipeline from that station to the Cashion Terminal to expand the capacity of the STACK Pipeline.
This is just the first development in what will probably be a series of growth projects. Phillips 66 Partners noted that the partnership was looking into "gathering opportunities" and "looping the pipeline from the Cashion Terminal to Cushing", which is a positive sign. With this relatively small investment Phillips 66 Partners bought itself a longer and larger growth runway that will yield strong and growing fee-based DCF streams. As a unitholder, these recent updates have been a reassuring sign after Phillips 66 Partners' unit price tracked crude lower.
Disclosure: I am/we are long PSXP.
I wrote this article myself, and it expresses my own opinions. I am not receiving compensation for it (other than from Seeking Alpha). I have no business relationship with any company whose stock is mentioned in this article.