First Solar (NASDAQ:FSLR) investors, and investors in the solar sector in general, have had a frustrating time of things over the past few years as increasing revenues have led to nothing but stagnant stock prices and wasted capital. It should be so simple right? Solar is the energy source of the future! How could you invest in the future of energy and lose? Well the solar revolution has certainly gotten off to a sluggish start as far as equity prices are concerned: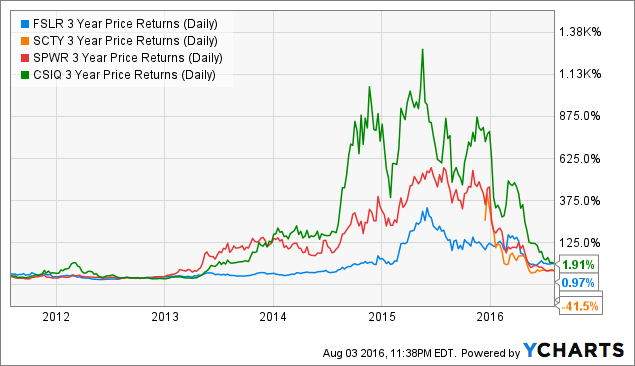 FSLR 3 Year Price Returns (Daily) data by YCharts
There have been some spikes along the way, but for the most part solar stocks have soared, cratered, and ended up today just about where they were, or lower than where they were, 5 years ago. Yet in that time, revenues and the solar sector at large have been growing at a fast clip. The following graphic tells a familiar story: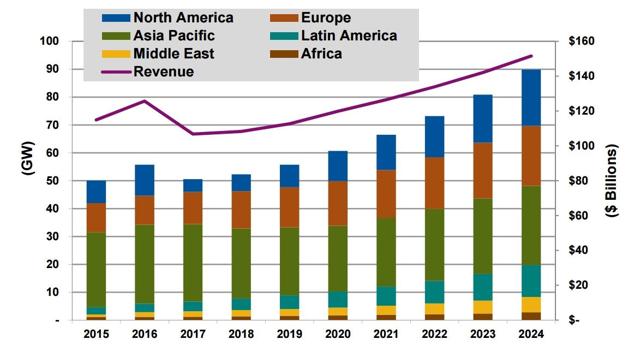 Click to enlarge
(Source: Navigant Research)
I mean it's obvious at this point isn't it? We all know solar is growing and becoming a cheap, viable form of energy. So what's the deal with equity prices? Well the SunEdison (OTCPK:SUNEQ) fiasco has certainly tempered speculation among solar stocks as many investors were burned badly by the abominable management of that once-promising company. Big bankruptcies have a way of dashing optimism in related markets, and I think many individual and institutional investors are likely still suffering from SUNEQ PTSD.
Yet for a while now, solar stocks have traded at what many investors see as cheap multiples. Forward P/E ratios across the sector are pristine (barring SCTY of course):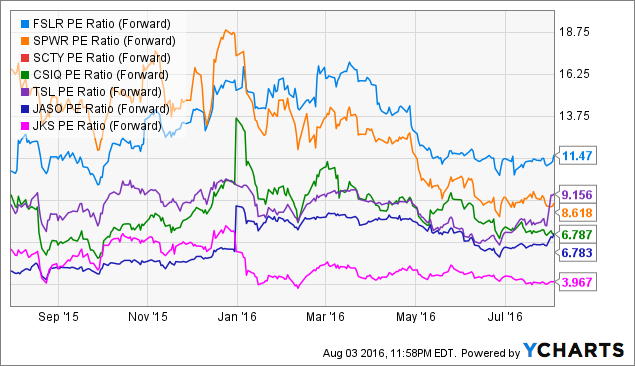 FSLR PE Ratio (Forward) data by YCharts
The major industry players include First Solar, SunPower (NASDAQ:SPWR), SolarCity (NASDAQ:SCTY), Canadian Solar (NASDAQ:CSIQ), Trina Solar (NYSE:TSL), JA Solar (NASDAQ:JASO), and JinkoSolar (NYSE:JKS).
At a forward P/E of 11.5, FSLR looks like it actually maybe be overvalued compared to its peers (this is not exactly the case, which I will discuss a bit later on). I think it is fairly evident why solar investors are frustrated. The results are there! Revenue growth is still ongoing and many of the financially stable solar stocks are now making some good money. And yet stock prices remain subdued.
This trend has not gone unnoticed by the management teams of these companies either, as going private has become an alternative for the frustrated leaders of these outperforming companies. The going private option has mostly been entertained by Chinese solar companies, which are receiving even steeper discounts from the market due to, likely unfounded, fear and uncertainty over whether they will be able to perform in the long-term. Investors can probably thank Yingli Green Energy (NYSE:YGE) and its solvency issues for that.
In an article I wrote a couple days ago regarding Trina Solar I took a look at the offer to go private that the company had received. Chairman and founder of Trina, Jifan Gao, led the charge to take the company off the public market, where equity prices were not reflecting performance. My article on the subject can be found here.
Similarly, CEO of JA Solar Baofang Jin proposed taking that company private for a premium in June 2015 before the deal fell through. In regards to that acquisition, which would have paid $9.69 per ADS. S&P Capital IQ analyst Angelo Zino said at the time:
"I think the offer price grossly undervalues the company given our views of growth prospects."
Before the buyout offer, shares were trading in the mid-$8.00 range. And you know what JASO closed at Wednesday? $7.83, despite Mr. Zino's view on growth prospects. It's not even that those expected growth prospects never materialized. JA Solar is thriving! The disparity between company performance and stock price performance is frankly pretty astounding. JASO is valued at $370 million yet over the last four quarters it has reported revenue of $2.3 billion, average year-over-year revenue growth of 24%, and EPS of $1.60 (for a P/E of 4.9). The market just didn't and doesn't care.
So what are investors to make of this stagnant situation? First let's take a cursory glance at First Solar's earnings and then I'll provide a simple, obvious path forward for disillusioned solar investors.
First Solar reported revenue of $934 million, up 4.3% year-over-year, and EPS of $0.87, which was far ahead of the consensus estimate of $0.55. Production was up 39% year-over-year to reach 785 MW, and gross margin improved by 210 bps year-over-year to 20.5%.
Full-year 2016 guidance was revised upwards with non-GAAP EPS expected to be between $4.20 and $4.50 (up from between $4.10 and $4.50), which is slightly better than consensus estimates of $4.30 using the midpoint of the guidance range. Free cash flow for the year is expected to be in the area of $275 million.
While there were very few negatives contained in the report, FSLR barely budged after-hours. For argument's sake, let's assume that FSLR is trading at a higher valuation (using forward P/E) than other solar companies because better results are expected. Therefore positive Q2 earnings were already priced in. But I think FSLR trades at a premium for different reasons, mainly gross margin and free cash flow: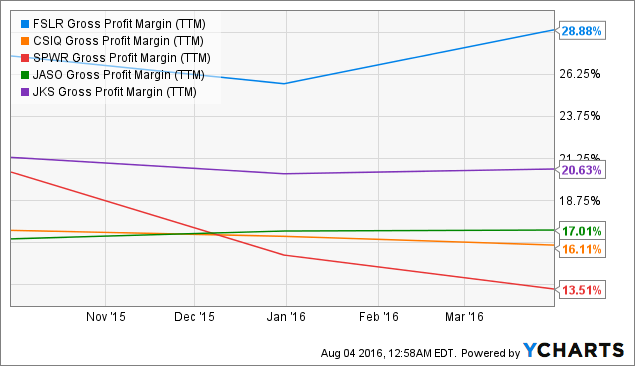 FSLR Gross Profit Margin (NYSE:TTM) data by YCharts
(Trina Solar's gross margin wouldn't show up on the chart for some reason, but based on Yahoo! Finance data I calculated it at about 17% TTM)
First Solar's gross margin is a function of its industry-leading efficiency and cost-per-watt of its cadmium telluride modules. In addition to being a leader in gross margin, First Solar is one of the few companies in the solar sector generating free cash flow. FSLR is trading at a rightful premium due to its technological edge, its substantial gross margin lead on its competitors, and its ability to generate free cash flow.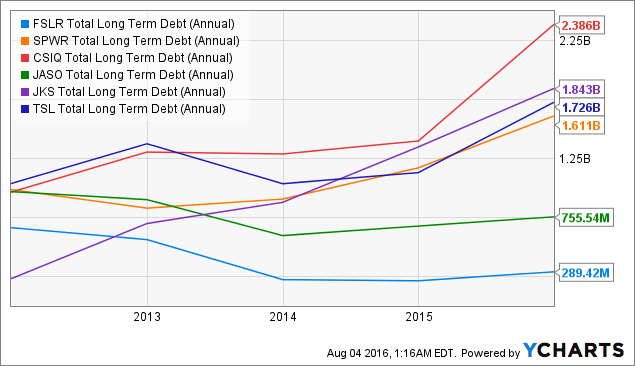 FSLR Total Long Term Debt (Annual) data by YCharts
As an important added benefit, should margin pressures mount, the solar sector hit a growth snag, or some macroeconomic event materializes, First Solar is by far the least leveraged of the notable solar companies, which yields a margin of safety that solar investors would appreciate. I think this too has led to FSLR receiving a premium valuation relative to its peers. Most other solar companies do not boast a cash-to-debt ratio of better than 5.
Are you ready for my advice? The simple, obvious strategy for solar investors going forward? Hold long-term. Boring I know, and you've heard it a million times, but solar is still in its early stages and is far from being a mature market. Investors are still not completely sold on solar and are still unsure which companies will come out on top in this cutthroat industry.
In my opinion, you can't go wrong with First Solar. It is certainly the most stable and safest of current solar stocks on the market due to its already entrenched and established business, technological advantages, and clean balance sheet. But do not buy in expecting short-term, or even mid-term gains.
If you want to invest in solar and make money, you'll probably need to be in it for the long haul. The market at large is still showing no love to solar stocks, and the sector has much more to prove before investors start to flock to them. While I think the entire industry is underappreciated and undervalued right now, if I had to pick one solar stock on which to bet, it'd be First Solar. Of course, I implore investors to do their due diligence before making any decisions as there is much more to learn than what I laid out in this article. This is simply my opinion. Now go form one of your own!
Just a quick note, readers might see that I'm long TSL and none of the other solar companies mentioned, which may seem disingenuous considering my whole "if I had to pick one solar stock to own it would be FSLR" statement. To clarify, I am long TSL for the merger arbitrage opportunity there, which you can hear more about by reading my article on Trina Solar (which I linked to earlier in this piece). If I had to pick one solar stock to own for the long-term, it would FSLR.
If you want to stay up-to-date on my articles, you can "Follow" me by going to my author page or by clicking "Follow" at the top of this page.
Thanks for reading!
Disclosure: I am/we are long TSL.
I wrote this article myself, and it expresses my own opinions. I am not receiving compensation for it (other than from Seeking Alpha). I have no business relationship with any company whose stock is mentioned in this article.
Editor's Note: This article covers one or more stocks trading at less than $1 per share and/or with less than a $100 million market cap. Please be aware of the risks associated with these stocks.