Don't mistake the small trading ranges for a lack of activity. In this market, every point is a victory. The S&P 500 (NYSEARCA:SPY) closed just seven points higher yesterday, despite the small numerical gain, it was an important reversal.
Bears appeared ready Wednesday morning to push the S&P 500 below 2,150, taking the market out of its narrow range where we've traded for the past three weeks. But bulls bought the market at support and managed to move the market from red to green.
Throw in strong upward action in both Japan and Europe subsequently, and it appears the trading range will hold. We can't yet tell if bulls will make another push for new highs above 2,175, or whether we'll go back to puttering in this range for the next week or two. Regardless, it appears the threat of an imminent sell-off has broken, and we can go back to our quiet summer lull.
That leaves us with plenty of time to discuss other topics today. For one, what's going on with everyone's favorite embattled hedge fund: Pershing Square?
Ackman Liquidates Large Position: What's Next?
Two weeks ago, on Pershing Square's most recent conference call, Ackman stated that the firm wasn't swamped with fund redemptions. He claimed that they were in fact at below normal levels of redemptions. Further, he stated:
My guess is that our redemptions that we've received as a percentage of capital are probably among the lowest in the industry, and that's really because we benefit from a very stable capital base and that's because our investors have been incredibly supportive of us,
Despite being down 19% for the year through July, many people took Ackman's word that the firm didn't face danger of liquidation. However, a filing last night makes us reconsider that position.
Pershing Square will be selling all of one of its largest positions, the Canadian Pacific (NYSE:CP) railroad. The firm holds almost 10 million shares of the company, worth just shy of $1.5 billion.
Ackman said yesterday that, "Canadian Pacific has completed an incredible transformation since our initial investment in 2011". This implies that Pershing Square finished with its activism and is ready for new opportunities, rather than this sale being forced by redemptions or investor unrest. Ackman commented to that, saying the proceeds will be used for one or more new investments.
I'm skeptical. That said, let me congratulate Ackman on an excellent investment - his returns on CP were outstanding. However, it seems convenient to unload your big winner for the year when your fund is down almost 20%, and the long-awaited FTC decision didn't do Herbalife (NYSE:HLF) in quite like Ackman had hoped.
On that note, it is interesting timing that Herbalife beat earnings and sees the stock threatening to make new 52-week highs right as Ackman fully disposes of a huge position. If time weren't pressing, you'd think Ackman might try to unload CP more quietly, rather than trying to dispose of it all in one huge secondary offering that will depress CP's share price.
We'll see if Ackman in fact takes other big stakes, confirming the narrative, or if the newly-raised cash seems to be used more as a slush fund to meet demands. I imagine this story eventually ends with Pershing Square shutting down, just as Ackman's previous fund did. But you have to admire his resiliency, it's pretty remarkable that investors haven't already abandoned the fund given how the Valeant (NYSE:VRX) saga is playing out.
On the last conference call, Ackman spent the majority of the time talking about Herbalife; it seems to be an obsession. If you're looking for cues of what Pershing Square may be working on, though, look at the proposed Hershey (NYSE:HSY) and Mondelez (NASDAQ:MDLZ) deal. Pershing Square seems to be opposed to the deal, a partner at the firm stated on that same conference call that:
We would find it unacceptable for an acquisition of Hershey by Mondelez to delay or derail the productivity and cost savings transformation that's under way at the company.
I personally oppose the merger because Hershey is a better-run firm than Mondelez. I don't want their management taking over the firm, and to that end, I hope Ackman is successful. He can have Mondelez and leave Hershey as it is.
Biotech: Can The Rally Continue?
This author covered his short biotech (NYSEARCA:XBI) position immediately after Brexit. While I was bearish on the space, I respect market action. Biotech stocks refused to break to new lows, and sentiment appeared to be improving as the election neared; perhaps too much negativity was priced into shares.
Once the vote is over, it wouldn't be surprising to see a relief rally; to that end, it seems traders have started one even prior to the actual election event. In any case, biotech shares have been ripping higher over the last month: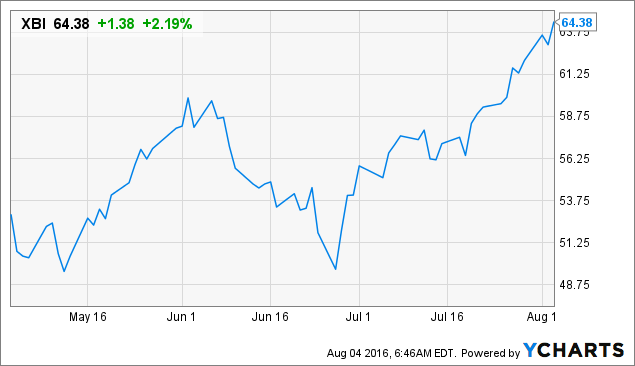 Biotech has been so strong lately that it is actually rallying this week as the rest of the market has struggled - that's a complete 180 from earlier this year when biotech would be flat on up days and careen lower whenever the broader market was even slightly red.
In any case, biotech shares are now one of the leading sectors (along with semiconductors) giving strength to the broader Nasdaq composite. Biotech has generally reported pretty good earnings this quarter, which has certainly helped. Additionally, big-name M&A activity seems to be driving a lot of investor interest.
However, it's worth discussing that the XBI biotech ETF saw its largest one-day outflow in 16 months last Friday. Investors pulled more than a quarter of a billion dollars out of the fund last Friday. That's a huge pull from an ETF that has about $2.1 billion in assets at the moment.
So, it would seem that investors are now rather skeptical that the rally can continue. Normally, rising prices lead to further inflows as investors chase the current hot sector du jour. That's decidedly not the case here.
Given just how deeply sentiment turned against the biotechs over the past year, it seems many investors are still harboring negative feelings toward the space and eager to cash out into any significant rally.
To reiterate my position, I view biotech as a busted bubble. We probably aren't going to see the 2015 highs again for quite awhile: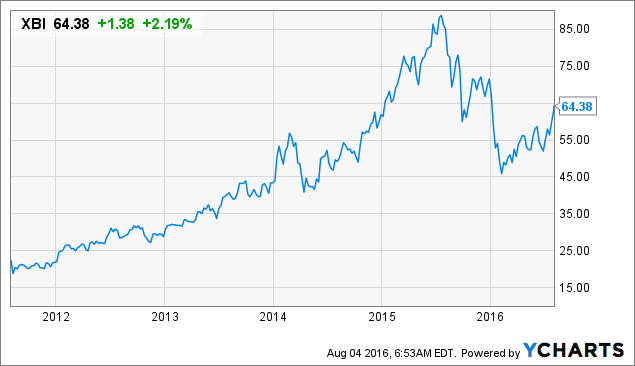 But given the strength of this move and the skepticism around it, I wouldn't be shocked if biotech can move up to 75 again before the next big leg lower.
Disclosure: I am/we are long HSY.
I wrote this article myself, and it expresses my own opinions. I am not receiving compensation for it (other than from Seeking Alpha). I have no business relationship with any company whose stock is mentioned in this article.