The big news this morning is the "bazooka firing" by the Bank of England. With the economic data across the pond having been surprisingly weak since the BREXIT vote, the BOE was forced to reduce its growth estimates by the largest amount in history. In response, the bank has decided to take action - in a substantial way.
With the announcement came the caveat that the bank had scope to do more if needed - however, the BOE started by cutting interest rates for the first time since March 2009 as the benchmark interest rate was reduced from 0.50% to 0.25%. The bank also announced a plan to lend as much as 100 billion pounds to banks to ensure the measures "reach the real economy." And finally Carney & Co. announced they would crank up the printing press again. The fresh QE program will purchase 60 billion pounds a month of government bonds and another 10 billion pounds of corporate bonds each for the next six months.
While the central bank expects the moves to have a positive effect on the British economy, they also held the door open to do more, saying "a majority of members expect to support a further cut in bank rate to its effective lower bound." In response, the British pound fell as expected, the dollar rose and global stock markets improved - albeit modestly.
Here at home, traders continue to watch oil, earnings and the election and stock futures are currently pointing to a modestly higher open.
From a technical standpoint, nothing has really changed. Although the bears may have been feeling like it was their turn up to the plate over the last couple of days, the most recent batter apparently got caught looking at strike three. Yet at the same time, our heroes in horns have been unable to come up with a reason to resume the rally at this stage. And so it goes...
S&P 500 - Daily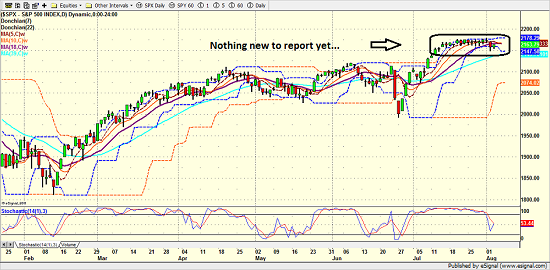 Current Market Drivers
We strive to identify the driving forces behind the market action on a daily basis. The thinking is that if we can both identify and understand why stocks are doing what they are doing on a short-term basis; we are not likely to be surprised/blind-sided by a big move. Listed below are what we believe to be the driving forces of the current market (Listed in order of importance).
1. The State of Global Central Bank Policies
2. The State of the Earnings Season
3. The State of Oil Prices
4. The State of U.S. Economic Growth
Thought For The Day:
"Keep calm and carry on." --Winston Churchill