Update: Poll results are in: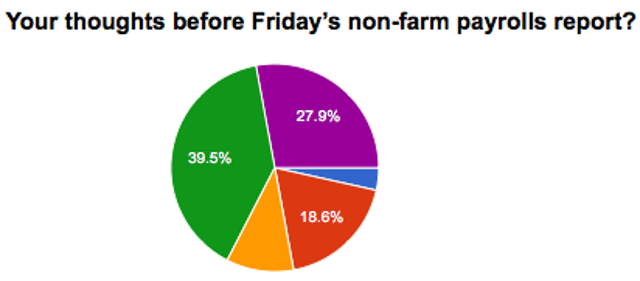 Big gains for employment, and that will help stocks climb higher - 3.5%
Expect good jobs numbers, but don't look beyond other economic indicators - 18.6%
A good jobs number means a possible rate hike? - 10.5%
No matter what the number is, the economy has lingering issues - 39.5%
Maybe a downside surprise after June's blowout number? - 27.9%
Thanks to everyone for participating in today's poll. What do you expect with tomorrow's report? Offer your ideas below.
*****
All eyes are on that key economic indicator - Friday's non-farm payrolls report.
Consensus suggest the July number will be around 175,000 added jobs. Earlier this week, ADP reported that private companies added about 179,000 jobs last month, up slightly from a previous estimate of 170,000. Don't forget June's blowout number (287,000 added jobs).
Do you have any expectations for Friday's report? How do markets react? Does the Fed react? And what happens long term? Offer your ideas below!