Fannie Mae (OTCQB:FNMA) and Freddie Mac (OTCQB:FMCC) have been controlled by the government, by which all their equity profits have gone to the government since government conservatorship began in 2008. Since 2008, on a net basis, the government has taken out over $100B using just the senior preferred securities purchase agreement that it designed to inject itself into the capital structure like a tourniquet severing the existing equity from the enterprises.
Since FHFA had control over accounting, it was able to legitimize the nationalization by making the GSEs look like complete disasters even though they were actually making cash hand over fist. This is why, if nothing changes and the government keeps taking all of the profits and reclassifying them as government revenue forever, the publicly-traded equity securities of the GSEs are worthless.
Investment Opportunity In Brief
Combined, the GSEs make somewhere between $12B and $25B per year, based on the level of g-fees that accrue to their equities. If it sounds weird to you that the government has taken all their money since 2008, and they've been forced to give the Treasury over $100B, and this all started when they had their highest capital levels in history and weren't facing a liquidity crisis, you're not alone.
Lawsuits have been filed and documents have been produced discrediting the government's earlier claims that the GSEs were death spirals. As long as the government takes everything, I suppose they are. The investment opportunity is that a court ruling stops the government from taking everything. The good news is that HERA has a whole lot of language in there, a lot more than would ever be necessary if the point of it was to effectively give the GSEs to the government for nothing.
Lamberth's ruling got appealed, and that appeal is fully briefed, and I have allocated myself 90% preferred equity shares and 10% common equity shares. William A. Ackman and Richard X. Bove suggest the upside to the common shares could be as much as $20, and the preferreds would eventually be worth par if Fannie Mae and Freddie Mac are allowed to retain capital.
PricewaterhouseCoopers Showed FHFA How To Force The GSEs To Draw Capital From Treasury
The accounting fraud thesis originally made headlines roughly a year ago. Since then, two lawsuits were filed against the accounting firms (1, 2) because of this work. Monday, a document was produced showing that Freddie Mac's auditor, PricewaterhouseCoopers, taught FHFA how to implement capital draws at Freddie Mac: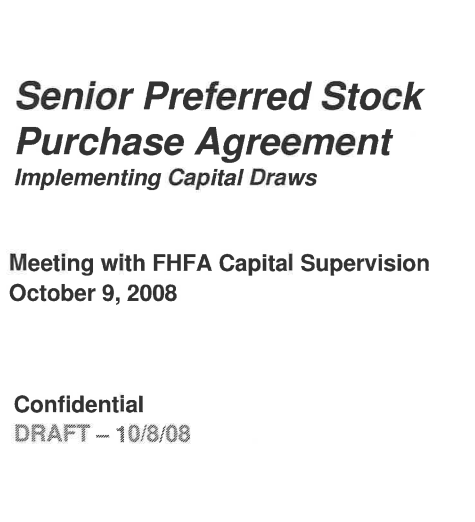 Although the majority of the document is redacted, we can see that PricewaterhouseCoopers' interpretation of the SPSPA is that it forces FHFA to put the GSEs in receivership, unless the Treasury allows it to exit conservatorship and be recapitalized: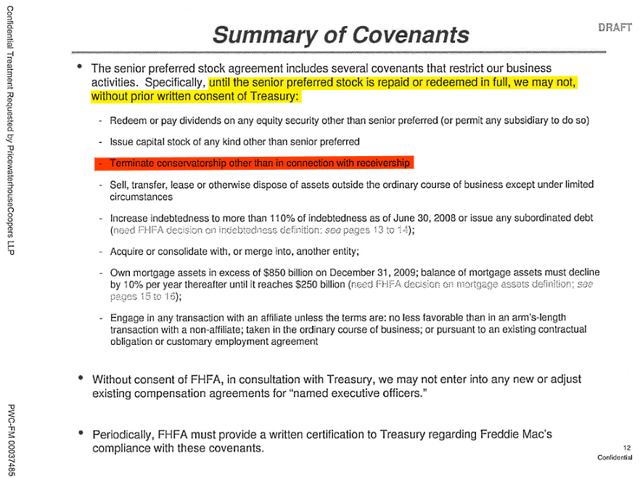 Click to enlarge
PricewaterhouseCoopers helped FHFA implement capital draws by writing off GSE assets. If you recall, the SPSPA was designed around accounting. As GSE assets were written down, senior preferred stock was issued to Treasury. PricewaterhouseCoopers gave a presentation on how to implement these capital draws in October 9, 2008, and you can probably guess what happened. Over $100B of GSE assets were written down to implement capital draws.
In a typical accounting fraud situation, I would have expected the FHFA write down GSE assets and then force PricewaterhouseCoopers to sign off on it. That's not what happened here. What happened here is that PricewaterhouseCoopers showed FHFA how to commit accounting fraud. One has to wonder if FHFA could have figured it out on its own.
FHFA's Slides Are A Bit Different, To Say The Least
This is a little bit different from what FHFA was saying: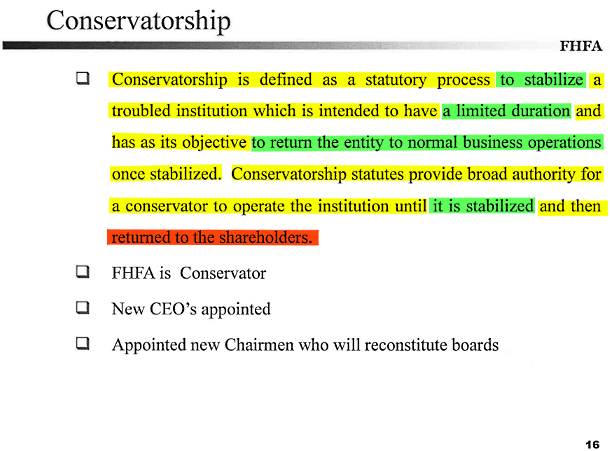 Here, FHFA makes it clear that the purpose of conservatorship isn't to forcibly end in receivership.
Deloitte Memo Aligns with PricewaterhouseCoopers Memo That Treasury Is In Charge
A heavily redacted Deloitte memo shows that Treasury is in charge: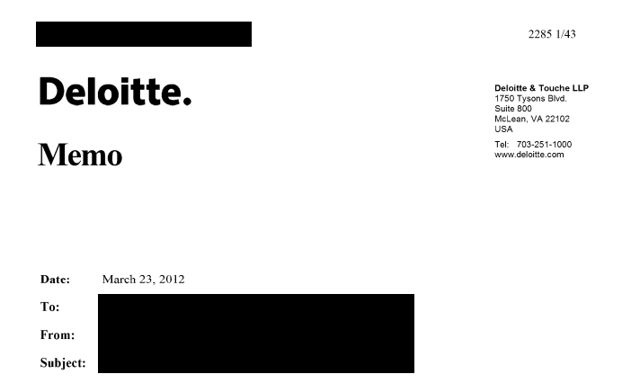 Click to enlarge

Click to enlarge
This is not unlike what White House Advisor Jim Parrott reveals during deposition: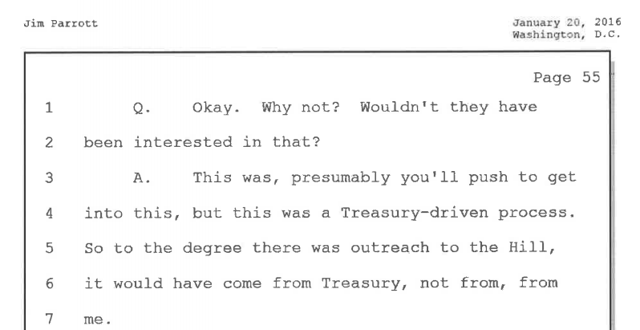 Click to enlarge
Jim Parrott says it's a Treasury-driven process. By law, FHFA is not subject to any other Federal Agency:

Click to enlarge
FHFA was not supposed to be subject to any other Federal agency, but Jim Parrott says that Treasury was driving the process.
The Projections Came From BlackRock
Grant Thornton's notes make it obvious in 2008 where these accounting projections came from:

Click to enlarge
It's interesting that the government rates the Senior Preferred Securities so highly considering its public disclaimer is that Fannie Mae and Freddie Mac are broken business models:

Click to enlarge
This is good news for investors because the government is fighting hard to keep BlackRock (NYSE:BLK) documents under wraps. It looks like Morgan Stanley (NYSE:MS) may have collaborated with BlackRock on some forecasts that may have been subsequently revised. Either way, these projections somehow led to this facility: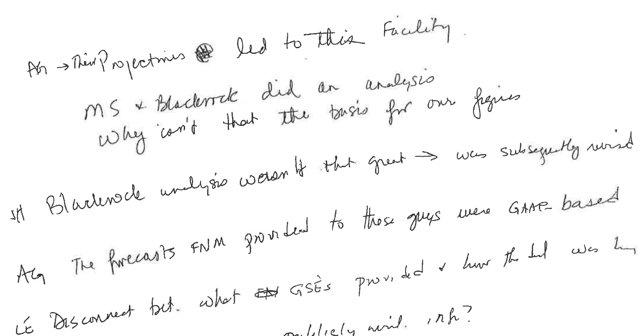 Click to enlarge
Part of the government defense to prevent these BlackRock documents from coming to light seems to acknowledge that they will be held up for ridicule: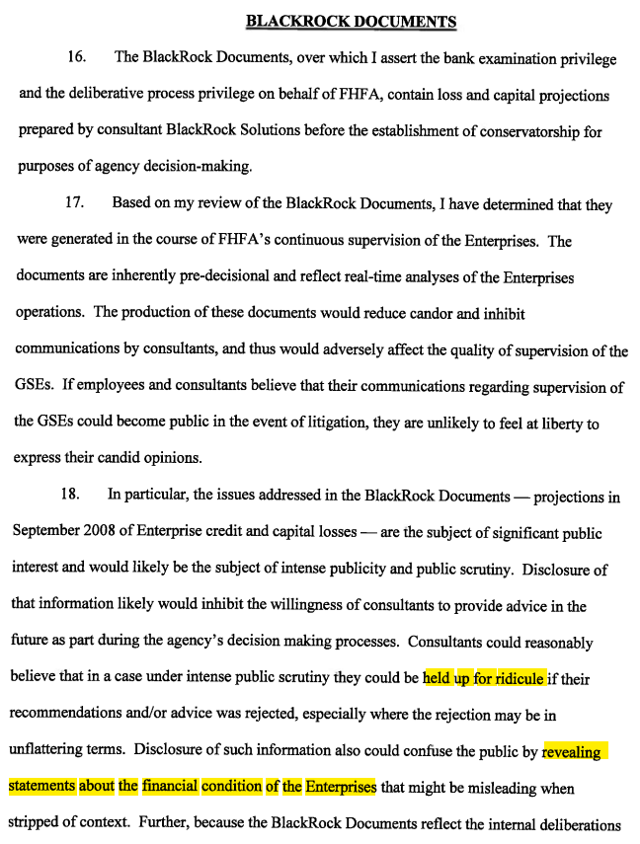 Click to enlarge
To put it simply, we knew that the government was pulling out all the stops in its fight against these projections being held up for ridicule. Now we know that this is where the projections came from, apparently to put Fannie Mae and Freddie Mac into conservatorship. There was apparently discussion at this time (October 2008) about taking away shareholder rights:

Click to enlarge
It also looks like they discussed the capital structure in geological terms where they were killing preferred shares and replacing them with senior preferred shares:

Click to enlarge
It looks like they had issues figuring out how to increase their ability to draw. Maybe that's where PricewaterhouseCoopers came to the rescue:

Click to enlarge
The document flow from Judge Sweeney's Court of Claims has been making for an interesting game of connect the dots for GSE shareholders that like to sift through legal filings.
Summary and Conclusion
In total, eight documents were released Monday. They can all be seen on fanniefreddiesecrets.org, a website made by Investors Unite. In publishing them, Investors Unite put out a post discussing its preliminary findings here.
These recently released documents show that Treasury was in charge and that the auditors knew how to implement capital draws at Fannie and Freddie to issue GSE preferred stock. In the event the plaintiffs begin winning in their lawsuits against the auditors and the government, the respective common and preferred stock of Fannie Mae and Freddie Mac stands to appreciate.
I am not a lawyer, and I am not an accountant, but I don't need to be to figure this one out. What's crazy to me is how long it took us all to get here. The fact is that writing down the assets in isolation wasn't that obvious until they were written back up after the net worth sweep. At that point in time, people began putting two and two together and making sense out of what had happened. Lawsuits were filed, and billions were transferred to the government.
Detailed Disclosure: I have 4,050 shares of FMCCH; 9,340 shares of FMCCP; 4,442 shares of FMCCT; 500 shares of FMCKO; 6,585 shares of FMCKP; 25,092 shares of FNMA; 27,085 shares of FNMFN; and five shares of FNMFO.
Disclosure: I am/we are long FMCCH,FMCCP,FMCCT,FMCKO,FMCKP,FNMA,FNMFN,FNMFO.
I wrote this article myself, and it expresses my own opinions. I am not receiving compensation for it (other than from Seeking Alpha). I have no business relationship with any company whose stock is mentioned in this article.
Editor's Note: This article discusses one or more securities that do not trade on a major U.S. exchange. Please be aware of the risks associated with these stocks.