Chesapeake Energy (NYSE: CHK) has announced a disappointing set of Q2 numbers, something which I discussed in my previous analysis Chesapeake - Is An Earnings Disappointment In Store?
Overview
The company missed the EPS estimate by $0.03 with Q2 EPS of -$0.14, and fell short $330 million of the revenue expectations. While raising its full-year production guidance by 3%, the company also revealed that the capex will be near the higher end of its targeted range of $1.3B - $1.8B due to additional drilling and completion activity and an acquisition of additional working interests in Haynesville Shale.
CHK's net loss to the common shareholders stood at $964 million in Q1, which included a non-cash impairment charge of approximately $853 million. For Q2, the net loss has ballooned to $1.792 billion with a non-cash impairment charge of $1.045 billion. The company lost another $544 million in unrealized hedging losses.
The company's operating cash flow has taken a severe hit as well. At the end of Q1, the operating cash flow stood at $263 million, but this has dropped starkly in the following three months to just $176 million.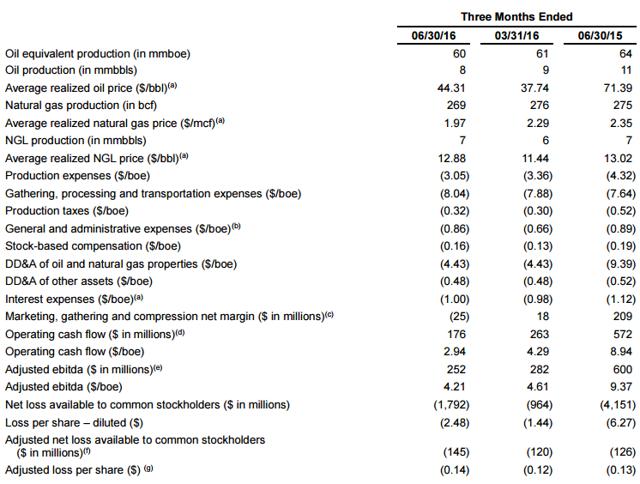 Click to enlarge
Lower Average Sales Prices
CHK's management is another in the list of companies who have failed to capitalize on the rebound in the oil (NYSEARCA: USO) and gas (NYSEARCA: UNG) prices. The lower average sales prices are a testament of that.

Click to enlarge
And it is even more worrisome for CHK because during April-June, both the commodities were in their strong bull run. While it has done well with average sales price of $43 for crude oil (NYSEARCA: USO), that for natural gas (NYSEARCA: UNG) is strikingly low at $1.63. I was expecting average sales price of $2- $2.10 for natural gas. This becomes better if we include the impact of derivatives in the average prices. While oil prices surge to $44.31, natural gas jumps to $1.97.

Click to enlarge
Debt Reduction
As of June 30, 2016, company's debt principal stood at $8.7 billion, which included $100 million of borrowings drawn on the $4 billion revolving credit facility. Additionally, letters of credit worth $813 million were issued as of June 30, 2016.
The company has reduced the debt burden by $1 billion (of which $518 million was due in 2017) since January 1.
Asset Divestitures
The company has raised the target for total gross proceeds from asset sales to more than $2 billion from $1.2B - $1.7B. A portion of the Haynesville Shale properties will be put up for sale.
Interestingly, the company revealed that in July 2016, it purchased certain operated working interests to enhance the Haynesville Shale acreage for approximately $87 million, increasing its average operated working interest in the area to roughly 83%.
Doug Lawler, Chesapeake' CEO said,
"With continued improvements in our operating expenses and the disposition of non-core properties, we have refined our portfolio to provide a more competitive foundation for Chesapeake. In addition, the application of new technologies, including longer laterals and enhanced completion techniques, to our extensive undeveloped acreage position provides us with a robust portfolio of development opportunities."
For 2017, the management believes that oil production will remain relatively flat but total production volumes are projected to be down by 5%.
This, to me, seems a desperate move by the management. The management will be grilled on this in the earnings call as the investors will want to know with what asset sales can the production volumes be maintained flat or be improved, in case the market turns for the better. The move reminds me of a guy who is selling his furniture today to pay for tomorrow's rent.
Conclusion
The market may choose to spare CHK today if its focuses on only debt reduction and asset sales, because it is hard to find a good number in the entire earnings report. Be it the revenue, the loss per share, the lower average sales price, or the declining operating cash flow.
I would not be a buyer in Chesapeake, and recommend investors to use rallies to reduce their exposure.
Disclosure: I/we have no positions in any stocks mentioned, and no plans to initiate any positions within the next 72 hours.
I wrote this article myself, and it expresses my own opinions. I am not receiving compensation for it (other than from Seeking Alpha). I have no business relationship with any company whose stock is mentioned in this article.