Recently, the S&P 500 (NYSEARCA: SPY) hit a new all-time high of 2178.29, and has been consolidating since. What's more interesting is that every time the market hits a new high, a flood of bearish articles is seen with fundamental evidence that the earnings are not there to support the valuations, or that the economy isn't growing fast enough, or that the negative interest rates are an indication of an imminent banking crisis.
I wrote a similar article titled "S&P 500: What Are We Really Chasing?" where I postulated that the investors were buying equities as they still offered better yields, compared to other asset classes. Driven by easy liquidity, the stocks are powered higher, even as the earnings continue to miss, and regular downward earnings revisions seem to have no effect on the investors, who are clearly in a risk-on mode.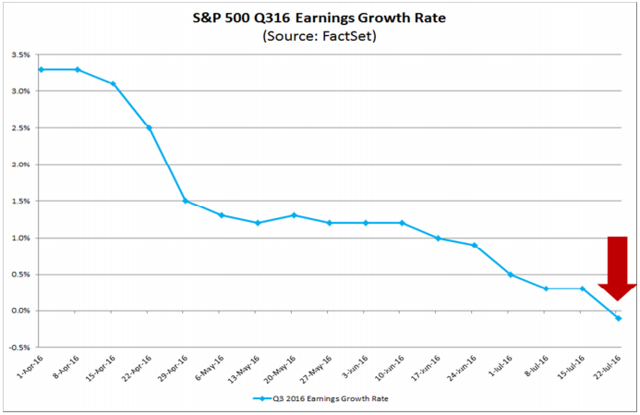 Click to enlarge
Please read the above article for further information.
After a long realization, I have finally accepted that I was viewing the market completely wrong. There is no way I can win against this trend and momentum when the entire foundation of this rally is built on cheap liquidity and the belief that central banks will do everything to protect this rally. I have come to understand that the market has become mature enough to withstand even a couple of interest rate hikes in the next 12-18 months.
Then, we have also been fed the idea of "helicopter money" - assumed to be the next drastic monetary policy tool - to stimulate economic growth and relieve the globe of the disinflationary pain. This has assured the complacent investors to take on more risks even as there is no real, substantial proof of these strategies working. But, who cares? Only true investors. The rest (majority) are happy to see their tickers go green with little to no respect for the concept of overvaluation.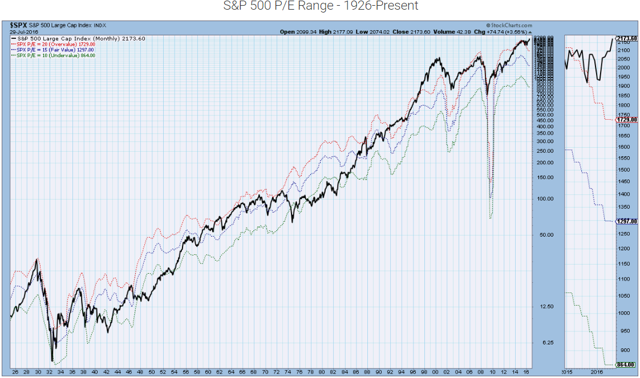 Click to enlarge
This is a Monthly S&P 500 P/E chart (1926-present), which clearly marks the historical P/E levels, and indicates that no matter what the economic situation has been, stocks have mostly oscillated between the Overvalued and Undervalued bands. Whenever the stocks have stretched beyond the overvaluation boundary, a retreat has been seen. It takes a P/E of above 20 as overbought. This means that stocks are now roughly 25% stretched compared to their upper band of 1729 by this metric.
A higher P/E indicates that the business is earning less dollars per share, and it does not seem logical to pay higher prices for businesses when their earnings cannot seem to catch up. Consider this: Would you be willing to pay $1M for a property that earns $10,000 in annual rent income? Conservatively, not. But this same conservatism is hard to find when we are looking at stocks.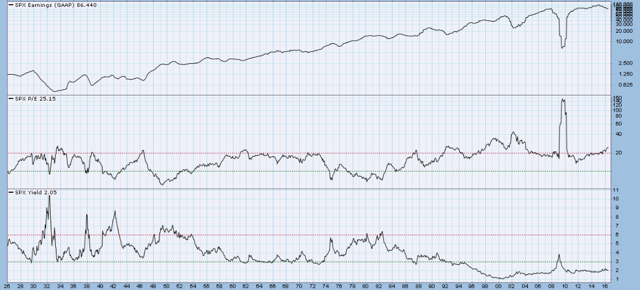 Click to enlarge
Source: StockCharts
GAAP earnings have been falling, but with investors continuing to put their money into equities, the yield (2%) has dropped to near record lows. Low yields are associated with high valuations.
But the concept of valuation is pretty much invalid in the current scenario. The concept is valid only when there is cost attached to the money you are investing. Thanks to negative interest rates, that cost is nothing. This goes against the very basics of value investing. What we are witnessing now is a mad rush to grab any positive yield offered because the future looks even more uncertain regarding the returns on investment.
Therefore, investors are simply pouring money into stocks to pocket the precious dividends. Companies are obliging too. They are raising cheap debt from the market to fund their dividend payments even as their own businesses are in disarray.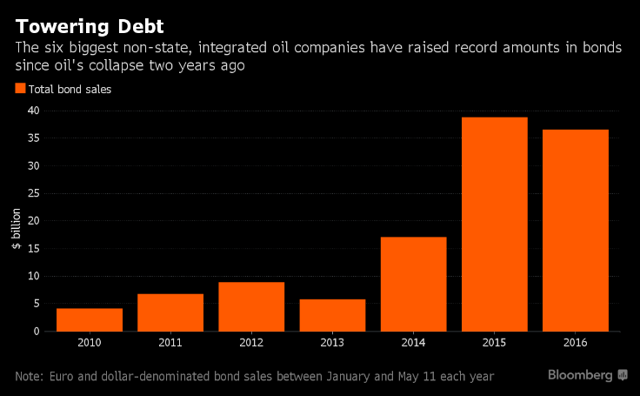 Click to enlarge
Source: Bloomberg
Has the concept of dividend become so powerful that a company needs to raise debt when its core business is cash flow negative? After all, dividends are supposed to be paid from operating cash flows. When stock prices will soar higher, I believe the companies will probably raise more debt to then make their dividend payouts 'competitive'. Some would choose to retire a percentage of their outstanding shares, but they will only be a few high-quality businesses.
So, what to do? Where to invest? I've often been asked these questions, which I believe can be aptly answered by asking another simple question: Is return on capital more important than return of capital?
To me, it is the return of capital. I am happy to miss out on some earnings in a high-risk environment, and I am accumulating cash to invest when the market is near its fair valuation or is undervalued. It is my simple strategy: to sit on cash. Unfortunately, it is hard to predict when the opportune time will come, but that is a risk I am willing to take.
Meanwhile, I am also parking some funds in traditional safe-haven assets such as Gold and the US Dollar.
This strategy may be different for different types of investors with different risk profiles.
But, what would cause the market to fall off when I have cited the obvious reasons of the rally? Investors will not jump the ship because of any earnings decline. They need a bigger jolt to get out of their delusion. A couple of banks in Italy or a big bank in Europe going bust will likely trigger their awakening. This will remind them of the financial meltdown of 2008-09, and only then they might begin to respect the concept of valuation.
A crisis in China or a prolonged period of sub-$40 oil, which can force some major players out of business, may be the much-needed panacea. I am incapable of estimating what would actually cause the next financial crisis, but I am confident that like always, This Bull Market Will End Terribly!
Disclosure: I/we have no positions in any stocks mentioned, and no plans to initiate any positions within the next 72 hours.
I wrote this article myself, and it expresses my own opinions. I am not receiving compensation for it (other than from Seeking Alpha). I have no business relationship with any company whose stock is mentioned in this article.
Additional disclosure: Hi Everyone, Thank you all for your time! I have attempted to provide a very sensible approach to the current market scenario. If I erred, then please correct me in the comments section below. If you like what I presented, please consider sharing this, and subscribing to my updates via the Follow button. Thank you once again!