Three factors that lead me to conclude that Micron (NASDAQ:MU) should beat earnings.
DRAM and NAND Prices Are Rising
Because of declining DRAM and NAND prices, which make up 91% percent of Micron's revenue (DRAM is 60% and NAND is 31%), Micron's revenue and earnings have drastically fallen. However, recently, DRAM and NAND prices have begun to stabilize and rebound. In June, NAND spot prices rose around 22% and DRAM spot prices rose around 11%.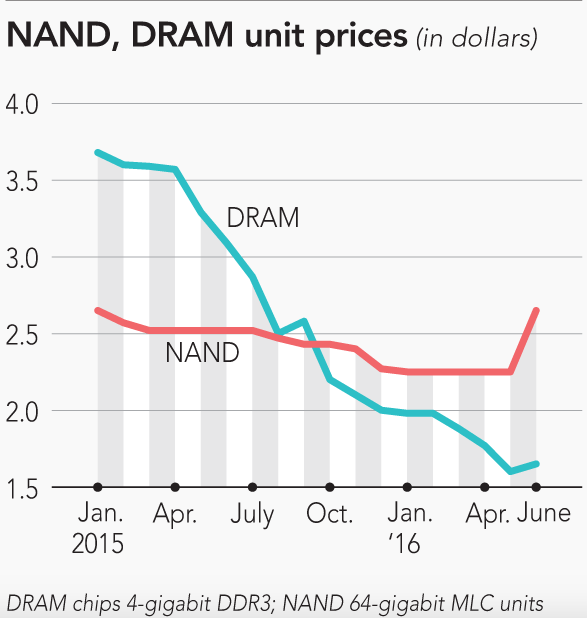 (Nikkei Asian Review)
Further, DRAM and NAND prices should continue to rise because demand for both DRAM and NAND chips is projected to skyrocket in coming years.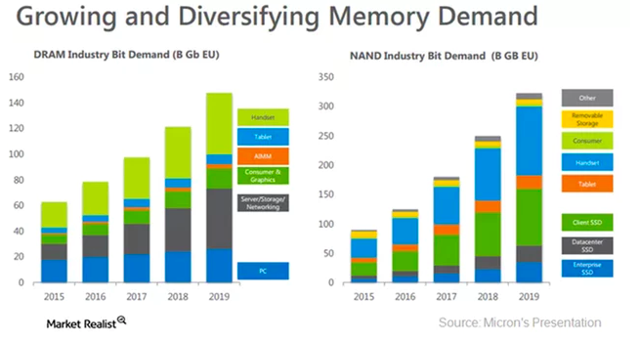 Click to enlarge
And, while demand for DRAM and NAND chips will rise in the coming years, supply will be declining, meaning that prices will go even higher.

Click to enlarge(Micron)
Going into this most recent quarter, investors thought that Micron would hit rock bottom at ($0.09) and return to profitability because of these increasing DRAM and NAND prices. Even though the company beat EPS by $0.01, the stock plummeted because CEO Mark Durcan announced that guidance for Q4 is between ($0.16) and ($0.24). Investors assumed that Micron had not turned the corner, and the stock rapidly dropped. However, in taking a closer look at the guidance for next quarter, Durcan is being overly conservative and is not factoring in the increase in DRAM spot prices.
Click to enlarge
While DRAM and NAND spot prices are rapidly rising, spot prices are not always reflected in the actual contracts. Even though it is probable that they are indeed reflected in the contracts, Durcan has decided to be conservative and not factor them in. In his opinion, and mine, it is better to have low guidance and a big earnings beat than high guidance and a big earnings miss.
Increasing Number of Bits Sold
In addition to rising DRAM and NAND prices, they are selling more and more units of each type of chip. While the media is making a huge deal about declining PC DRAM sales, mobile, enterprise, and server DRAM chips are surging. Last quarter, unit sales of DRAM chips increased 22% year-over-year, so the declining PC sales clearly are not hurting Micron's unit sales very much. The PC concerns are drastically overblown. DRAM bit growth is projected to be 28-30% over the course of this fiscal year and next fiscal year.. NAND bit growth is projected to be in the low teens because they are currently transitioning from NAND chips to 3D NAND chips. Not only will Micron be selling units at higher prices, but they will also be selling more units this coming quarter.
Cost-Saving
Because of its recent struggles, after releasing last quarter's results, Micron released a plan to save $300 million in the next fiscal year by cutting jobs. In addition, in the previous quarter, Micron made the transition to 20nm chips. As a result, they were able to save a lot more per chip. Even though DRAM prices decreased 11% last quarter, gross margins only decreased by 2%, meaning that the 20nm chips increased margins by 9%. Moving from 25nm chips to 20nm chips, is something called a "die shrink." A "die shrink" is when semiconductor companies find a way to produce smaller chips with the same (or better) effectiveness, which saves them a ton of money because they don't have to spend as much on the hardware of the chip. Micron's new 20nm chips are not only more cost-effective, but they are also more efficient.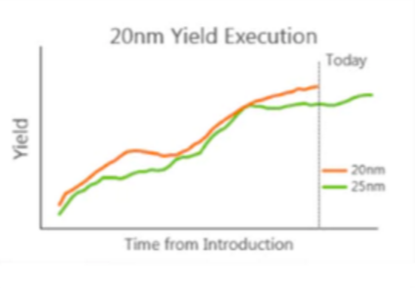 (Micron)
Valuation
Second of all, I'm bullish on Micron because it is undervalued relative to its peer group. Even though Micron's P/E of 46 is incredibly high. P/E is not a good metric to value Micron because it is affected by varying margins, and Micron has had two consecutive negative quarters. If we exclude P/E, Micron is actually undervalued. Micron's P/B is 1.2, while the industry median is 1.6.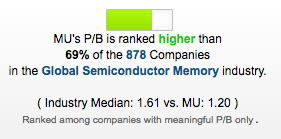 (Gurufocus)
Further, Micron's P/S is 1.19, while the industry median is 1.48.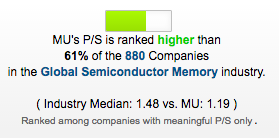 (Gurufocus)
Lastly, Micron's EV/EBITDA is 5.8, while the industry median is 11.7.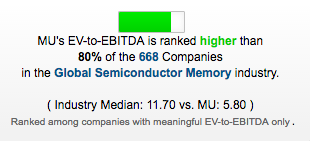 (Gurufocus)
So, if you look past the P/E, you can see the Micron is not overvalued at all; Rather, it is relatively undervalued.
Innovation
The third reason why I like Micron is because it is on the forefront of innovation and is well positioned for the future.
3D NAND
First of all, Micron is preparing to fully transition to 3D NAND chips by the end of the year. They are one of the first semiconductors to roll out 3D NAND chips and one of the first to fully transition to 3D NAND chips. 3D NAND chips prevent memory and flash wear on the chip, which makes the chip more durable. Micron has vowed that 3D NAND chips will be 50% of the company's output by this fall. And, as Micron transitions to 3D NAND generation 2 chips, costs will be even further reduced.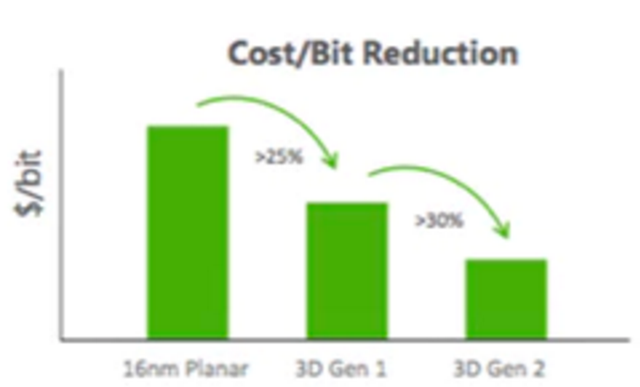 Click to enlarge(Micron)
Partnership with Nvidia (NASDAQ:NVDA)
Second, Micron has a partnership with Nvidia, where Micron creates the memory cards and Nvidia creates the graphics cards. Micron has developed a number of chips that will support virtual reality technology. As Nvidia becomes increasingly focused on virtual reality gaming, Micron will be in a great long-term position for growth.
Embedded Segment
Third, Micron's embedded segment produces the chips for drones and autonomous vehicles. As autonomous cars become the norm, Micron should receive a lot more business and should see significant growth.
3D Xpoint
Fourth, Micron and Intel have been working together to release a 3D Xpoint Chip in 2018. 3D Xpoint chips could possibly revolutionize the semiconductor industry and help Micron gain market share. 3D Xpoint technology is many multiples faster than NAND and DRAM chips and is more efficient. The following shows Micron's plans to ramp up production of the chip.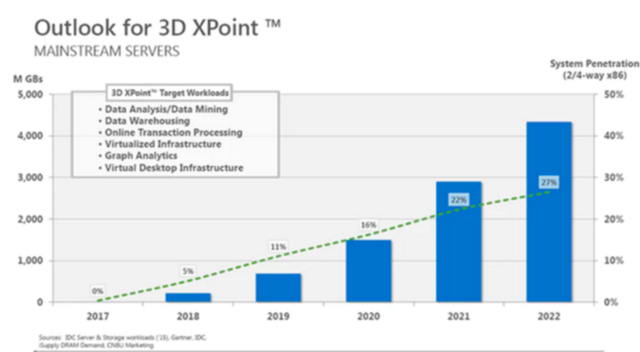 Click to enlarge(Micron)
SLC NAND
Lastly, Micron's new SLC NAND chip is one that can revolutionize the industry. It aims to push the IoT market. It will be able to do so because of the chips features, including 10-year optimal data retention, on-die error retention code, and new security features (one-time programmable data and permanent lock blocking).
Potential Buyout
Last summer, when the company was trading at $14.50 a share, a Chinese semiconductor, Tsinghua Holdings, offered to buy Micron for $21 per share. Micron declined the bid and investors' hopes for a buyout faded. However, last Friday at 4 PM, Micron issued a "right" for each investor to get a $0.10 dividend. Many investors were confused about why Micron would issue a right to the dividend when it is sitting on $5 billion of cash and why they would release the news on a Friday at 4pm. On Monday, the stock surged because Wall Street saw this move as a "poison pill." A "poison pill" is a move made by a company to prevent a buyout, which would explain why Micron tried to be secretive about it and why it is issuing this "right" in the first place. This right will make a potential buyout far more complicated. However, Micron's stock is surging, as investors speculate about potential buyers. While it could be Tsinghua coming back with another bid, many doubt that the deal would get approved. A Credit Suisse analyst theorized that Intel might buy Micron for $22 per share because they already have a massive partnership. Others are think that it could be Apple's (NASDAQ:AAPL) attempt to vertically integrate a semiconductor in order to rival Samsung (OTC:SSNLF). Regardless of the buyer, $22 per share is not out of the question because they are currently trading higher than the $14.50 price point it was trading at when Tsinghua made its $21 offer. Further, I think the fact that Micron is trying to avoid a takeover shows its confidence in its own business moving forward.
Disclosure: I am/we are long MU.
I wrote this article myself, and it expresses my own opinions. I am not receiving compensation for it. I have no business relationship with any company whose stock is mentioned in this article.
Additional disclosure: Disclaimer: Stock recommendations, analysis and comments presented on our website (Cheddar.com) are solely those of the experts quoted, and do not represent our opinions as to whether you should buy, sell or hold shares of a particular stock. We express no such opinions. You should be cautious about any stock recommendations and should consider the source of any advice on stock selection. Various factors, including personal or affiliated-fund ownership (which we advise our experts to disclose but cannot monitor), may influence or otherwise factor into an expert's recommendations, analysis and/or comments. In addition, investing in any investment discussed on our website is likely to be risky and speculative. Some of the companies will have limited operating histories and little available public information, and the stocks they issue may be volatile and illiquid. You are cautioned that investing in such securities can result in immediate and substantial losses. We strongly advise you to conduct your own independent research if you decide to invest in any stocks and we recommend you consult your own professional advisor before making any investment decisions. Investors should always be mindful that historical stock performance is no guarantee of future performance and investors should only invest risk capital, and not capital that they may need for other purposes, such as retirement savings, student loans, bills, emergencies, mortgages or education.