I've been very bullish on restaurant conglomerate Bloomin' Brands (NASDAQ:BLMN) as I've liked the company's combination of higher sales, expanding margins and a sizable buyback to fuel EPS growth. As recently as February I said analysts were too pessimistic about 2016 and that at $16+, BLMN was setup for a nice rally this year. The stock has indeed rallied but Q2 earnings failed to impress and we now find BLMN right back at $18 after a rally that took it to nearly $20. I'll admit I thought BLMN would be higher than this by now so let's take a look at what is causing BLMN's subdued share price.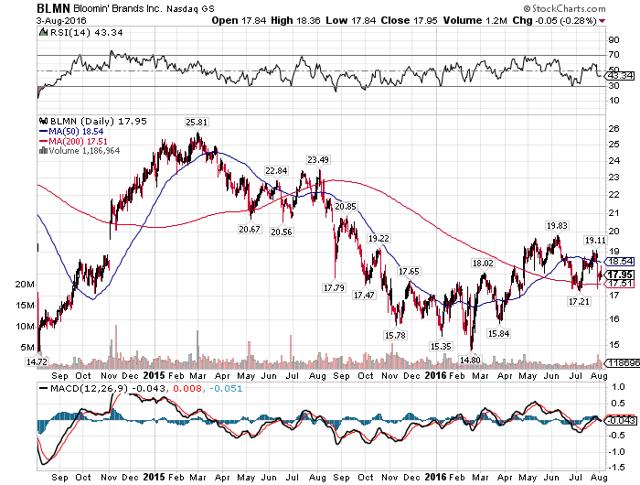 Click to enlarge
Restaurant sales in general have been very weak this year except for a few high-flyers like McDonald's (NYSE:MCD) and a couple of others. For mere mortal restaurant chains, it seems fighting for the leftover scraps has ruled the day more than competing from a position of strength. June's US restaurant comp number of -3.5% isn't that unusual these days and that means chains like BLMN are suffering. Whether it is pricing increases - necessary to maintain margins in the face of higher labor costs - or a push for Americans to eat at home more often, it is killing restaurant stocks almost across the board.
BLMN's Q2 revenue fell almost 2% as it certainly was victim to this condition. BLMN's store base is virtually flat at this point so we aren't going to see huge changes in revenue in either direction; the story with BLMN's top line is comp sales and in Q2, they weren't very good. BLMN's US comp was -2.3% in a marked departure from what we've seen in more recent quarters. This was a sizable piece of my bull thesis and although it isn't as important as rising margins, it certainly still counts. I was looking for BLMN to produce ~2% comps this year but that looks like a pipe dream at this point. Thus, sales are almost certainly going to see negative growth this year and while the loss will be slight - perhaps around 1% - coming into 2016 I was looking for +2%; that's a meaningful difference but BLMN's comps have just slowed too much. I'll admit I didn't see the protracted weakness in the restaurant sector coming and BLMN is worse off for it. What's worse is that only Bonefish in the US was greater than zero in Q2 with a +90bps comp. It doesn't exactly inspire confidence to see weakness as widespread as that.
On the margin front - the second leg of the stool - BLMN faltered as well. Operating margins fell whichever way you slice them in Q2 with adjusted unit-level margins falling 70bps to 15.5% in the US and a similarly ugly 70bps loss to 16.9% in the International segment. The culprits are familiar; higher labor costs, higher commodity costs and unfavorable mix shift but the damage is no less painful. Restaurants of all stripes have to deal with the new normal of labor costs but BLMN can tweak its mix and/or pricing to try and preserve some margin in the future. Will it? Time will tell but right now BLMN's margins are heading in the wrong direction. That's strike two.
The third leg of the stool is the company's prodigious buyback, something I love for stocks that I think are cheap. BLMN has been executing on its buyback for a short while now and the results have been quite good; it repurchased $65 million worth in Q2 - more than three percent of the float. That's an astronomical run rate for a buyback and it is a big reason why I think BLMN is cheap. In addition, it canceled its old authorization that had $110 million remaining and replaced it with a brand new $300 million program that expires less than a year and a half from now. That program is good for almost 15% of the current float, meaning that we'll see BLMN's share count decline by roughly that much in the next five quarters or so, boosting EPS by a similar amount over what it would be otherwise. That's why I love buybacks and the fact that management threw down the gauntlet and suggested they think the stock is cheap here is perhaps an indication that the long term story is still intact.
At today's price, BLMN is going for 13.4 times this year's earnings and just 11.7 times next year's estimates. That is a ludicrous valuation for a company that even produces flat earnings but with the upside of the massive buyback. We can assume BLMN will buy back at least 13% to 14% of the float over the next five quarters so even without the comp sales and margin growth, EPS growth will still move materially higher. The stock is being priced like the company isn't going to grow earnings again but I disagree; consumers are fickle and go through hot and cold spots with restaurants. This has the makings of another rough spot so I think BLMN will still come out the other side and that means the stock is cheap.
Disclosure: I am/we are long BLMN.
I wrote this article myself, and it expresses my own opinions. I am not receiving compensation for it (other than from Seeking Alpha). I have no business relationship with any company whose stock is mentioned in this article.