Cisco Systems (NASDAQ:CSCO) will report F4Q16 earnings on Wednesday, August 17th. Last quarter, the company delivered strong results, outperforming on nearly every metric, from top- and bottom-lines to margins and cash generation.
Will this quarter be any different?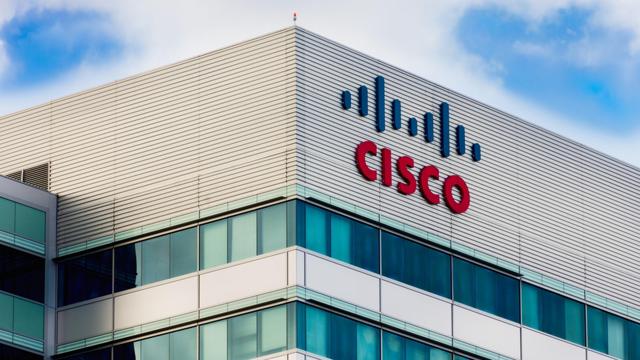 Click to enlarge
Credit: v3.co.uk
In preparation for Cisco's quarterly report, I will discuss the topics that I consider most important to shareholders and potential investors that continue to wait on the sidelines as the stock tests its 52-week highs. I will then revisit my "buy" recommendation on the stock, and discuss whether CSCO still makes sense as a long-term investment.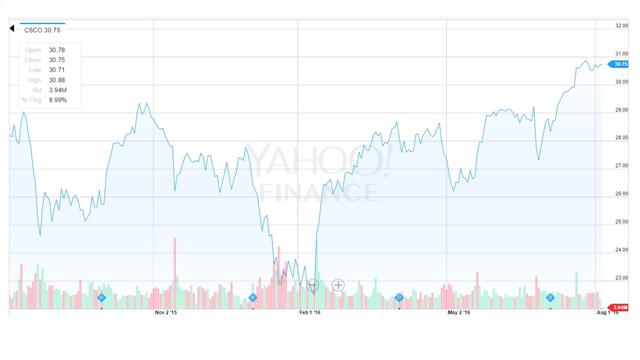 Click to enlarge
I expect timid routing and switching revenues and margins
It is not a secret that communication equipment companies have been facing severe headwinds over the past several quarters. Carrier capex stalled a couple of years ago, and has remained curbed as global 4G rollout projects come to a close. As a result, Cisco and its peers have been struggling to gain top-line uplift, and have often had to fight pricing pressure with cost management to keep profitability from deteriorating further.
For instance, Juniper (NYSE:JNPR) released their quarter results on July 26th. The company reported a YOY drop of 5% in routing revenues and a 10% increase in switching sales, driven mostly by strength in the datacenter. Margins came in below guidance as the result of a "macro environment [that] was more challenging than [management] originally anticipated", according to CEO Rami Rahim.
I expect Cisco to report similar results this month, which would not be much different from last quarter's numbers (see graph below). While switching in the data center has proven resilient, especially with the satisfactory adoption of Cisco's N9000 series, campus switching, the company's largest business, has failed to impress - down -3% and -4% YOY in the past two quarters.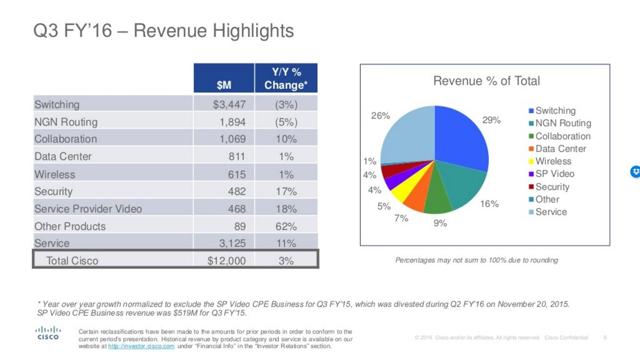 Click to enlarge
Source: CSCO's F3Q16 earnings presentation
Given the circumstances, I believe the bar has been set low for these two key businesses. Provided that the YOY deterioration in campus switching and routing does not exceed the 2%-3% mark, I believe Cisco has a good chance of meeting or exceeding de-risked revenue expectations of $12.57 billion - a YOY drop of 2% for the total company.
Collaboration and security have been marching forward
On the flip side, collaboration and security have been performing very well, having grown 10% and 17% YOY last quarter, respectively, and by 3% and 11% in F2Q16. I see no signs of a slowdown in these two businesses. Last month, Edwin Paalvast, SVP of Cisco's EMEAR region, emphasized that deferred revenue within collaboration grew 16% as Cisco's alliance with Apple continues to solidify, while security's deferred revs rose by 21%. During his conversation at the Nasdaq's 34th Investor conference, he maintained a bullish tone on these two businesses.
I expect, therefore, collaboration (9% of total revs) and security (4% of total revs) to help Cisco meet expectations for the quarter. I believe a YOY revenue increase in the low double-digits, at a minimum, is likely to bode well for the company's results and for the stock's performance. A hypothetical 12% growth rate in both businesses, for example, would represent a 1.5% YOY improvement in total company's sales.
Is CSCO still a buy?
In the short term, I believe de-risked expectations for F4Q16 are likely to keep the bar low for the San Jose company. I would not be surprised to see Cisco beat consensus revenues of $12.57 billion and EPS of $0.60/share (vs. $0.59-$0.61 guidance), should the company manage to deliver solid non-core results (i.e. businesses excluding routing and campus switching) as it has been in the past few quarters.
In the longer term, as the table below indicates and despite a run of 37% since the stock's 52-week low of February 10th, CSCO continues to look undervalued compared to its network equipment peers. Trading at 13.2x 2016 consensus EPS, one full turn higher than last quarter, CSCO is valued below the peer group's 14.0x. And on a cash-adjusted basis, CSCO trades at a 2016 P/E ex-cash multiple of 10.2x, 31% lower than the peer median of 14.8x.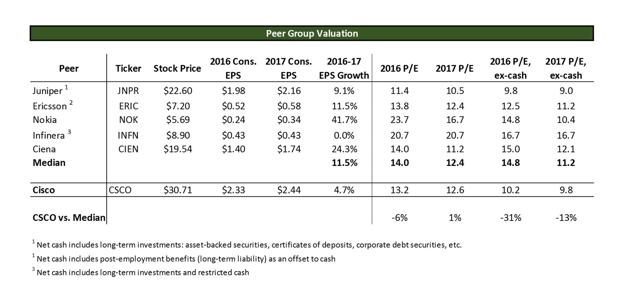 Click to enlarge
Source: DM Martins Research, using data from Company Reports, SEC filings, and Yahoo Finance.
As a result, and considering the 3.5% dividend yield, I continue to see CSCO as a solid, albeit conservative, investment option for those willing to dip their toes in the networking equipment pool. Cisco is an industry-leader that continues to execute well on its non-core businesses while mitigating the negative impact of its slowly-shrinking routing and switching segments. The stock price, however, does not yet seem to properly reflect Cisco's superior fundamentals, in my view.
Disclosure: I am/we are long CSCO.
I wrote this article myself, and it expresses my own opinions. I am not receiving compensation for it (other than from Seeking Alpha). I have no business relationship with any company whose stock is mentioned in this article.