When I wrote about Transocean's (NYSE: RIG) offer to buy Transocean Partners (NYSE: RIGP), I did not realize that so many investors would oppose the deal.
To me, it was a no-brainer: Transocean was offering a good bailout at comfortable prices. The comfort of prices is surely dictated by the investor's cost basis.
However, given the current market environment, the offered deal seemed fair. After reading comments on the articles dedicated to the news, I decided to take a second look at the deal. Here's what I think.
The company finished the second quarter with $171 million of cash on the balance sheet, and the overall difference between current assets and current liabilities was $261 million - a fact that won't go unnoticed by those arguing that Transocean's offer was not good enough.
In its recent presentation, Transocean argued that it offered as much as $530 million per rig.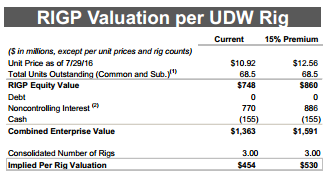 This argument is incorrect because rigs are not the only assets that Transocean Partners has as I showed above. However, the whole discussion is still about how much Transocean rigs are worth. Calculations of liquidity and contract cash flows do not cause disagreement between investors, but the value of the rig is a hotly discussed topic.
First, let me offer my thoughts on why we should take into account the liquidation value when the company has no near-term financial problems.
The answer is simple - Transocean is effectively proposing to close Transocean Partners and transfer all assets to Transocean. The proposed compensation for Transocean Partners' shareholders is 1.1427 Transocean shares for each Transocean Partners' unit.
This proposal accounted to $11.94 per unit at the market close on August, 3. At the same day, Transocean Partners' units closed at $12.33, so unitholders had the necessary time to evaluate their decision and sell the units at or above $12.
The same happens when the company is liquidated - all assets are sold; cash is returned to unitholders. That's why I believe it is inappropriate to value Transocean Partners' rigs at their supposed value at any chosen year, be it 2018, 2019 or 2020. To get liquidation value, you have to value them now and according to the current market conditions.
The problem for the "offer is bad" thesis momentarily arises - the market for rig sales is awful and is likely to remain bad for the coming years.
The main data point that we have on this front is Ocean Rig's (NYSE: ORIG) purchase of Cerrado for $65 million.
This deal has been discussed many times and there were hints that the rig was not in optimal technical condition, but Ocean Rig's competitors indicated during their earnings calls that they were not interested in acquiring such assets in principle.
This earnings season did not bring any change to this stance as contracts remain scarce and oil is under continuous pressure. I've seen "conservative estimates" for Transocean Partners' rigs at $230 million per rig, but such estimates are not conservative at all.
Transocean Partners will not be able to sell its rigs for this price neither now nor in the coming few years. I believe that current value of Transocean's rigs (not accounting for existing contracts) is close to Cerrado value due to the extreme weakness of the market. Thus, Transocean is in fact overpaying for Transocean Partners.
Let's now turn from the liquidation value to going concern estimates. It might seem logical that if the rigs are almost worthless now but may restore their value in the future, then the company should continue its operations, especially given the fact that it has no near-term financial problems and, importantly, no debt.
The main problem is that the unit price might suffer in this scenario. As Seadrill Partners (NYSE: SDLP) recent distribution cut showed, you don't have to run into liquidity problems to cut the distribution, as the management's duty is to preserve the company as a going concern.
It is already evident that there's hardly any future for companies with 3 rigs in the next decade market, which will likely be dominated by surviving drillers who will consolidate the best assets from the weak players.
A distribution cut is always a disaster for the high-yield plays like Transocean Partners. In my view, Transocean Partners unit price will decline in case unitholders vote against the offer. In all, I see Transocean's offer as good for Transocean Partners' unitholders.
Disclosure: I/we have no positions in any stocks mentioned, and no plans to initiate any positions within the next 72 hours.
I wrote this article myself, and it expresses my own opinions. I am not receiving compensation for it (other than from Seeking Alpha). I have no business relationship with any company whose stock is mentioned in this article.
Additional disclosure: I may trade any of the abovementioned stocks.