Volkswagen (OTCPK:VLKAY, OTCPK:VLKAF) has seen some big news over the last weeks, some good news and some bad news. I'll take a look at what is important for the company.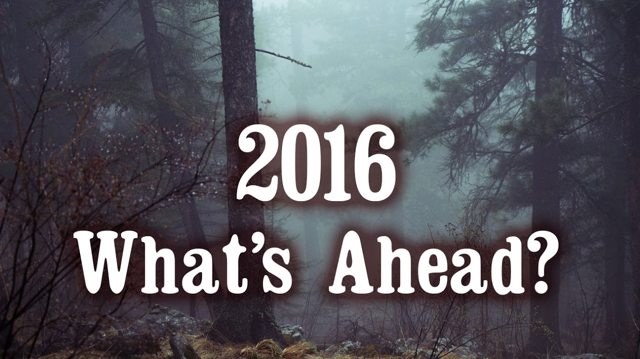 The first item we should look at is the fact that Volkswagen won approval for its $14.7 billion settlement plan with US drivers and US administration. This is a positive as it allows the company to go forward with cleaning up the mess it produced in the US. Once the plan gets final approval (likely in October) Volkswagen can buy back the cars it used a defeat device on, which will mean that the scandal can be rolled up and will finally be out of the media. Some of the cars might not even have to be bought back, the company has provided hardware and software that fixes the issue. Right now these reparations are being tested by the company in cooperation with the California Air Resources Board. A successful fix could save the company a couple of billions of dollars, since it would mean Volkswagen does not have to buy back all 475,000 affected cars.
On Tuesday we got news that were much worse, though: South Korea has banned Volkswagen from selling most of its models in the country, and has additionally announced a fine of $16 million. The fine is not a big problem (its just one tenth of a percent of the US fine), but the sales ban could hurt the company in the future: Volkswagen has sold 36,000 cars in the country last year, and South Korea has been a huge growth driver for the company. Until Volkswagen clears this out Volkswagen could be losing roughly $1.0 billion in annual sales (assuming an average sales price of $25,000 to $30,000 per car, which seems possible as not only Volkswagen models but also higher priced Audi models are affected). The South Korea ban will not break Volkswagen's neck, but it is a very unpleasant detail for the company that already battles a couple of headwinds.
A more positive news item we got at the end of July is the fact that Volkswagen was the biggest car manufacturer (in terms of vehicles sold) in H1, despite the diesel scandal that started last fall: Volkswagen sold 5.12 million cars in the first six months of 2016, whereas Toyota (OTCPK:TOYOF), the second biggest car manufacturer over that time frame, sold 4.99 million, and GM (NYSE:GM), the third biggest manufacturer, sold 4.76 million. It looks like Volkswagen could be able to dethrone Toyota in the current year, after Toyota has been the biggest car manufacturer for four years.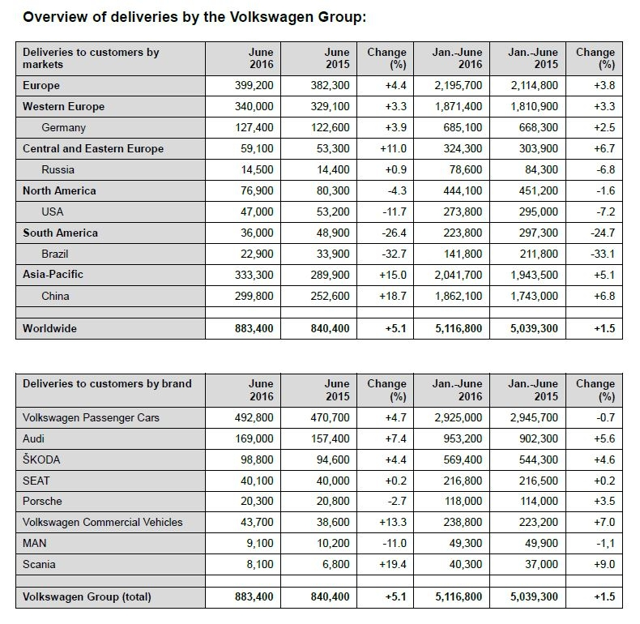 Source: Volkswagen investor relations
Volkswagen was not only able to sell more cars than Toyota, the company also sold more cars than in the prior year's time frame -- this shows that the diesel scandal does not affect Volkswagen's ability to sell cars as much as many had feared (the scandal still has a huge impact on Volkswagen's financials, though). Customers seem to have forgiven the company its cheating, allowing Volkswagen to sell 1.5% more cars in the first half of 2016. When we look at the June number only we see an even better growth rate of 5.1%, which is encouraging and could point towards a better growth rate in the second half of 2016 (since growth has accelerated during the first six months).
The fact that high priced car brands such as Audi and Porsche, as well as the truck brand Scania are growing at even higher paces (6% for Audi, 4% for Porsche) than the company as a whole, is likely beneficial for Volkswagen's average revenue per vehicle (since a Audi, Porsche or Scania truck comes with a higher price tag than a Volkswagen Jetta or a Seat), which means revenues can grow at a higher pace than the number of vehicles Volkswagen is selling.
Volkswagen also has recently announced its H1 financial results, which still are affected heavily by the fallout from the diesel scandal, but which were not too bad nevertheless. Negative special items (mostly due to the diesel scandal) had an impact of $2.4 billion in the first six months of the current year, but the operating profit after those items stood at $5.8 billion nevertheless (thus the adjusted operating profit was $8.2 billion). Volkwagen's net income was $4.0 billion, which looks like a pretty good number when we factor in the charges the company took in H1. Excluding those Volkswagen's net income annual run rate is above $10 billion, which means the company's current valuation looks pretty low ($71 billion of market capitalization equal a PE ratio of roughly 7). Volkswagen's cash situation is not bad either, the company produced net cash flow of $3.5 billion in the second quarter, the net liquidity at the end of June was $29 billion. Volkswagen will have to battle the impact of the diesel scandal for a while, but with its huge cash flows and huge cash pile the company is not in danger of breaking over the issues.
Takeaway
Volkswagen is making progress in cleaning up the diesel issue in the US, its sales keep growing, and the company is profitable again. Volkswagen's cash position and cash flows are good and the company's valuation is low.
Volkswagen nevertheless feels the financial impact of its cheating, with billions in charges in this year's H1, and the recent ban of Volkswagen models in South Korea is not pretty either. Volkswagen should try to fix the issues in South Korea as fast as possible to be able to sell cars in this market again.
Volkswagen remains cheap and could turn out as a profitable investment at current prices, but has some risks as well, and will likely continue to be volatile. Depending on your risk tolerance Volkswagen could be interesting for you, since it seems to make progress and will eventually leave the diesel scandal behind.
Author's note: If you enjoyed this article and would like to read more from me, you can hit the follow button at the top of the page, right next to my name and icon, to get informed about new articles.
Disclosure: I/we have no positions in any stocks mentioned, but may initiate a long position in VLKAY over the next 72 hours.
I wrote this article myself, and it expresses my own opinions. I am not receiving compensation for it (other than from Seeking Alpha). I have no business relationship with any company whose stock is mentioned in this article.
Editor's Note: This article discusses one or more securities that do not trade on a major U.S. exchange. Please be aware of the risks associated with these stocks.