It is often true that sky-high dividend yields are a major red flag. In many cases, a stock that has a dividend yield of 8%-10% or higher is due to a massive decline in the stock price, rather than because of dividend growth. Investors tend to sell stocks when the underlying fundamentals deteriorate, because that is often a precursor to a dividend cut.
However, this isn't always the case. There are certain situations in which a stock gets pummeled because its revenue and GAAP earnings are declining, but the company continues to generate enough free cash flow to sustain its payout. I believe this is the case when it comes to Seagate Technology (NASDAQ:STX), which saw its stock price plunge over the past year before recovering in recent weeks.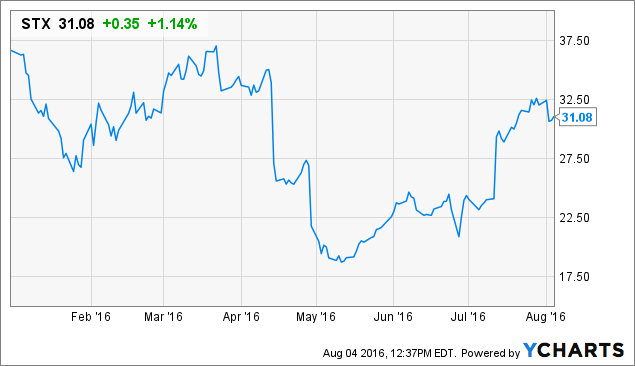 I last wrote about Seagate when its dividend yielded 10%, which caused most others to anticipate an imminent cut. In my last Seagate article, published on Apr. 25, I felt that the dividend would not be cut, given the company's cost cuts, cash on hand, and free cash flow.
I added to my position in early May at $20 per share, and that purchase is up 50% since then. My overall position is now in the green, despite my first two purchases admittedly being early. Seagate has not cut the dividend yet, and with its fiscal 2016 in the books, I'm still of the view that the dividend is likely to remain intact.
FY 2016 In Review
Heading into this fiscal year, Seagate was getting hit by multiple headwinds. The strong U.S. dollar was eroding Seagate's revenue, since it has a significant international operation. The bigger issue is the decline in the personal computer industry, which caused deterioration in PC-related accessories such as storage devices. Adding in the fact that the technology landscape is shifting rapidly, which threatens Seagate's main HDD business, and it is no surprise why Seagate had fallen on such hard times.
But as is often the case, the fears did not match the reality. Now that the results are in for fiscal 2016, the results don't seem to be as bad as the panic suggested. Seagate generated $11.1 billion of revenue for the year. That was down 19% from the prior fiscal year, which is definitely a poor performance. Whether that was deserving of the 64% peak-to-trough decline in Seagate's stock price last year however, was the basis for my last article.
While Seagate's results last year were ugly based on a year-over-year review, it is important to note that there are signs of a bottom. Seagate's gross margin, which sunk to 20% in the third quarter, rose back to 25% last quarter. Also, revenue increased 2.3% on a quarter-over-quarter basis.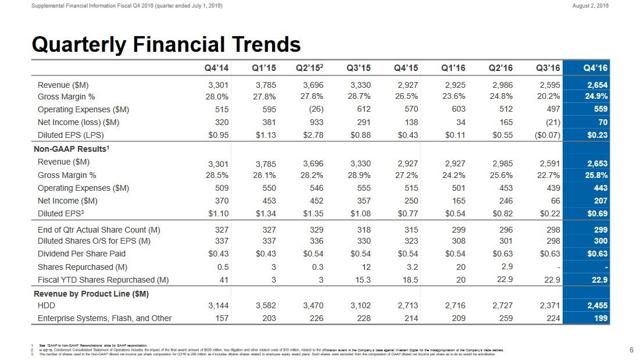 Click to enlarge
The current quarter is expected to see continued recovery: Seagate expects to generate $2.7 billion of revenue in the current quarter, along with a 27% gross margin. These figures would represent another quarter-over-quarter improvement.
What has kept me in Seagate during this volatile period is that I believe it is a compelling cash flow story. This matters because the dividend is paid from the free cash flow generated by the underlying business. There is no doubt that last year was a difficult one, but Seagate still generated $1.1 billion in free cash flow for the fiscal year. This was more than enough to cover the dividend, which requires approximately $727 million each year. The reason why Seagate can continue to pay such a high dividend yield even though revenue and earnings are declining is because the business is a significant cash flow generator. And, Seagate has additional financial flexibility because it has significantly cut costs. Capital expenditures were reduced 21% last year, and the company suspended its share buybacks to help support the dividend.
Going forward, it will be necessary for Seagate to return to growth. Fortunately, the company has a plan to do that, by investing in cloud storage. In the fiscal fourth quarter conference call, CEO Stephen Luczo said:
We believe Seagate's June quarter results are reflective of a generally stable but relatively benign macroeconomic environment as well as an acceleration in the deployment of cloud-based storage associated with usage shifts of technologies and architectures by end users. Demand from cloud service providers was stronger than expected after several quarters of relatively modest demand from these customers.
In the meantime, there are promising signs that the core HDD business is firming. Last quarter, Seagate reduced inventory by 6% from the previous quarter and realized higher average selling prices as well, which are good signs that demand remains solid. All signs indicate HDD continues to be an attractive product because of its cost-competitiveness.
Updating My Odds of a Dividend Cut
In my Apr. 25 article, I concluded with a section handicapping the odds of a dividend cut based on my own expectations. Back then, I gave Seagate's dividend a 60% chance of surviving, which acknowledged that business conditions were difficult, but overall I felt the company could sustain the payout. Now that fiscal 2016 is in the books, and seeing the progress the company has made in its turnaround, I now feel the dividend has about a 70%-80% chance of surviving.
To be sure, Seagate does still face significant structural headwinds. The decline in the PC continues, which is weighing on its core hard disk drive business. But Seagate does seem to have turned a corner. The HDD business is still a strong cash flow generator, and the company is aggressively investing in mobile cloud, which should fuel its future growth.
Disclaimer: This article represents the opinion of the author, who is not a licensed financial advisor. This article is intended for informational and educational purposes only, and should not be construed as investment advice to any particular individual. Readers should perform their own due diligence before making any investment decisions.
Disclosure: I am/we are long STX.
I wrote this article myself, and it expresses my own opinions. I am not receiving compensation for it (other than from Seeking Alpha). I have no business relationship with any company whose stock is mentioned in this article.