Pioneer Natural Resources Co.'s (NYSE:PXD) results for the second quarter of 2016 (2Q16) underscore the tension between microeconomic and macroeconomic trends. Management emphasized PXD's accelerating production growth in 2Q16 as evidence that the company is successfully executing on its strategy of positioning itself as a high volume, low cost domestic oil producer. Speculators with short positions in PXD may be cheering the production growth because it will exacerbate PXD's operating losses and negative free cash flow. Differing views on the medium term outlook for oil prices reconciles this paradox.
Comparing three quarters of results poignantly illustrates how falling oil prices are clearly outweighing PXD's strong execution of its strategy to ramping up production and slashing costs. PXD's 2Q16 production was 32% greater than the level in 2Q14, and the firm cut its variable costs by 40%. Unfortunately, its average price per barrel of oil equivalent (BOE) fell to $28.95 from $58.63 in 2Q14.
| | | | |
| --- | --- | --- | --- |
| | 2Q16 | 2Q15 | 2Q14 |
| Revenue | 786 | 648 | 925 |
| Net Income Continuing Operations | (268) | (217) | 50 |
| Production | 232,703 | 196,626 | 175,834 |
| Avg Price per BOE | 28.95 | 33.32 | 58.63 |
| Production and Taxes per BOE | 8.36 | 11.19 | 13.9 |
PXD's production growth is not a new story. PXD's annual production has grown at an annual rate of 16% since 2011. Prior to 2011, PXD's production was lower because it was mainly focused on exploration not production. It also had a diverse collection of assets including some international holdings. Then, management made a wise decision to concentrate its efforts on the Permian Basin. PXD's August 2016 investor presentation forecasts production will grow at an annual rate of 15% between 2016 and 2020. The question is whether that is a good thing for investors.
Annual Production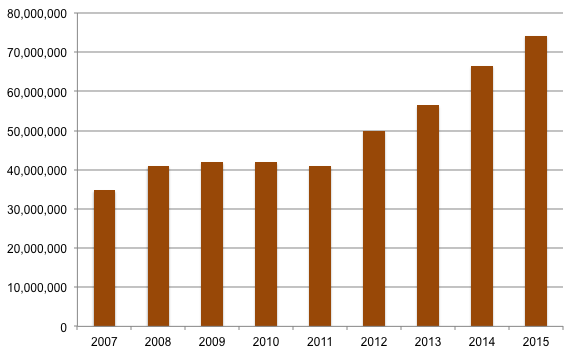 PXD's lower cost per BOE reflects a combination of greater operating leverage, cost cutting initiatives and the inherent lower cost structure of the Permian Basin. PXD's production grew 32% between 2Q14 and 2Q16. During that time production costs and ad valorem taxes per BOE fell 40% decrease and general and administrative costs decreased $2 million or 4%. These trends demonstrate PXD's effectiveness at harnessing economies of scale.
Management reacted quickly when energy prices went into free fall. At the beginning of 2015, PXD set a target of reducing drilling and completion costs by 15% in 2015. Below are specific actions management identified as means to the target. Although PXD did not announce a cost reduction target for 2016, production costs per BOE are down significantly and general and administrative costs were 4% lower in 2Q16 than 2Q15.
Shifting production to the Permian Basin has favorably impacted PXD's variable costs. The first chart below shows there is significant variation by drilling site in production cost per BOE. Permian Basin horizontals have the lowest variable costs by a wide margin. The second chart demonstrates PXD's strategic decision to focus on Spraberry Wolfcamp which is an oil field within the Permian Basin.
Production Costs per BOE by Drilling Site for 2Q16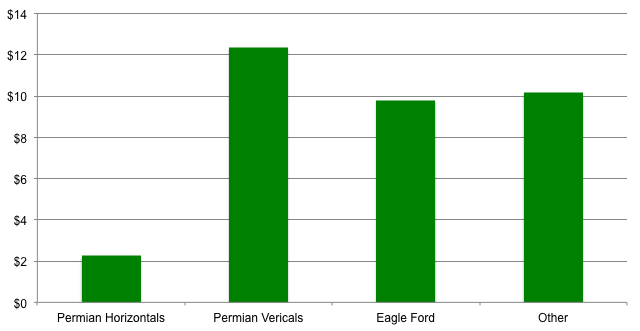 Source: PXD Presentation for 2Q16 Earnings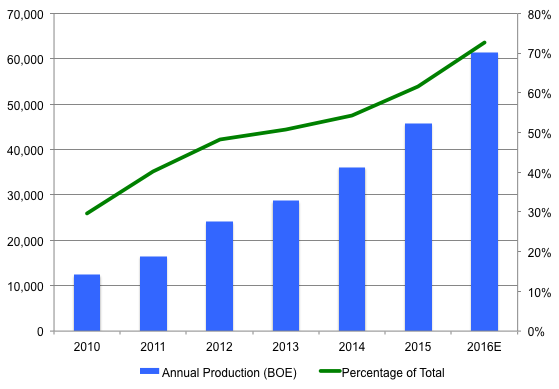 Source: PXD 10-K and 8-K filings
Despite the significant increase in production and cost cutting efforts, PXD still reported a net loss of $268 million. Furthermore, PXD has reported net losses in five of the past six quarters, and a large gain from derivatives was responsible for the lone quarter of profitability. The harsh reality is that it's very difficult for oil producers to make money when oil is below $50 a barrel. Consequently, many people find it perplexing that PXD announced it was raising its capital spending estimate for 2016 to $2.1 billion from $2.0 billion and purchasing 28,000 acres for $435 million (Devon Acquisition).
PXD is asking investors and creditors to take a leap of faith with the company and assume that oil prices rise and/or PXD can restructure its operations so that almost all of its production comes from horizontal rigs in the Permian Basin. Slide 18 of PXD's 2Q16 earnings presentation highlights its positive cash margin of $30.21 on Permian Basin horizontal rigs. While this number is important, it ignores several key facts:
Variable costs do not include overhead which is approximately $4 per BOE based on total production.
Horizontal rigs in the Permian Basin generated less than 50% of PXD's total production in 2Q16.
Capital spending is needed to maintain rigs.
Depletion maybe a noncash, but it results from purchasing land, such as the Devon Acquisition, and drilling on it. Those activities are cash outflows. PXD's depletion expense in 2Q16 was $17.62 per BOE.
The table below shows PXD's free cash flow has been negative since it entered a growth phase in 2012. Operating cash flow turned negative in 2015 and would have been negative in the first half of 2016 except for cash flows related to derivative activities which are not likely to be repeated. Fortunately, PXD can use excess cash and an anticipated $500 million payment from an asset sale to plug the gap between capital expenditures and operating cash flow for 2016 and 2017. Management projects breakeven free cash flow for 2018 assuming oil trades at $55 per barrel. That is projection is likely the battleline between PXD and those shorting the stock today.
| | | | | | | | |
| --- | --- | --- | --- | --- | --- | --- | --- |
| ($ millions) | 2010 | 2011 | 2012 | 2013 | 2014 | 2015 | 1H16 |
| Operating Cash Flow | 1,724 | 2,465 | 1,837 | 2,146 | 2,366 | (626) | 521 |
| Capital Expenditures | 1,195 | 2,290 | 3,055 | 2,876 | 3,576 | 2,200 | 1097 |
| Free Cash Flow | 529 | 175 | (1,218) | (730) | (1,210) | (2,826) | (576) |
Conclusion
PXD is a perfect example of extremely challenging macroeconomic conditions overwhelming strong execution of a solid business plan. PXD achieved strong production growth and significant cost reductions in 2Q16. Nevertheless, it continues to report net losses due to low oil prices. PXD's negative free cash flow and net losses confound traditional valuation methods. However, it is probably safe to assume that PXD would be a good long-term investment if you believe oil prices are going to rise significantly in the medium term.
Disclosure: I/we have no positions in any stocks mentioned, but may initiate a long position in PXD over the next 72 hours.
I wrote this article myself, and it expresses my own opinions. I am not receiving compensation for it (other than from Seeking Alpha). I have no business relationship with any company whose stock is mentioned in this article.
Additional disclosure: I have short position in calls on PXD with a strike price below its current price. The calls and long position are for the same number of shares.