Click to enlargeSource: Welltower
Blue-chip medical REITs such as Welltower (NYSE:HCN), Ventas (NYSE:VTR), and HCP Inc. (NYSE:HCP) have a long history of secure, and growing dividends that have made them a favorite among income investors. However, over the past year, a strong rally in REITs has Ventas and Welltower to vastly outperform the market. In fact, both REITs' shares are now near all-time highs.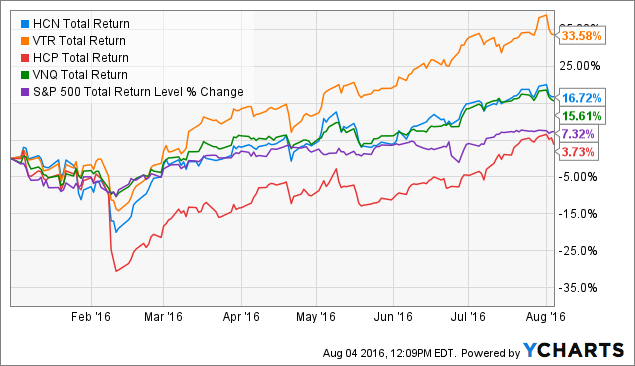 HCN Total Return Price data by YCharts
This has left many investors worried that the Welltower's valuation is too high, making opening or adding to a position risky. However, that's not necessarily true. In fact, there are three reasons why Welltower remains an attractive long-term dividend stock, even at today's apparently sky-high share valuation.
Q2 earnings results so remarkably strong growth
| | | | | | | |
| --- | --- | --- | --- | --- | --- | --- |
| Metric | Q2 2016 | Q2 2015 | YoY Change | First Half 2016 | First Half 2015 | YoY Change |
| Revenue | $1.077 Billion | $957.2 Million | 12.5% | $2.124 Billion | $1.851 Billion | 14.7% |
| Weighted Average Diluted Shares | 358.9 Million | 351.4 Million | 2.1% | 357.5 Million | 344.6 Million | 3.7% |
| FFO/Share | $1.15 | $1.09 | 5.5% | $2.28 | $2.13 | 7.0% |
| FAD/Share | $1.04 | $0.95 | 9.5% | $2.05 | $1.87 | 9.6% |
| Dividend | $0.86 | $0.825 | 4.2% | $1.72 | $1.65 | 4.2% |
| FAD Payout Ratio | 82.7% | 86.8% | -4.8% | 83.9% | 88.2% | -4.9% |
As you can see, Welltower's top line growth was exceptionally strong, given its already vast size. More important for dividend investors is that FAD per share over the past three, and six months grew at 9.5%, and 9.6% respectively. This allowed management to raise the dividend 4.2% while still decreasing its FAD payout ratio. Not only does that mean the dividend is now more secure than last year, but also that Welltower is likely to be able to continue rewarding investors with payout growth that's significantly better than analyst expectations.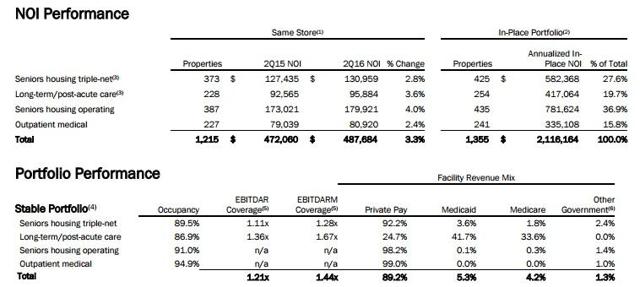 Click to enlarge
Source: Welltower earnings presentation.
These strong results were mainly driven by strong growth in same store net interest income, or SSNOI of 2.7%, 3.5%, and 7.1% in Welltower's respective UK, US, and Canadian properties. Once more senior housing led the way with impressive 4.0% SSNOI growth, due to continued strong demand for this vital service that allowed Welltower's operator partners to pass on rising expenses to customers in the form of higher prices. Better yet, Welltower's dependence on government funding sources continues to shrink, with nearly 90% of revenues now coming from private pay -- a trend management expects to continue.

Click to enlarge

Click to enlargeSource: Welltower earnings presentation.
Meanwhile Welltower's excellent management team continues to prove itself wise stewards of shareholder capital. For example, Welltower continued its capital recycling program by selling off non-core properties such as $125 million of Alberta properties that were sold at a mid-5% cap rate. This cash was then used to partially fund the $356 million in investments that will generate a far superior cash yield of 7.3%.
Better yet, Welltower continues to consolidate the fragmented medical REIT industry with its recently announced $1.15 billion acquisition of 19 prime properties located in LA and San Francisco from Vintage Senior Living. The initial cap rate of 5% will rise to the high 6% range as their occupancy increases over the next few years.

Click to enlarge
Source: Welltower earnings presentation.
In order to fund its portfolio growth from its current 1,486 facilities, Welltower is tapping into incredibly low cost debt and equity capital, which is courtesy of its strong balance sheet, enormous scale, and rising share price. For example, in the past quarter Welltower raised $64 million in the equity markets through the sale of 914,000 shares at an average price of $70.02. This represents a cost of equity of 5.6% ($3.94 TTM FAD/$70.02). Better yet, with Welltower's share price now above $77, management will be able to take advantage of even cheaper equity to fund future, accretive growth opportunities.
However, the real ace up Welltower's sleeve lies in its vast access to incredibly cheap debt. For example, in the past quarter management increased its credit revolver from $2.5 billion to $3 billion while dropping its interest rate to just Libor + 0.9%. That means that $2.3 billion of Welltower's $2.77 billion in available liquidity is in the form of short-term debt with an interest rate of just 2.44%.
With a capital structure that's 48% debt and 52% equity, this means that Welltower's weighted average cost of capital is now at an all-time low of just 3.85%. Not only does that mean that management can continue growing its property quickly, and on highly lucrative terms, but it also allows Welltower to help its operator partners, such as Genesis Healthcare (NYSE:GEN), which has been going through hard times recently.
That's because the Department of Justice had previously launched four investigations into Genesis's previous over-billing of Medicare. Along with a high debt load, Genesis was facing the prospects of having to pay much higher debt refinancing costs. However, on August 2, the DOJ settled with Genesis for $52.7 million to be paid over five years. Better yet, Welltower recently did a joint-refinancing with Omega Healthcare (NYSE:OHI) of Genesis's loans.
Not only does this provide its second biggest customer with a stronger financial position from which to operate, but thanks to Welltower's insanely low cost of debt, Genesis will face far lower interest rates than what it could have secured for itself.
Dividend growth prospects are better than they seem
| | | | | |
| --- | --- | --- | --- | --- |
| REIT | Yield | AFFO Payout Ratio | 10 Year Projected Dividend Growth | 10 Year Projected Total Return |
| Welltower | 4.4% | 82.7% | 3.8% | 8.2% |
| Ventas | 4.0% | 78.5% | 3.7% | 7.7% |
| HCP Inc. | 5.9% | 87.1% | 3.1% | 9.0% |
| S&P 500 | 2.0% | 39.1% | 5.8% | 9.1% |
In the long-term, total returns usually follow the rule of thumb yield + dividend growth. Now, you'll notice that analysts are currently forecasting just 3.8% dividend growth for Welltower, which would be expected to generate some pretty low total returns of 8.2%. Not only is that lower than the S&P 500's historical CAGR of 9.1%, but it pales in comparison to the 13.7% that Welltower has delivered over the past decade.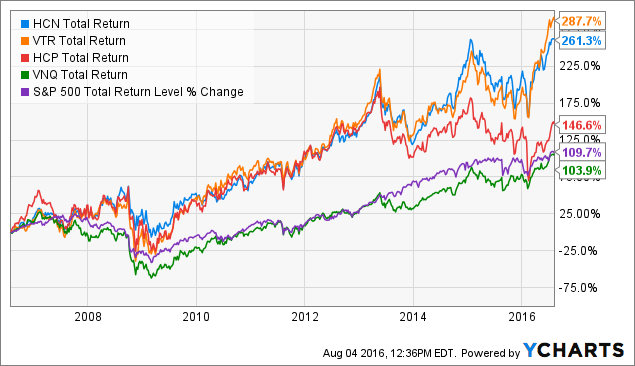 HCN Total Return Price data by YCharts
However, I think that Wall Street is underestimating Welltower's dividend growth. That's because the company's ability to grow through highly accretive investments, combined with management's excellent capital allocation track record should, in my valuation model, allow for FAD growth of 4.8% over the next 10 years.
When you factor in Welltower's relatively low payout ratio, Welltower should be able to grow its dividend much faster than 3.8%. Specifically, assuming a 2025 payout ratio of 85% to 90%, which are the highest reasonably sustainable levels for a large, diversified medical REIT blue chip, I estimate that Welltower could achieve 4.5% to 5.1% dividend growth over the next 10 years.
Which could mean total returns, even from today's high share price, of 8.9% to 9.5%. With the market currently so overvalued, I think that this total return will likely beat the market going forward, while generating generous, highly secure, and nicely growing dividend income.
Not as overvalued as you think
| | | | | | | | |
| --- | --- | --- | --- | --- | --- | --- | --- |
| REIT | Yield | 5 Year Average Yield | P/AFFO | 20 Year Average P/AFFO | Price/NAV | 13 Year Median P/NAV | Average Historical Premium |
| Welltower | 4.4% | 4.9% | 19.6 | 18.1 | 2.08 | 1.62 | 15.6% |
| Ventas | 4.0% | 3.9% | 19.3 | 17.4 | 3.44 | 2.65 | 12.7% |
| HCP Inc. | 5.9% | 5.2% | 14.8 | 17.6 | 2.12 | 2.05 | -8.7% |
While it's true that Welltower remains slightly historically overvalued at today's yield, price/AFFO, and price to net asset value, such a comparison doesn't take into account the company's strong future growth potential.
| | | | |
| --- | --- | --- | --- |
| REIT | Morningstar Fair Value Estimate | Current Share Price | Premium To Fair Value |
| Welltower | $76 | $77.46 | 1.9% |
| Ventas | $64 | $73.71 | 15.2% |
| HCP Inc. | $41 | $38.52 | -3.6% |
To determine whether or not Welltower is overvalued from a medium-term, i.e, five-year perspective, I like to look at Morningstar's fair value, which I consider the gold standard of intrinsic value estimates. That's because Morningstar analysts such as Edward Mui instead focus on long-term fundamentals in order to conservatively approximate intrinsic value using realistic growth and profitability assumptions. That's in comparison to Wall Street analysts, who focus on one-year price targets that are pretty much pulled from thin air, and have almost nothing to do with a company's intrinsic value.
For example, in this case Mr. Mui's intrinsic value estimate is based on Welltower's economic moat, which is a function of the fact that most of its customers are well established, and large network operators with high switching costs. In other words, upon the expiration of a lease, moving out of a Welltower property can be impractical since customers have become accustomed to the existing location. In addition, many of Welltower's triple net leases are part of master lease agreements. This means that they cover a large number of properties, as opposed to just one.
So even if a particular property isn't doing well, customers are less likely to avoid re-leasing at a similar or higher rent level, since their other properties may make up for this limited underperformance. This helps to keep Welltower's occupancy levels high, and drives the kind of organic growth that we've been seeing over the past few years.
In addition, 64% of Welltower's net operating income, or NOI, is from either: senior housing, post-acute facilities, hospitals, or medical office buildings. These are all recession-resistant assets that usually do well across any economic or business cycle. Which provides strong cash flow security to Welltower from its large array of high-quality operators.
Morningstar's long-term fair value is predicated on a two-stage discounted cash flow analysis that assumes: 10-year same store NOI growth of 2.8%, $375 million in annual acquisitions of fast-growth properties at a cap rate of 7.5%, $400 million in annual new construction investment at a cap rate of 8%, and ongoing capital recycling through sales of slower growth properties at cap rates of around 8%.
Based on recent company asset dispositions, acquisitions, and strong secular demand growth from an aging population of retiring baby boomers, I view these assumptions as not just reasonable, but potentially even conservative. That means potentially even greater upside for long-term investors should management be able to continue optimizing its property portfolio's cash yield through superior capital allocation.
| | | | | | |
| --- | --- | --- | --- | --- | --- |
| REIT | TTM AFFO/Share | Projected 10 Year Growth Rate | DCF Fair Value Estimate | Implied Growth Rate Priced Into Shares | Margin of Safety |
| Welltower | $3.94 | 4.8% | $89.35 | 0.8% | 14% |
| Ventas | $3.77 | 3.5% | $66.39 | 5.8% | -11% |
| HCP Inc. | $2.65 | 3.5% | $50.03 | -3.0% | 22% |
Meanwhile, if we take an even longer view of 10-20 years we can see that Welltower might actually be trading at a 14% discount to intrinsic value. That's based on an assumed FAD/share growth rate of 4.8%, half as fast as over the past year. The reason I think Welltower should be able to achieve that growth rate is threefold:
First, the greatly increased demand for medical properties due to the aging of America's population will serve as a strong growth catalyst to keep occupancy and rent growth high. Second, the medical REIT industry is still highly fragmented, meaning that Welltower, as the best capitalized medical REIT thanks to its vast access to cheap capital, should be able to continue growing through acquisition as the industry consolidates.
Finally, the current share price implies a cost of equity of just 5.1%, ($3.94 TTM FAD/$77.22 share price), which represents an incredibly low-cost form of growth capital that management can tap to grow in the short term. That would minimize its use of debt for now, potentially allowing it to strengthen its balance sheet, and better position it for major, needle-moving deals such as the Vintage Senior Living portfolio acquisition.
Risks to consider
While I am extremely bullish about Welltower's long-term potential, and plan to eventually add it to my own portfolio, investors need to be aware of three major risk factors.
First, much of Welltower's impressive recent growth has been due to organic growth from its senior housing properties, which have seen rising occupancy, and rising rents. However, over the next few years a large number of new senior housing facilities are expected to come online, meaning that the demand/supply imbalance that has led to these favorable conditions could ease a bit.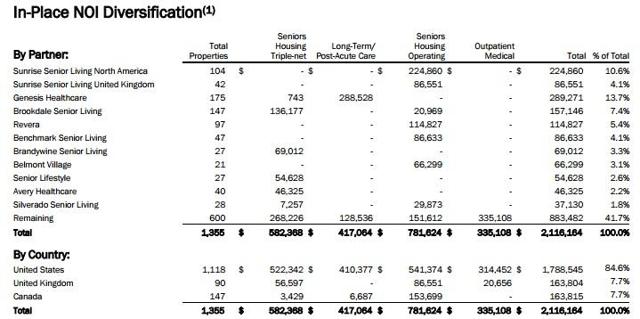 Click to enlarge
Source: Welltower earnings presentation.
In addition, though Welltower's property portfolio is vast, and highly diversified geographically, it still faces some customer concentration risk. For example, its three largest operators, Sunrise Senior Living, Genesis Healthcare, and Brookdale Senior Living (NYSE:BKD), make up 36% of NOI. While that concentration is likely to continue decreasing as Welltower's number of properties continues to grow over time, in the short- to medium-term the financial distress of one of these three operators could potentially put Welltower's growth rate at risk.
Then there's the fact that in the short term today's record high share price could lead to potentially severe, temporary unrealized losses. That's because REITs are incredibly sensitive to changes in interest rates, especially at today's extremely low levels. And despite the economy growing at just 1% in the first half of the year, there remains a risk that the Federal Reserve will still raise interest rates this year.
That is primarily due to two reasons. First, the job market remains robust, with 287,000 jobs being created in June, and Automatic Data Processing's (NASDAQ:ADP) latest private sector jobs report indicating payrolls expanded by 179,000 in July. What's more, with the economy close to full employment, wage growth, which has been stagnant for years, is finally starting to show consistent growth.
This probably explains why consumer spending has been growing stronger over the past few quarters. In addition, the weak Q2 GDP results were largely a result of a collapse of business investment, which has been the result of a drawdown in inventories. But if the job market remains strong, and wages continue to rise, then it's possible that we'll soon see a reversal of that trend, boosting future GDP growth high enough to warrant a continued normalization of interest rates towards more historic levels.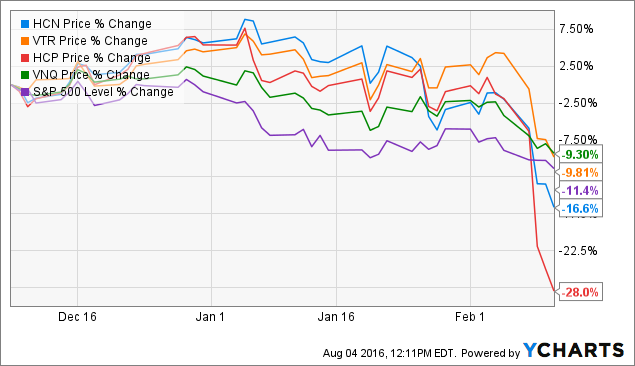 HCN data by YCharts
As you can see from how Welltower shares reacted the last time the Fed raised rates, investors need to be prepared for a potentially sharp spike in volatility to the downside. This would be great for long-term investors looking to add at better prices, and stronger yields. However, any investors who will need to sell shares in the next few quarters to fund living expenses, such as retirees, may want to avoid owning shares at this time.
Bottom line: Welltower's impressive continued growth rate means shares are still worth buying today
Don't get me wrong, unlike Omega Healthcare Investors, which is ridiculously cheap right now, Welltower isn't a screaming buy. However, with its vast and high quality portfolio of medical properties, one of the best management teams in the industry, and a remarkable ability to continue growing FAD/share at an incredibly fast rate, I think that investors looking to open or add to a position at today's price are likely to still do well over the long-term.
That being said, in the short term Welltower shares could be set for a 10%-20% correction, especially if the Federal Reserve raises interest rates over the next few quarters. However, that would be a highly positive scenario. It would give dividend lovers a great opportunity to buy shares of one of America's best SWAN income stocks at much lower prices, and lock in both superior yield and likely future market-beating total returns.
Disclosure: I/we have no positions in any stocks mentioned, and no plans to initiate any positions within the next 72 hours.
I wrote this article myself, and it expresses my own opinions. I am not receiving compensation for it (other than from Seeking Alpha). I have no business relationship with any company whose stock is mentioned in this article.