Yesterday Kate Spade disappointed in its earnings report and investors are worried about Coach (NYSE:COH) following suit next week. Kate Spade (NYSE:KATE) CEO Craig Leavitt cited lower tourist spending, shifting style preferences, and the pervasive consumer expectation for discounts. As I discussed in my article last month on Coach the company is trying to push more full price sales, rather than discounted sales, to bolster profit. I believe that it is a difficult goal to shift consumer perception, especially in the discount-demanding market Leavitt discussed, when Coach receives 60% of sales from outlets. It seems challenging for a luxury brand to try and claw back that perception when it perennially sells as a discount brand - consumers will associate the brand with discounts and be unwilling to pay full price. Of course Coach was seeing some success with full price offerings but it was in small, limited collaborations, such as with Disney (NYSE:DIS), hardly the core of the business.
Not everyone agrees with my assessment or the concern about the upcoming earnings, unsurprisingly. Neil Saunders who runs a research firm, Conlumino, notified clients that Kate Spades' report could actually be good news for Coach in that Coach might be taking customers from Kate Spade. He cited the potential success of a few moves to change perception at Coach and therefore win business from Kate Spade - less promotions, upgraded stores, and new products. I don't feel confident about that being the case but I do think it is an interesting theory worth keeping in mind. Perhaps next week I will be proven wrong, it happens not that irregularly.
But beyond speculation about Coach's earnings and the fashion retail industry as a whole, I wanted to take another look at something often overlooked in the headlines, corporate governance. My last article covered a few corporate governance analytics but today I ran a few more through our platform, including our new Executive ID feature. This feature focuses on board equity positions and our algorithm-based Board Skills Matrix.
For my comparison I again used Coach's "revised peer set" from its 2015 Annual Report. This peer set includes L Brands, Inc. (NYSE:LB); PVH Corp. (NYSE:PVH); Ralph Lauren Corporation (NYSE:RL); Tiffany & Co. (NYSE:TIF); V.F. Corporation (NYSE:VFC); Estee Lauder, Inc. (NYSE:EL); Kate Spade & Company; Abercrombie & Fitch Co. (NYSE:ANF); and Michael Kors Holdings Limited (NYSE:KORS). Notably, the peer set has changed dramatically from the 2014 "former peer set." From the Annual Report, the revised peer set outperformed the former peer set over the five-year time frame, but underperformed it in the three-year (slightly) and one-year (substantially) time frames. In the one-year time frame the revised peer set is negative, while Coach and the former peer set are positive. The company described the changes as finding "good faith comparables" on size, history, and business models but it is at least worth noting how the change shapes comparisons.
Total Shareholder Return
As usual I like to start with a view of total shareholder return across the peer set for some perspective on the ultimate goal for shareholders behind all of these governance metrics. When I last checked this peer set, at market close on July 11th, Coach had returned negative 20% to shareholders while the median peer set was at positive 75%. At market close on August 3rd, Coach was at negative 20.5% and the peer set was at 76%. While these numbers are largely unchanged, individual peers saw larger shifts. Notably Michael Kors dropped from 88.21% to 80.55% in the wake of the earnings announcement. Below is an overall view and one broken down by individual peer.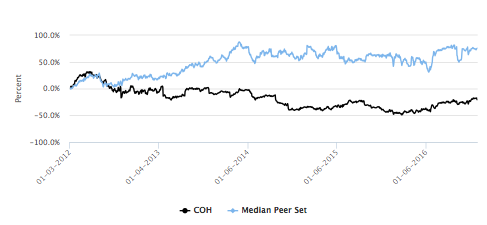 Exhibit 1: Total Shareholder Return
Source: Enlight Research, LLC
Note: Total shareholder return assumes dividend reinvestment.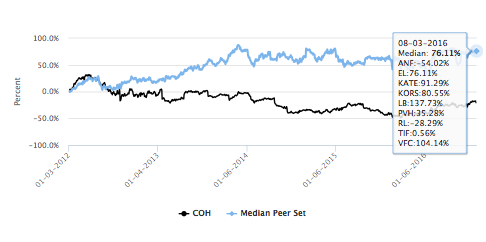 Exhibit 2: Total Shareholder Return Broken Out By Individual Peer
Source: Enlight Research, LLC
Note: Total shareholder return assumes dividend reinvestment.
Board Tenure
The Coach board has a median tenure of nearly 4 years and a range of less than 1 to nearly 12 years. This median and range are both lower than most of the peer set, with most peers having upper ranges at or exceeding 20 years and tenures of 7-14 years. Coincidentally from our initial discussion, the Coach board is similarly tenured to the Michael Kors board.
Retaining institutional knowledge through a wider range of tenures can certainly be a positive when combined with some fresh, relevant perspectives and skills on the board. I feel that this kind of board refreshment is key in a shifting marketplace, as acquisitions, consumer trends, and other developments potentially change the strategy and scope of a company tremendously. The balance between a higher range and lower median offers the opportunity for the best of both of these considerations but, of course, this is just an opportunity not a certainty.

Click to enlarge
Exhibit 3: Board Tenure
Source: Enlight Research, LLC
Board Equity
In my last article I covered board and CEO compensation, breaking down the payment structures and focusing on the proportion of long-term incentives. Within our new Executive ID feature I can take this a step further and look at the board's equity positions, both relative and absolute. Relative value can provide insight into board control and absolute value is especially helpful for comparing peers with widely divergent market capitalizations. I like to a see a board substantially vested in a company - that way their financial success at least partially aligns with that of the shareholders.
The Coach board is not nearly as significantly vested in the company's stock as I would prefer to see. Below you will find board equity positions among the peer set in both absolute and relative terms. What you will not find is a bar for Coach on the bar graphs. The equity positions owned by the board are so comparatively insignificant that they do not even register on the charts. Sometimes a board has completely reasonable ownership but is overshadowed by a peer with a founder or family with enormous equity positions. For example, the Estee Lauder board owns over 40% of the company at a value of nearly $14 billion. Even considering this skewed element of the comparison, the Coach ownership is still quite low.
Fortunately for situations like this, we just rolled out a trend analysis of the value of the common stock held by the board, also found below. In it, you can see that the Coach board owns approximately $9.5 million of the company compared to a peer median of over $89 million. Only Abercrombie and Kate Spade are lower than Coach. In a stark view of how aligned shareholder returns are with board financial success, the Kate Spade holding's value plummeted from $11.5 to $8.8 million between close on August 1st and August 3rd. Consider that in early April the value was over 13.25 million and it has been a tough few months for the board in personal value terms. While shareholder shared that pain, I think it is commendable when a board is positioned, on the basis of their success in running the company and equity positions, to rise or fall substantially with other shareholders.
You will notice in the trend analysis that Coach had a steep drop off in Q4 2014 from similarity to the peer level at around $75 million to the current sub-$10 million level. When CEO Lew Frankfort announced his retirement as CEO in late 2013 he was named Executive Chairman of the board beginning in 2014. In September of 2014 he retired this position as well with his large equity position leaving the board. The press release of his retirement noted his 35-year career with the company and its growth from $6 million to $5 billion in revenue in that span - explaining such a large equity stake. The drop put the board equity at $4.5 million and it has moved to the current $9.5 million that followed an improvement from negative 40% to negative 20.5% returns.

Click to enlarge
Exhibit 4: Total Common Stock Held by the Board of Directors ($USD)
Source: Enlight Research, LLC

Click to enlarge
Exhibit 5: Percent of the Common Stock Held by the Board of Directors
Source: Enlight Research, LLC

Click to enlarge
Exhibit 6: Common Stock Held by the Board of Directors (Trend)
Source: Enlight Research, LLC
Board Skills Matrix
Our newest offering, now rolled out on our platform, is the Executive ID feature. Executive ID allows you and us to take a deeper dive into learning about the individuals that make up corporate boards of directors. Although activist and institutional investors have had the benefit of increasing their face-to-face interactions with corporate directors, it is extremely challenging as a retail investor to really analyze the directors who represent us in the boardroom. To mitigate this asymmetry, the feature includes board biographies, the Board Skills Matrix, and board equity positions. It is very rare for a company to disclose such a matrix - and when they do disclose it, it is often in response to an activist slate of nominees. With it, investors can determine if the board is staying relevant with the skills and experiences needed in a shifting competitive space. Below is the Board Skills Matrix for the peer set.
Based on board biographies and our proprietary algorithm the Coach board scored in the 75th percentile for a wide range of skills in the peer set. It is interesting to me that Leadership and Industry skills are two of the areas where Coach is potentially lacking as they are often the most commonly held among peer sets (indeed, once again they represent the two highest medians among the skills). With all of the talk of strategically moving to full price offerings it is at least nice to see Coach highest in the peer set in Strategy expertise.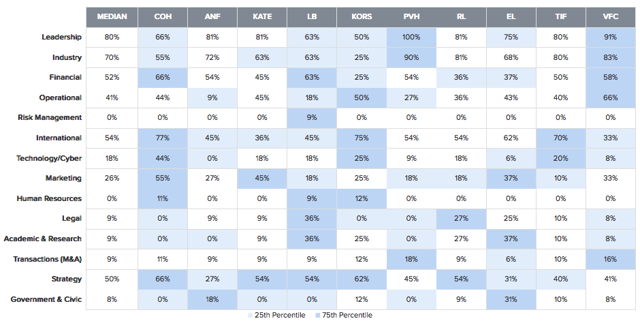 Click to enlarge
Exhibit 7: Board Skills Matrix
Source: Enlight Research, LLC
What Does This Mean?
Next week we will see if Coach is benefiting from the distress of Michael Kors or if the industry as a whole is in for a rough earnings season and bleak outlook from investors. I expect the latter, but what I remain interested in, regardless of the outcome, are the corporate governance trends behind the companies. In this follow up to my first Coach article, I am disappointed to see the relatively small equity position owned by the board. With annual compensation of $4 million in directors' fees and another $6 million in long-term incentives, along with existing to serve the shareholders of a company with an over $11.5 billion market capitalization, I would like to see the board further tie their financial success to the company's success. Beyond that, I look forward to seeing how the board's skill set handles the shifting industry dynamics and company strategy.
Interested in seeing similar metrics done with another company and peer set? Drop us a comment, send us a private message, or check out our profile to access our free real-time monitoring platform.
Disclosure: I/we have no positions in any stocks mentioned, and no plans to initiate any positions within the next 72 hours.
I wrote this article myself, and it expresses my own opinions. I am not receiving compensation for it (other than from Seeking Alpha). I have no business relationship with any company whose stock is mentioned in this article.