Some managements are extremely agile. These managements can reshape a company and redefine its prospects before other managements have their ideas out of the boardroom. The management of Marathon Oil Corporation (NYSE:MRO) has been extremely busy. The company has already collected $800 million from non-core sales of property.
"Within six weeks of announcing our acquisition of high-quality assets in the STACK oil window, we've already closed the transaction and will accelerate an additional rig on this acreage in the third quarter while still decreasing our 2016 capital budget. This deal expands our inventory and further positions Marathon Oil for growth in Oklahoma at a competitive valuation. Coupled with recent non-core divestitures, we're delivering on our objective to further concentrate our capital allocation to the lower cost, higher margin U.S. resource plays," said Marathon Oil President and CEO Lee Tillman. "In addition to successful portfolio management, we continued our relentless focus on reducing costs and driving durable operational efficiencies while delivering impressive new well results in the resource plays."
As noted before, the company sold stock to raise some cash and then purchased the acreage in Oklahoma. From the cash flow statement on the second-quarter earnings excel spreadsheet, the company raised approximately $1.2 billion in both the first and second quarters from stock sales or issuances. So while the cash flow spreadsheet shows about $252 million in cash flow from operations (slightly less than what was in the announcement), that cash flow figure is not the concern it might be because the company now has about $2.5 billion cash and a current ratio of 3:1. It also has some very realistic plans to increase that cash flow.
That latest purchase of Oklahoma properties added to holdings in Oklahoma, and has enabled the company to profitably step up its activity in Oklahoma. So the latest drilling of wells has a higher IRR than the older wells that are sold or retired. The company emphasized the higher IRR by switching more of the capital budget to Oklahoma from the Bakken. That should materially help both cash flow and profitability soon.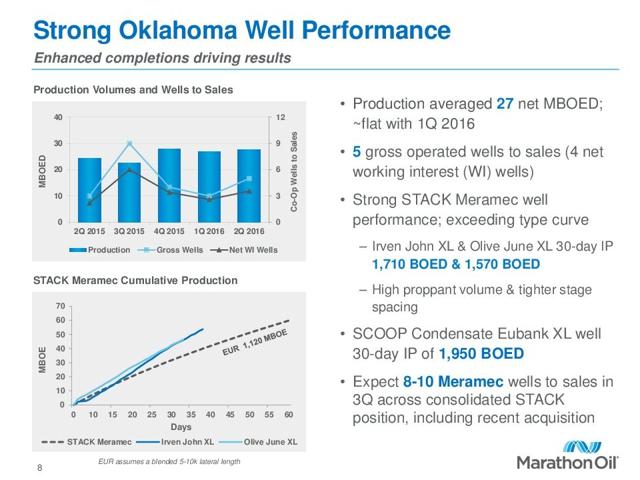 Click to enlarge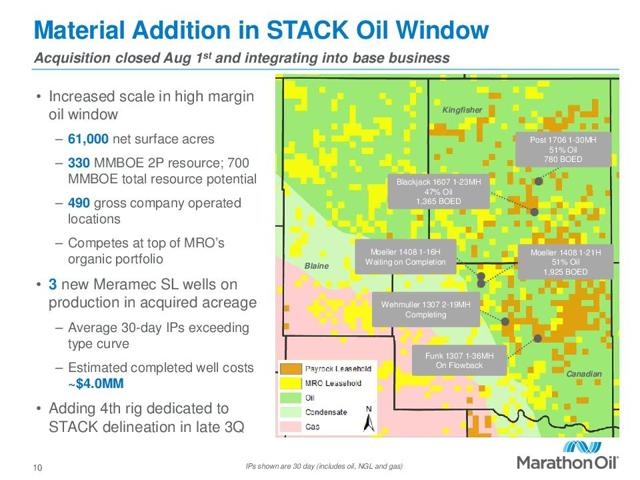 Click to enlarge
Source: Marathon Oil Second Quarter 2016 Earnings Call Conference Slides
Since the company is going to be adding a fourth rig to Oklahoma, this acreage is going to be growing in importance at the expense of other more high-cost locations. Plus, the completed well costs are down considerably from just a year ago. The company has already dropped its guidance for production expense by $1 BOE. While that is the sum total of company-wide efforts, this acreage will be a very positive force in continuing to reduce costs and improve profitability.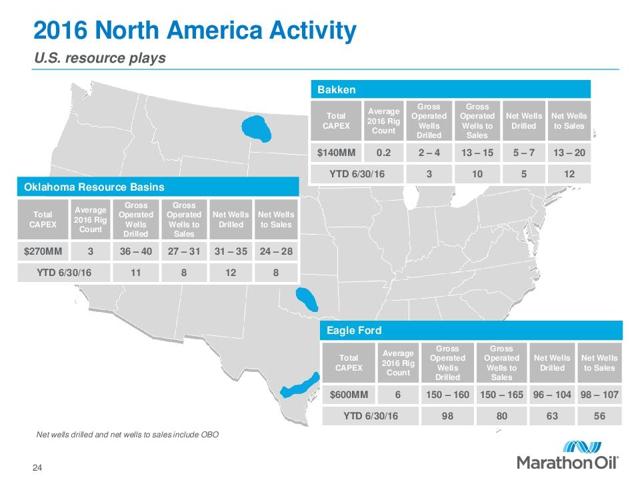 Click to enlarge
Source: Marathon Oil Second Quarter 2016 Earnings Call Conference Slides
The Bakken averages 53,000 BOED, but there is now less than one rig drilling new wells up there. So that production will decline in importance as the average age of the wells increase until those wells become lower cost to drill and produce. But the Oklahoma leases, which are far more profitable to drill and produce, will have at least four rigs working on those leases. These leases are about double the IRR of any other leases of the company. So that 27,000 BOED reported in the second quarter is going to be considerably higher by year end and will change the company's profitability mix for the better. High cost Bakken production will decrease while low cost Oklahoma Scoop and Stack production will increase. Additionally, the company appears to be getting higher initial production rates in all its leases which should lead to increased initial cash flow and profitability.
The company will be stuck with depreciation charges from older wells that will not achieve the profitability projected back when oil and gas prices were higher. The cost ceiling calculations minimize but do not eliminate that problem. However, that is a non-cash charge representing sunk costs, not current costs, so the influence on cash flow is non-existent. The key is to replace retiring production with newer lower cost production so profitability increases while overall production levels are maintained. That is exactly what management appears to be doing.
Plus the company has that great cash balance and a credit line to help the transition process. So the resources to become more profitable are already in place. Unless oil and gas prices drop significantly and stay much lower, this company will be a very different company in about 12 months and profitable.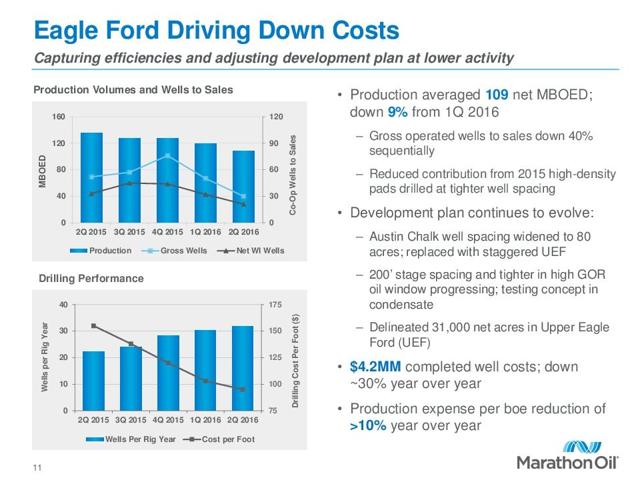 Click to enlarge
Source: Marathon Oil Second Quarter 2016 Earnings Call Conference Slides
The Eagle Ford has some fairly competitive costs in its own right. While not quite as profitable as the Oklahoma leases, the rate of return is attractive, and the Eagle Ford has the largest lease position of all the projects in the company's portfolio for unconventional wells. There are six rigs working these leases.
A wild card with these leases is the Austin Chalk part of the leases. There have been some new completion techniques tried that may increase the profitability of drilling Austin Chalk wells. But it may be too early to tell until more history is obtained from the wells drilled. The initial flow rates look good, but the decline rate and production of the first few years using the new techniques needs to be verified so the projected IRR can be validated. So while the company has not made a big deal out of the Austin Chalk wells, those wells may become a very significant profit contributor in the future (with a small chance of failing).
Source: Marathon Oil Second Quarter 2016 Earnings Call Conference Slides
The company has some major projects coming online that will decrease future cash outlays and allow still more resources to be devoted to the unconventional projects if management chooses to do so. The only marginally profitable production is the Canadian production, some of which was affected by the fires and will now need a cash injection to restart. This project has shown declining costs but still inadequate profitability. Nevertheless the project has shown enough progress that management may decide to keep it and work with the costs to increase profitability. It is, however, a high cost project that really only shows losses for the time being.
In short, this company has some very substantial answers to the declining commodity prices that the third quarter is experiencing when compared to the second quarter. The company even has a hedging program that will minimize some of the cash flow swings. But mostly, there will be a significant cost decrease and profit increase through selective drilling and operational improvements. By 2017, this company should be making money and have substantially increased cash flow. Five years from now this company should be making at least $2 per share. That cash balance and credit line could also be used for more selective acquisitions to hasten the process. So this stock should at least double over the next five years.
Disclaimer: I am not an investment advisor, and this article is not meant to be a recommendation of the purchase or sale of stock. Investors are advised to review all company documents, and press releases to see if the company fits their own investment qualifications.
Disclosure: I/we have no positions in any stocks mentioned, and no plans to initiate any positions within the next 72 hours.
I wrote this article myself, and it expresses my own opinions. I am not receiving compensation for it (other than from Seeking Alpha). I have no business relationship with any company whose stock is mentioned in this article.