The EIA reported an injection figure of -6 Bcf, bringing the total storage number to 3.288 Tcf. This compares to the +38 Bcf build last year and the +51 Bcf build for the five-year average.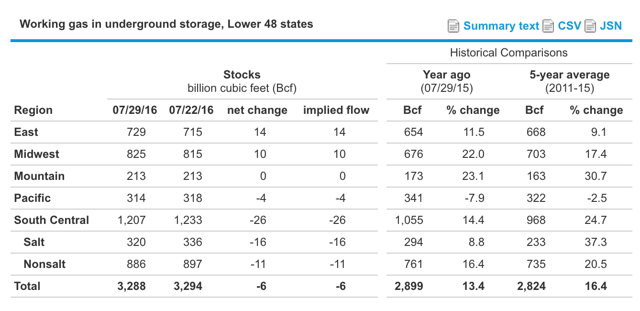 Click to enlarge
This shouldn't be a surprise to anyone who reads our natural gas dailies. We publish a preliminary estimate each Friday and a finalized estimate the following Tuesday.
A storage draw during the summer is quite unusual. Power burn demand only increases by single digit Bcf/d, but this summer was exceptionally different. Additional Mexico gas exports combined with LNG has resulted in structural increases in natural gas demand. U.S. production has largely stayed flat throughout this summer as low gas prices earlier in the year resulted in heavy capex cuts.
This storage report was the result of the hottest week this summer combined with a muted supply response. We expected a draw of -5 Bcf, so this report was better than what we expected by -1 Bcf. The consensus coming into this report ranged -8 Bcf to +10 Bcf. The EIA report was mostly on the lower end, but natural gas prices aren't responding to this bullish report.

Click to enlarge
Now that July is over, injection forecasts in August have to come in bullish as well. Natural gas bulls can't forget the fact that storage continues to remain above the norm, and additional weak injection figures are needed in order for end of storage to come in healthy.
As we said many times before, injection figures need to average in the mid-20s for August if natural gas prices want to see $3+. If that doesn't happen, natural gas bulls will have to wait until winter for $3+ gas. Given that natural gas prices are already sitting around $2.83/MMBtu, it's better to take a wait-and-see approach for short-term traders.
We buy mostly natural gas producers, so we just need to maintain an outlook on where prices are going in the long run. Overall, the storage report was pretty much in line with what we expected, and the focus now shifts to August injection figures.
We hope you enjoy our weekly natural gas (NYSEARCA:UNG) storage reports. Be sure to check out some of our previous ones and click on the "Follow" button above if you would like to receive our "Natural Gas Daily" articles. In addition, we also have a premium subscription platform that's tailored to long-term, value-oriented investors. We provide recommendations of stock ideas and portfolio composition. We look forward to you joining the HFI platform.
Disclosure: I/we have no positions in any stocks mentioned, and no plans to initiate any positions within the next 72 hours.
I wrote this article myself, and it expresses my own opinions. I am not receiving compensation for it (other than from Seeking Alpha). I have no business relationship with any company whose stock is mentioned in this article.