SHORT Corrections Corporation of America (NYSE: CXW)
THESIS
Corrections Corporation of America ("CCA") is the largest owner of private prisons and detention centers in the US. I believe it is a structurally challenged business serving a declining end market that also faces a number of other issues that threaten the very existence of the business-from a potential change in its REIT status to theelimination of private prisons as envisioned by Hillary Clinton. The icing on the cake is the likely reduction in revenue from a key contract as explained below.
For the nine months ended 3/31/16 CCA generated$213.6 million or 15.8% of revenue from its contract with Immigration and Customs Enforcement ("ICE") for the South Texas Family Residential Center ("STFRC") in Dilley, TX (I use nine months instead of twelve because the STFRC was not fully ramped in 2Q15). I believe CCA is likely to imminently lose this contract or, in the best case, generate significantly less revenue from it. I believe that if they lose the contract, the impact to EBIT will be ~35% (see below), which will make it difficult for CCA to cover its dividend.
WHY DO I BELIEVE THIS?
I believe that CCA will imminently lose or generate significantly less revenue from its contract for the STFRC because ICE, which is part of The United States Department of Homeland Security ("DHS"),significantly decreased its request for funds for family detention beds for FY17 (which begins on 10/1/16). I believe this has been overlooked by the market because this information is very difficult to find given most participants don't know about the justification and the FY17 justification is 4,328 pages long.
Each year, every cabinet department must submit a budget justification to Congress. The DHS's justification for FY17 shows DHS is requesting a significantly reduced amount of funds for family detention beds made up of a lower per diem rate and fewer beds.
The last bullet on page 40 of the pdf (page 34 of document) gives the decrease in pricing: "Decrease of $182.7 million due an average daily family detention bed reduction from $342.73 to $161.36."
The heading titled "Description of Item" on page 49 of the pdf (page 43 of the document) gives the decrease in beds: "The FY 2017 request funds 30,913 detention beds - 29,953 adult beds at an average rate of $126.46 per day and 960 family beds at an average rate of $161.36 per day. The request includes a reduction of $167.3 million in Custody Operations, which reflects a decrease of 1,327 adult beds and 1,800 family beds from FY 2016 levels."
For family detention, DHS is reducing the rate by 53% and the number of beds by 65%.
The decrease in family beds (green bars) can be seen graphically in a chart from the FY17 justification that plots the average daily population: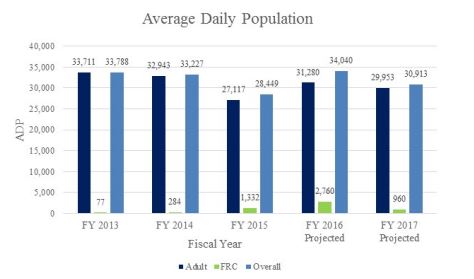 We know the FY16 (ending 9/30/16) request for more family beds is in effect given both CCA and GEO Group (NYSE:GEO) have been operating at least a combined 2,760 beds and have been getting paid. So I don't believe there is any reason to expect the requested reduction in beds will not be allowed.
I believe the below are some of the reasons for the reduction in price and beds:
· Per the FY17 justification: "These detention bed levels ensure the most cost-effective use of Federal dollars by focusing the more costly detention capabilities on priority aliens and those who are subject to mandatory detention by law (mandatory aliens). This strategy allows ICE to place lowrisk, non-mandatory aliens in ATD programs, such as electronic monitoring and intensive supervision."
· A court ruling that requires "ICE release minors expeditiously as possible." Now that the average length of stay is down from 35 daysto 7-11 days, there is less need for academic programs (resulting in fewer services and thus less revenue) and ICE can process ~4x the amount of people (resulting in need for fewer beds and thus less revenue).
· "The operation graduating from an emergency short-term requirement to a longer-term need."
· Pressure from outside sources.
Per the FY16 DHS justification, there were 2,072 beds available at Dilley, TX (CCA cites 2,400 but I will assume the 2,072 number to be conservative). I believe that even if CCA wins all 960 beds, CCA's revenue from the STFRC contract will decline by at least 84%.
However, I do not believe CCA will win all 960 beds. According to arequest for information from ICE, "ICE is seeking information regarding potential facilities to accommodate up to 1,000 beds" (jives with the 960 beds from the DHS justification). The RFI goes on to state the potential facilities "would ideally be comprised of several service locations with up to 500 beds at each facility." I believe that the most beds CCA can garner is 500 given CCA only has one suitable facility and there are other competitors for these facilities, such asGEO Group and Serco Group (OTCPK:SECCF).
WHEN DO I BELIEVE THIS WILL HAPPEN?
I believe CCA's revenue tied to the STFRC may decline imminently given "ICE can terminate the agreement for convenience, without penalty, by providing CCA with at least a 90-day notice. In addition, terms allow for ICE to terminate the agreement with CCA at any time, without penalty, due to a non-appropriation of funds."
WHAT DO I BELIEVE THE IMPACT WOULD BE?
Below is what I believe the nine months ended 3/31/16 would have looked like without the benefit from the STFRC:
Nine Months Ended 3/31/16 (in $mm except %)

Notes

Total CCA Revenue

$1,355

STFRC Revenue

214

STFRC % of Total Revenue

15.8%

Assumed STFRC Margin

33.8%

Based on average owned and controlled facility net operating margin for 2014 (before the STFRC was fully ramped) given CCA's commentary that the STFRC has "an operating margin percentage comparable to those of our average owned and managed operating margins."

Assumed STFRC Contribution ($)

72

EBIT

197

STFRC Contribution (%)

36.7%

Assuming there is no change in G&A
Below is what I believe the full year of 2016 would look like without the benefit from the STFRC:
Twelve Months Ended 12/31/16 (in $mm except %)

Notes

Consensus EBIT

$294

From FactSet

Assumed STFRC Contribution

96

Annualized STFRC revenue for the nine months ended 9/31/16 and then applying the same 33.8% assumed margin

EBIT without STFRC

198

Current EV/NTM EBIT Multiple

16.6x

From FactSet

Assumed EV without STFRC

3,283

Net Debt

1,352

Equity Value

1,931

Diluted Shares Outstanding

118

Assumed Stock Price

16.40

Change in Stock Price

-48.2%

Change from closing price on 7/28/16
OTHER ISSUES
The ramp of the STFRC and a few acquisitions have masked a deterioration in CCA's business. Average compensated occupancy for CCA's owned and managed facilities for 1Q16 was 71.5% versus 81.3% two year ago. I believe this is due to a declining prison population coupled with the fact that private prisons are the marginal capacity in the system.
Hillary Clinton, the likely next president, wants to end private prisons and detention centers. In 2015, federal government customers accounted for 51% of CCA's revenue. I believe that Clinton will have the authority and levers to pull to reduce the federal government's use of private prisons. The rest of CCA's revenue comes from state governments, which Clinton cannot directly impact but can apply pressure on.
I believe one method Clinton can use to accomplish her goal is to distribute federal inmates to county jails.
In June 2016, Senator Wyden introduced a bill to end the tax-advantaged REIT status of private prisons.
CCA has been accused of poor performance,mismanagement, and flouting laws.
DISCLAIMER
This article is intended for informational purposes only and you, the reader should not make any financial, investment, or trading decisions based upon the author's commentary. Although the information set forth above has been obtained or derived from sources believed to be reliable, the author does not make any representation or warranty, express or implied, as to the information's accuracy or completeness, nor does the author recommend that the above information serve as the basis of any investment decision. Before investing in a security, readers should carefully consider their financial position and risk tolerance to determine if such a stock selection is appropriate. At any time, the author of this article may trade in or out of any securities that are mentioned in the article as long or short positions in his own personal portfolio or in client portfolios that he manages without disclosing this information. At the time this article was published, the author was holding a short position in CXW either in his personal account or in accounts that he managed for others. THIS ARTICLE IS NOT A RECOMMENDATION TO BUY OR SELL ANY SECURITIES MENTIONED. THE AUTHOR ACCEPTS NO LIABILITY FOR HOW READERS MAY CHOOSE TO UTILIZE THE INFORMATION PRESENTED ABOVE.
Disclosure: I am/we are short CXW.
I wrote this article myself, and it expresses my own opinions. I am not receiving compensation for it. I have no business relationship with any company whose stock is mentioned in this article.
Editor's Note: This article discusses one or more securities that do not trade on a major U.S. exchange. Please be aware of the risks associated with these stocks.