I took over control of my retirement portfolio last year and have been moving it into a dividend growth portfolio. This is my July portfolio roundup, capturing all of the events and changes to my portfolio over the past month. We are now in the back stretch of the year and the overall portfolio continues to perform quite well.
Homework From Last Month and this Year:
"So at this point my homework would be to add to my existing holdings and to buy quality undervalued companies."
I like to give myself homework so as to remain accountable to growing my portfolio per the rules I have established. By also publishing my journey I can take in feedback from anyone on this site and in effect have a "crowdsourced" portfolio experience. In the beginning of the year I had a goal to increase my REIT and healthcare exposure which I was able to accomplish. I then followed that goal up by just buying small stakes of companies like Realty Income, Microsoft, Nike and Home Depot just to get them established since I knew I wanted to own them.
At this point my portfolio has now blossomed with over 40 dividend paying companies and my perennial homework now seems to be to add quality companies at favorable prices.
As a side note, I am now using my technical background to develop a tool to do a lot of the research and legwork automatically. I hope to make this tool available for use publicly, but I would first give SA members a shot at using it. Consider this a very early sneak peek at what I hope will become a valuable tool in an investors toolbox down the road.
Goals
Here are my yearly goals and tracking how I have progressed towards them.
Projected dividend income > $4,000.
> $100 in dividends received each month.
>= inflation rate of dividend growth (goal set at 2% this year) now set at 30%.
Goal 1
I accomplished this goal! During the past month I crossed over the projected income of $4,000 mark. As it stands I am sitting on $4,158 of income for the forward looking 12 months. I was bound to hit that goal this year due to dividend increases but I was able to find a few value opportunities during the past month to cross this goal off my list. Again, I am just so proud of what I've been able to accomplish after expecting about $3,100 just earlier this year after a dividend cut.
Goal 2
Like I mentioned last month, I struck this from my goals list. This is really a "nice-to-have." A steady income is always a perk, but having the money in hand, regardless of when it shows it, is vastly more important.
Goal 3
I updated this goal last month from the 2% (inflation beating goal) to 30% as this more accurately reflects the fact that I had a lot of capital still available for investing. As it will be shown below, with July being another solid month, I am at 27% year-over-year dividend growth and should be able to hit the 30% mark I recently set. This will still require some purchases, so I do need to keep my eye on the ball for values as they appear.
Portfolio Changes
New Positions
JPMorganChase (NYSE:JPM)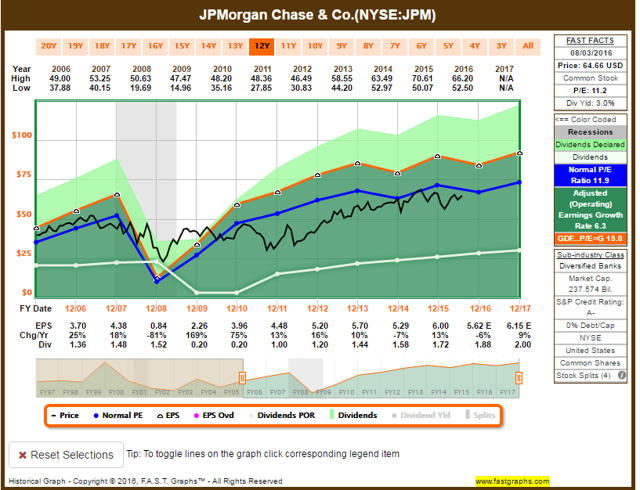 Click to enlarge
So earlier in the month JP Morgan reported earnings and substantially beat estimates. For a large scale bank they have several ways to earn substantial amounts of money and it does not all strictly come from net interest margins. They also announced a new buyback program and the shares still trade well below both their own company historical average as well as the guideline of 15x earnings.
I feel they have quietly joined the CCC list with a 6 year dividend raise history. It's possible we could have another banking meltdown, there's always a risk but I think history tends to rhyme more than repeat so it may look different than what we would have otherwise experienced. Having passed the stress test they are now more free to return capital to shareholders.
Anthem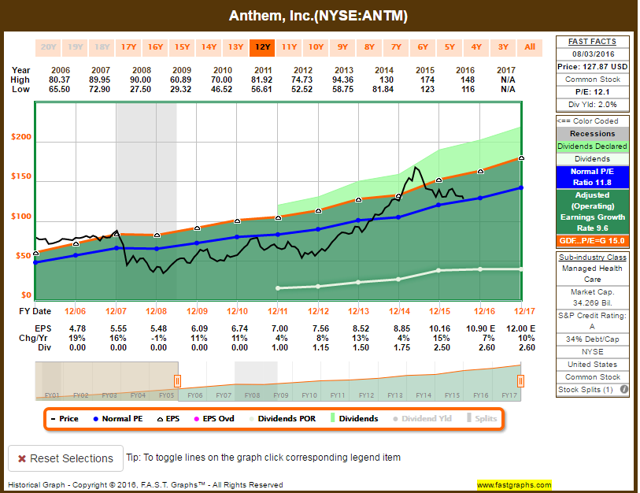 Click to enlarge
Anthem, like JP Morgan, is another company in an industry that I think people are getting too caught up with the politics surrounding it. The health insurers have done quite well during the recovery and still seem undervalued per the companies performance. I bought in at the low $140s but stand by that and may add near these levels.
With the merger to Cigna seemingly falling through the company can grow and focus based on it's own laurels. Just the fact it is trading at about 12x earnings and still expects high single digit growth should make this a long term winner. The company is also a recent add to the CCC list also with a 6 year dividend growth history.
Existing Positions
Wells Fargo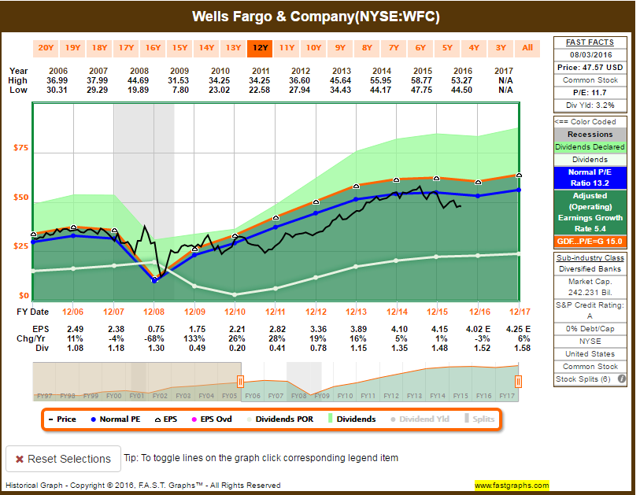 Click to enlarge
The other big bank I own is Wells Fargo and I decided to add to my stake after this most recent earnings. The company is still the banking favorite of Warren Buffett and it's earnings were OK, not knocking the ball out of the park but given the low rate environment were just fine. It still trades below it's own historical multiple and well below the benchmark of 15x earnings for the market.
Gilead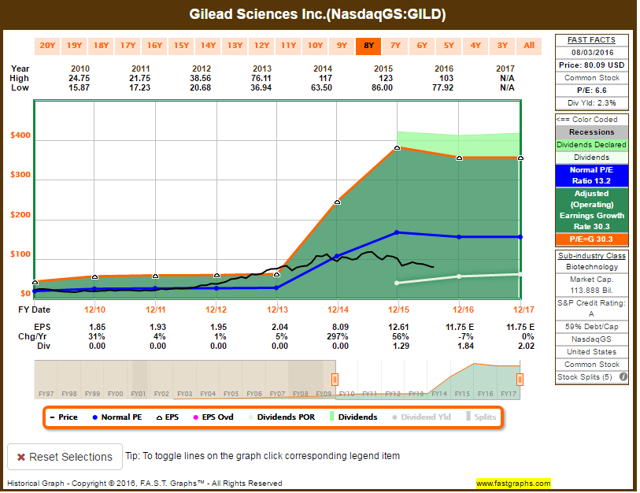 Click to enlarge
Gilead is another company that has a lot of love or hate depending on which side of the bull / bear bet you are on. I am obviously bullish long term on the company even with the near term headwinds. The company has a tremendous cash flow still coming in and many drugs in stage 3 clinicals.
I can't even show a longer term Fast Graph because it looks so skewed with how fast the earnings have grown for the company. Long story short, they have a huge cash pile greater than all their debt, a growing dividend and buyback program, lots of drugs in their pipeline and can make acquisitions if needed to juice their current earnings. To me the stock just looks too cheap to ignore.
Sells
None!
Dividend Increases
Cummins increased increased 5.1% to $1.025/quarter
Occidental Petroleum increased 1.3% to $0.76/quarter
Omega Healthcare Investors increased 3.4% to $0.60/quarter
Stanley Black & Decker increased 5.5% to $0.58/quarter
Realty Income increased 1% to $0.2015/month
Dividend Cuts
Strategy Update
None this month.
New Rules
None this month.
Charts and Graphs
2016 Dividends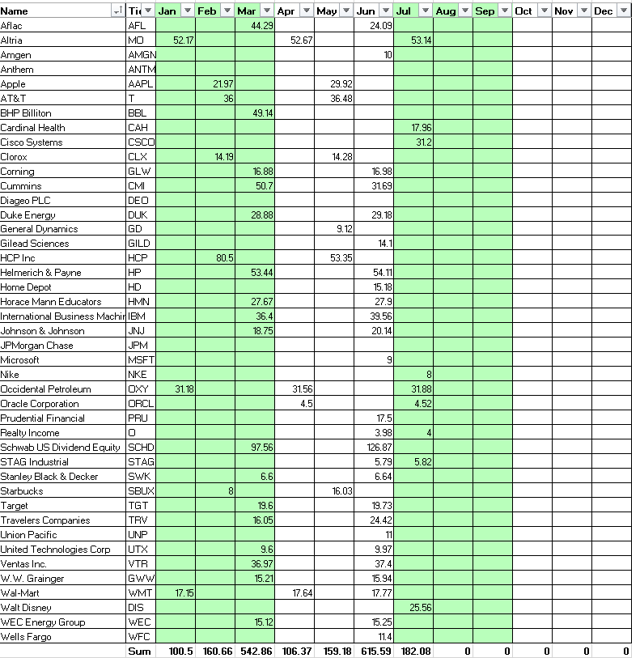 Click to enlarge
So the dividends in July was a new record for the first month in a quarter. I bested the old record by about 70%. This was due to me having new payers this quarter that I hadn't received before including Cardinal Health, Cisco, Nike, Realty Income, STAG Industrial and Walt Disney.
Growth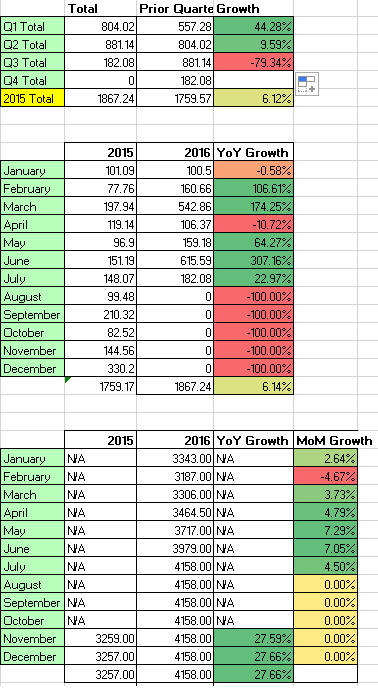 So looking at my growth, I am continuing to see high growth month over month and quarter over quarter. Year over year was 22% growth from last July, where I was just starting to get into DGI and had a few legacy holdings. Like I mentioned earlier, the dividends received this month were about 70% higher than in the first month of prior quarters.
Additionally, my forward looking income jumped about 4.5% when compared to the beginning of June.
The Portfolio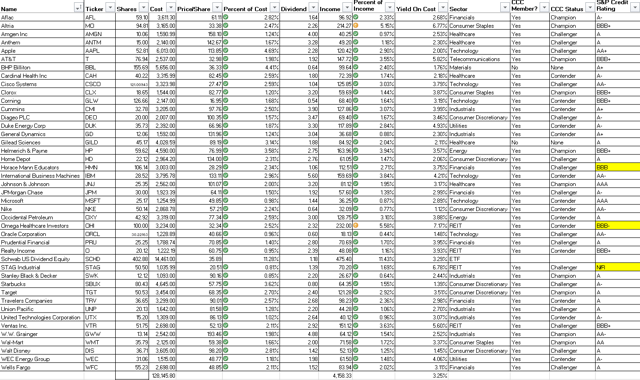 Click to enlarge
Looking at the portfolio I am still quite happy with what I am seeing. Most companies meet a high credit rating standard I have set for myself. The REITs I own that don't, a lot of the research came from Brad Thomas. He has high quality articles and some of those positions are small to see how the companies perform.
I note that I don't include the current stock prices to keep that from being the focus of the portfolio. The earnings and growing earnings are the focus here. As I said earlier I am now over $4,000 in projected income and that number will only grow.
Not mentioned specifically here are also my non dividend paying companies like Facebook, Amazon and Google that I expect to generate great alpha over the long term as well as the $20,000 in deployable cash still available (and slowly growing through 401k contributions).
I still have limit sell orders on Occidental Petroleum, Helmerich & Payne and Clorox. I'd prefer to reduce my exposure to the oil & gas industry but I will wait until my price hits. Clorox in my mind is incredibly overvalued for it's growth prospects, so I have a price set that I am willing to take a nice profit on. I would have considered selling but as noted I still have a large capital allocation so it wouldn't be a great move until my cash was low.
My weighted yield on cost dropped slightly from 3.27% to 3.25% this month. This being due to the new additions having a lower current yield but in theory having higher growth prospects because of low payout ratios.
Income by Sector
Here's how my income by sector looks: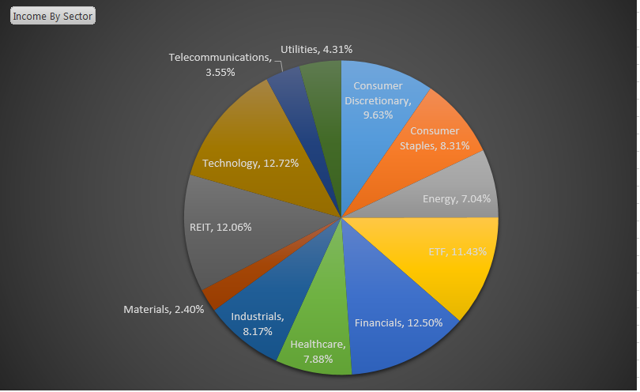 Click to enlarge
I have no immediate concerns with my allocations across sectors. Each sector is represented to some degree and nothing stands out as a problem.
In general the allocations will all meander within a certain range, it will make sense to focus one area depending on what the broader market has been doing.
During the course of this year it made sense to add a lot of healthcare and REIT income as they generally were available at more favorable prices.
This past month saw a little more healthcare and financials being added.
I don't have a specific cap as of yet on what income can come from each sector but just to put a number out there 20% seems like a decent value. I personally will be favoring tech, healthcare and consumer stocks more so than sectors like materials or energy.
Champion, Contender, Challenger View
The "CCC" view is essentially unchanged this month. The vast majority of the income is coming from companies with long track records of successfully growing their dividends. Gilead and BHP Billiton are my two "none" records. Gilead will join Contenders in a few years while BHP is now content with paying a dividend that corresponds to a fixed % of earnings. I understand that angle and support them with that, no need to risk the business by returning too much cash to shareholders.
This is another vastly important set of information to keep track of. Buying companies with a success record of increasing dividends typically denotes a moat, pricing power and responsible management.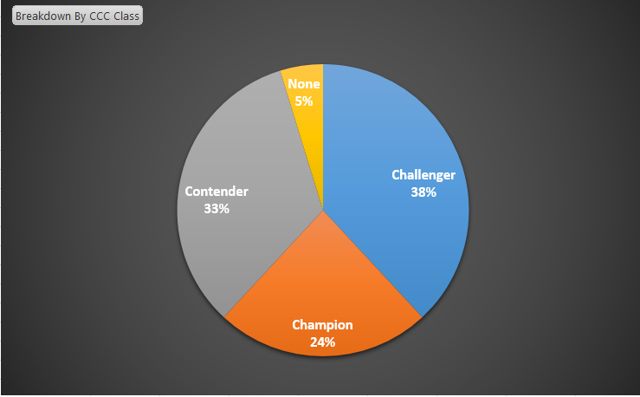 Click to enlarge
The Portfolio
The portfolio now contains the following companies: AFLAC(NYSE:AFL), Altria (NYSE:MO), Apple(NASDAQ:AAPL), Amgen(NASDAQ:AMGN), Anthem (NYSE:ANTM), AT&T (NYSE:T), BHP Billiton(NYSE:BBL), Cardinal Health(NYSE:CAH), Cisco Systems (NASDAQ:CSCO), Clorox(NYSE:CLX), Corning (NYSE:GLW), Cummins(NYSE:CMI), Diageo (NYSE:DEO), Disney (NYSE:DIS), Duke Energy (NYSE:DUK), General Dynamics (NYSE:GD), Gilead Sciences (NASDAQ:GILD), Helmerich & Payne (NYSE:HP), Home Depot (NYSE:HD), Horace Mann Educators (NYSE:HMN), International Business Machines(NYSE:IBM), Johnson & Johnson(NYSE:JNJ), JPMorgan Chase , Microsoft (NASDAQ:MSFT), Nike (NYSE:NKE), Occidental Petroleum (NYSE:OXY), Oracle Corporation (NASDAQ:ORCL), Omega Healthcare Investors (NYSE:OHI), Prudential (NYSE:PRU), Realty Income (NYSE:O), Schwab U.S. Dividend Equity ETF (NYSEARCA:SCHD), STAG Industrial (NYSE:STAG), Stanley Black & Decker (NYSE:SWK), Starbucks (NASDAQ:SBUX), Target (NYSE:TGT), Travelers Companies(NYSE:TRV), Under Armour (NYSE:UA), Union Pacific(NYSE:UNP), United Technologies Corporation(NYSE:UTX), Ventas Inc. (NYSE:VTR), W.W. Grainger(NYSE:GWW), Wal-Mart (NYSE:WMT), WEC Energy Group (NYSE:WEC) and Wells Fargo (NYSE:WFC).
To Do And Conclusion
As always, it's time to continue focusing on value and finding good stock opportunities that have a track record of dividend success. I like following Finviz's screener looking for companies near the bottom of their yearly trading range. Only a few companies at this point show up using that. Here's an example set of metrics I use.
I now have 43 holdings in my main dividend growth portfolio. I would prefer to add to my existing holdings but won't hesitate to add a winner as a new holding when presented with the right opportunity.
So my homework will continue to be "keep doing what you're doing", add to my existing holdings and buy quality undervalued companies.
As always, please provide feedback, suggestions, and most importantly - did I pass my exam?
Disclosure: I am/we are long ALL STOCKS MENTIONED.
I wrote this article myself, and it expresses my own opinions. I am not receiving compensation for it (other than from Seeking Alpha). I have no business relationship with any company whose stock is mentioned in this article.