Shipping business
Air Transport Services Group, Inc. (NASDAQ:ATSG), according to its annual report, "provides aircraft leasing, airline operations, aircraft maintenance and other support services to the air cargo transportation and package delivery industries."
The largest customers of the company include DHL and the U.S. Military (46 and 16 percent of 2015 consolidated revenues, respectively). The company has had long-term contracts with DHL since August 2003.
The company's business is divided into three major segments:
Aircraft Leasing: through Cargo Aircraft Management, Inc. ("CAM"), the company leases aircraft to its own airlines and external customers (including DHL), usually under multi-year contracts with a schedule of fixed monthly payments.
ACMI Services: the company supplies a combination of aircraft, crews, maintenance and insurance services through its 2 wholly-owned airlines, ABX Air, Inc., and Air Transport International, Inc.
Support Services - the company's subsidiaries provide scheduled aircraft and line maintenance, crew training and other transportation- related solutions to delivery companies and freight forwarders.
The Amazon deal
As stated in the Q1 2016 report:
In September 2015, the Company began to operate a trial air network for Amazon Fulfillment Services, Inc. ("AFS"). The network grew to 5 freighter aircraft through Q1 2016 and includes services for cargo handling and logistical support. On March 8, 2016, the Company entered into an Air Transportation Services Agreement ("ATSA") with AFS pursuant to which CAM will lease 20 Boeing 767 freighter aircraft to AFS, including 12 Boeing 767-200 freighter aircraft for a term of 5 years and 8 Boeing 767-300 freighter aircraft for a term of 7 years. The ATSA (term of 5 years) also provides for the operation of those aircraft by the Company's airline subsidiaries, and the performance of hub and gateway services by the Company's subsidiary LGSTX. CAM owns all of the Boeing 767-200 freighter aircraft and either owns or has entered into commitments to purchase all of the Boeing 767-300 freighter aircraft that will be leased and operated under the ATSA. The ATSA became effective on April 1, 2016. Revenues from continuing operations performed for AFS comprised approximately 19% of the company's consolidated revenues from continuing operations for the three month period ending March 31, 2016.
Warrant agreement
The terms of the agreement are as follows, per the latest 10-Q:
The Investment Agreement calls for the Company to issue warrants in 3 tranches, which will grant Amazon the right to acquire up to 19.9% of the Company's outstanding common shares, with the warrant exercise price totaling $9.73 per share.
On a less positive note, the agreement is going to result in significant share dilution over the next 3 years. In order to target this issue, the company has launched a $50 million buyback program ($10.3 and $3.1 million spent in 2015 and Q1 2016, respectively), which, however, is not enough to compensate the shareholders.
As of today, Amazon's stake in ATSG accounts for approximately 10 percent.
ATSG is not the only one
Another company that has scored a similar contract agreement with Amazon is Atlas Air Worldwide Holdings (NASDAQ:AAWW). The company is going to operate 20 B767-300 converted freighters for AFS on a CMI (crew, maintenance and insurance) basis for 7 years. In addition, the company's Titan Aviation unit is going to provide Amazon with dry leasing services (just planes, no crew) for 10 years. Operations are expected to commence in the second half of 2016 and reach the full service point through 2018, according to the company's website. It has also agreed upon a similar warrant agreement with Amazon, allowing the latter to build a 20% stake over the period of 5 years.
In contrast with ATSG, Atlas has been unprofitable during the trailing twelve months (a y-o-y earnings decrease of 98% in Q1 2016) and is going to supply Amazon with a different plane list:
AAWW: 20x Boeing 767-300BCF with maximum revenue payload of 115620 lbs.) ATSG: 8x Boeing 767-300BCF + 12x Boeing 767-200SF with max. revenue payload of 84,734 lbs.)
It might be argued that higher flexibility offered by ATSG is a priority for Amazon, awarding the company a competitive advantage over Atlas. Should the profitability dynamics stay on the current course, Amazon might choose to expand the number of freighters operated by ATSG in the long term.
Despite spiking during the deal announcement day (+27%), performance of AAWW is negative year-to-date (-7.74%), which is in a stark contrast with ATSG stock's performance of +38.79%.
However…
Despite the seemingly bullish long-term prospects, there are a couple of factors to consider before investing in the stock at current point.
Issue 1: liquidity might become a problem
Liquidity might be called one of the company's weaker spots. Operating with a significant leverage (Debt/Equity totaled 1.79 in Q1 2016), the company needs to improve its financial position going forward. Current ratio has only averaged 1.02 over the period of 2010-2015.
The current portion of the company's long-term debt was entirely covered by its cash position as of the end of Q1 2016. Nonetheless, the estimated 2016 capital expenditures of $290 million (less $71.7 million spent during the 1st quarter) suggest the possibility of a further debt increase given the sluggish cash generation (net increase of $22.14 million in Q1 2016). The latter is expected to increase as a result of the company's business with Amazon (discussed further below).
Meanwhile, as of the end of 2015, underfunded liabilities related to pension and post-retirement healthcare plans totaled $110.2 million. On a more positive note, current portion accounted for just $1.97 million.
Issue 2: largest customer revenues are on a decline
The revenue stability associated with the long-term relationships with DHL and the U.S. Military might be substantially hit unless the current revenue dynamics reverse. As seen in the chart below, sluggish revenue dynamics (blue line; l-axis) have been accompanied by an overall slowdown of ATSG's business with its largest customers. Columns (r-axis) represent the total revenue portions related to particular clients of the company. Even though the yellow AFS column looks quite promising, it might get difficult for ATSG to keep up with its CAPEX targets if its top-line continues to suffer.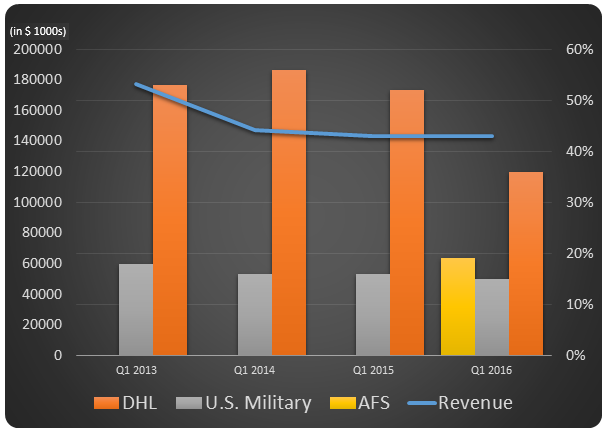 Source: Company's Filings.
Despite the significant operating metric improvement over the course of 2014-2015, first quarter's dynamics suggest the need of monitoring the company's operating performance going forward. The quarter was associated with a substantial y-o-y increase in costs associated with salaries (20%), maintenance and repairs (20.49%), fuel (54.3%) and contracted ground and aviation services (270%). Total costs have increased by 25 percent over the same period.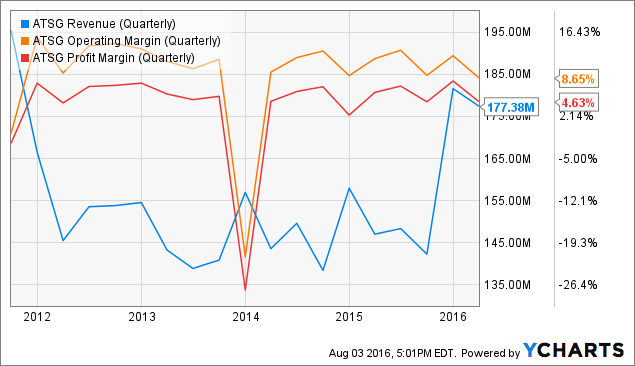 ATSG Revenue (Quarterly) data by YCharts
Trading near all-time highs
The stock has been in a strong uptrend since late 2012. However, despite experiencing strong appreciation in February-March 2016, it has been mostly trading sideways since early April. Currently, the stock does not seem too overbought and might experience further upside unless the market moves lower in the near-term (which is more than possible at this point).
Importantly, the stock has closed 16.65% higher on the Amazon deal announcement day (March 9, 2016) and is now 18.86% above the pre-announcement levels.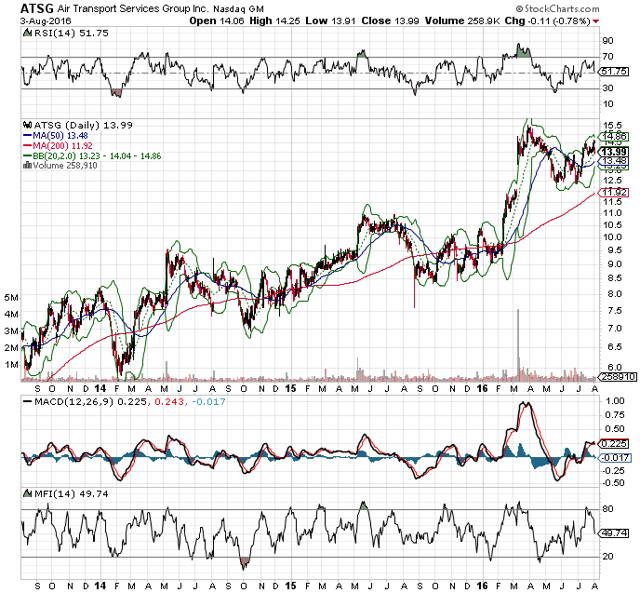 Valuation metrics, including Price-to-Earnings and Price-to-Tangible Book ratios, have been trending higher since the beginning of 2016 - a bullish sign. At the time being, the stock is valued at 22.6x earnings and 2.7x tangible book value per share.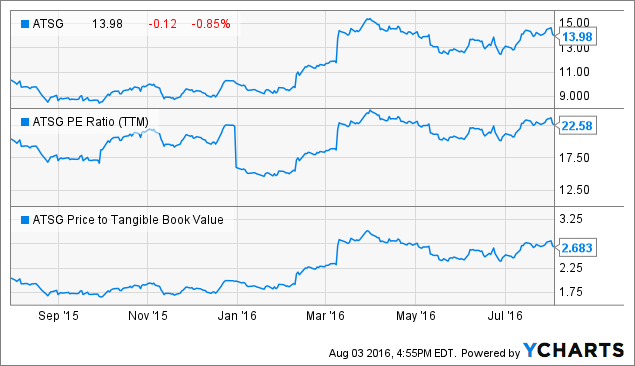 According to Bloomberg data, twitter sentiment has been predominantly positive for the stock year-to-date.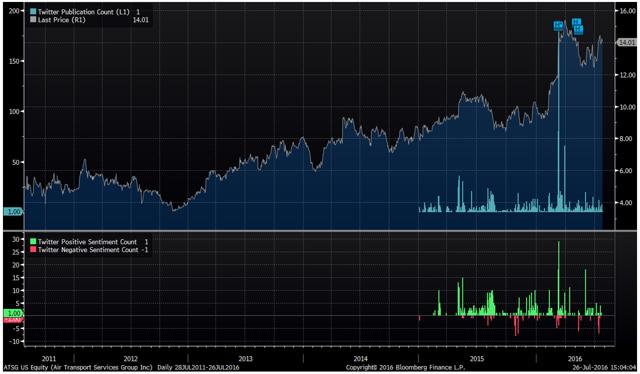 Source: Bloomberg
Conclusion
High long-term potential? Most probably. However, the above-mentioned risks suggest the reasons why one might consider putting this stock on a watchlist instead of buying near all-time highs. As the company is ramping up its business with Amazon, it might be wise to wait for a share price pullback and see if the company manages to improve its financials while coping with the DHL and U.S. Military revenue downturn. Even though the stock might continue to perform well in the nearest future, buying near the top might not be the best idea as the market seems to have already reached its top, too.
ATSG will release its Q2 2016 financial results on Monday, August 8, 2016, after the market close.
Disclosure: I/we have no positions in any stocks mentioned, and no plans to initiate any positions within the next 72 hours.
I wrote this article myself, and it expresses my own opinions. I am not receiving compensation for it (other than from Seeking Alpha). I have no business relationship with any company whose stock is mentioned in this article.
Additional disclosure: This is not an investment advice. I am not an investment advisor.