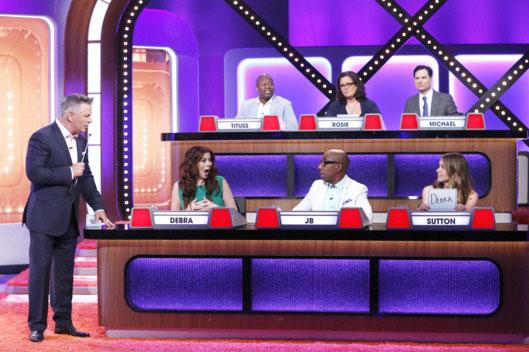 The summer has always unofficially been TV's off-season.
Yes, networks will tell you "there is no off-season," but there is one. Usually this is when cable picks up the slack and puts up their best numbers. Networks like TNT, FX, USA and HBO lead the charge and the major broadcasters tend to take a step back.
Recently that's begun to change. It started with NBC and then ABC (NYSE:DIS) joined in and finally a few years ago CBS made its mark. This year ABC's been the big surprise. While NBC as usual is dominating overall with its mega-hits America's Got Talent and American Ninja Warrior, ABC has come on stronger than ever and it is all because of nostalgia.
In year's past ABC has been all over the place during the summer with a mix of scripted and reality programming. With the exception of the long-running Canadian import Rookie Blue and to an extent Mistresses, nothing has really hit. So this year the network went back to the drawing board and decided to flip the script by focusing on alternative programming.
For the first time in a while, Mistresses and the one-and-done regular season hold-over Uncle Buck were the only scripted shows airing original episodes. The rest of the time ABC was focusing on reality, specifically game shows.
It was a bold move and it worked.
Following the success of Celebrity Family Feud last summer, ABC realized the potential of programming a full night centered on the genre. After all, nostalgia is BIG right now and what's more nostalgic than a classic game show?
The result was "Sunday Fun & Games," a three-hour block featuring Feud, The $100,000 Pyramid and Match Game. In addition the network added another game show reboot to Tuesday nights with To Tell The Truth. Combined, the four put up solid numbers.
In fact according to ABC, with more than 8.0 million total viewers, Feud is "Sunday's most watched broadcast series this summer and also ranks among the Top 5 most watched shows overall on the broadcast networks this summer."
The accolades continue with Pyramid, which again according to ABC is "the summer's No. 1 new show and leads its Sunday 9:00 p.m. time period in Total Viewers and Adults 18-49." Furthermore it is "ABC's most watched summertime program in the Sunday 9:00 p.m. hour in 15 years - since "[Who Wants To Be A] Millionaire" during the summer of 2001."
Yes, in some cases that is awfully specific, but a win's a win and for a network that usually didn't have anything to crow about during the summer it's a big victory. Both Match Game and To Tell The Truth also helped ABC set new records as well so it wasn't a shock when ABC announced this week, all four were renewed for next year.
The reveal came during ABC's turn at the annual summer meeting of the Television Critics Association (TCA), which as any analyst will tell you was a calculated move. For those unfamiliar with TCA, it is essentially two weeks of non-stop spin. Each day a different network tells a room full of critics why its network is the best and why its new shows are sure-things.
As you can imagine things can get dicey as these critics aren't pushovers and relish the thought of getting thirty minutes to grill network heads on whatever they want. So in cases where the networks have success, they will plug those metrics as often as possible.
Yet here this isn't just a made-up victory, ABC noticed an opportunity and seized it full force. Real thought went into these productions.
What ABC did well was finding a mix of past and present. For example, the cheesy Match Game schtick and use of a old-school "skinny" microphone were still (well-received) staples, while Truth updated a number of elements but kept the core concept intact. The network also took two of its top talents (Michael Strahan & Anthony Anderson) and utilized them as hosts to help increase their overall profiles.
There's also a diversity element in play as in a time where the networks are getting hammered for employing largely white leads, three of the hosts are African-American. Truthfully all three men have amazing charisma and were really just a great fit regardless of race, but still it's another talking point for ABC to use when needed.
It is also important to note that with the exception of HBO's critical darling The Night Of, the majority of this summer's rookie class hasn't really hit with audiences, so ABC also had the element of luck in their corner as well. Again though, there was more than luck involved here.
Speaking of time though, this success comes at a watershed moment for the network and parent company Disney. ABC recently axed its network head Paul Lee and installed its then head of drama Channing Dungey. The move came following another season where ABC finished last among the big three in the all-important 18-49 demo.
Dungey, who comes with a sparkling reputation, immediately put her mark on the schedule by doing some axing of her own. In her first few weeks on the job, Dungey pulled the plugs on a number of bubble series including long-running network staples Castle and Nashville. She then picked up a number of bold series for the fall to cement her commitment to winning back lost audiences by shaking up the status quo.
And during which shows do you think ABC most heavily promo'ed those new projects? See how it all comes full circle?
While ABC isn't the only network to use nostalgia to its advantage, in this case it was also one of the most unapologetic. Granted based on the results, you can't really blame them.
The question is can the network now convert on those viewers. For now, it's too early to tell but ABC will enter the fall in a better position than when it left it in May.
Image Credit: ABC
Disclosure: I/we have no positions in any stocks mentioned, and no plans to initiate any positions within the next 72 hours.
I wrote this article myself, and it expresses my own opinions. I am not receiving compensation for it (other than from Seeking Alpha). I have no business relationship with any company whose stock is mentioned in this article.