It was an acceptable quarter. Annaly Capital's (NYSE:NLY) Core EPS of $0.29 was right in line with analyst expectations. The market was rather indifferent as well. The stock closed pennies higher to $11.02 on Thursday. In my pre-earnings analysis, I mentioned that investors should watch for leverage, cost decreases, and possible dividend guidance from company management. Let's see how those turned out.
Continuing the trend of increasing leverage, the liability-to-asset ratio increased very slightly from 0.849 to 0.851. This minute change wasn't significant by itself, but the company had already gone through multiple quarters of small increases.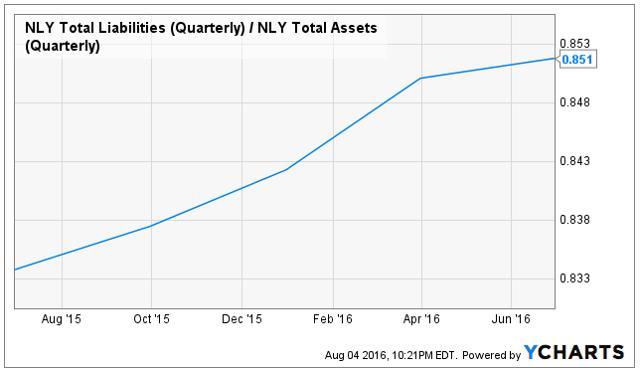 Click to enlarge
Higher leverage equates to higher risk. But on the conference call, management did explicitly state that they will not actively increase leverage, so this should give investors some comfort.
Similar to American Capital Agency's (NASDAQ:AGNC) performance in Q2, Annaly Capital also experienced a nice boost from lower cost of funds, which decreased from 1.73% in Q1 to 1.68%. Coupled with a much lower premium amortization adjustment cost (down from $168 million in Q1 to $86 million in Q2), the net interest spread widened from 0.36% to 0.80% quarter over quarter.
That's a whole lot of numbers, but at the end of the day, investors want only one thing from Annaly Capital: dividends. As usual, management did not say much about future dividends. They didn't reassure investors that they will most definitely maintain the dividends - even though as, other authors have pointed out already, there could be a dividend cut in the future. Perhaps silence is a good thing, as we've learned from Kinder Morgan (NYSE:KMI) and ConocoPhillips (NYSE:COP). Talk is cheap; management's promises only lured in naïve investors, who were subsequently crushed.
From an income perspective, I also believe Annaly Capital's dividend will be cut eventually, unless something changes in the macro environment. Second-quarter core EPS of $0.29/share, which already included numerous non-GAAP adjustments, still falls short of the quarterly dividend of $0.30/share. As I've stated in previous articles, I believe there is no immediate danger to the dividend from a liquidity perspective. The company ended the quarter with $2.7 billion in cash, up from $2.4 billion in Q1, which would be more than enough to sustain ~$300 million of quarterly dividends for a couple of years.
From a capital allocation perspective, company management has halted share repurchases (they spent $103 million in Q1). This corresponds with the shrinking discount to book value.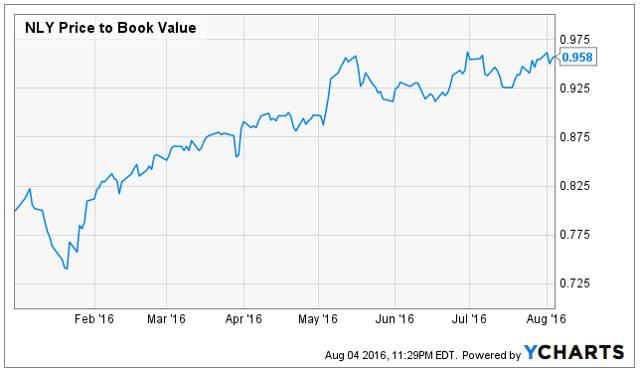 Click to enlarge
There is still some opportunity left, but the reward has shrunk.
I must admit, I did not foresee the discount shrinking so rapidly. In fact, I've called Annaly Capital a value trap before. Whether the market had a sudden change of heart about the company or this was this just a part of a sector-wide rally (see below) I cannot say; but I suppose this is where Annaly Capital should be trading (since book value is fair value), so the stock is in no way overvalued.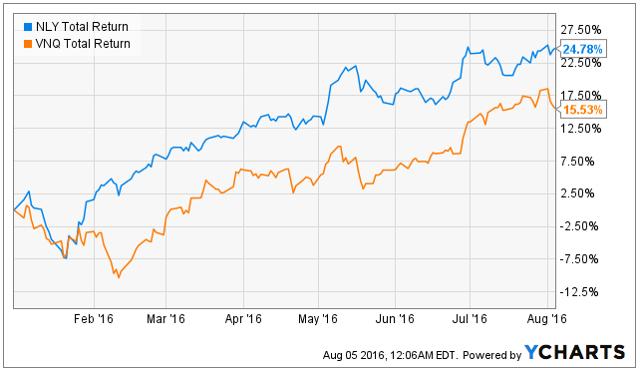 Click to enlarge
Takeaway
Overall, it was a satisfactory quarter. The market reaction was warranted, as there were no surprises. Although management did not give any guidance regarding dividends, I believe the payout should be safe in the near term. My macro outlook remains negative given the impending rate increase and a flattening yield curve. But things are always changing, and it'll be interesting to see where the company goes from here.
Click the "Follow" button beside my name on the top of the page to be updated with my latest insights. To learn more about the V20 Portfolio, whose goal is to compound capital at 20% over the long term, I encourage you to read the introduction to my investment process. Premium subscribers get full access to the V20 Portfolio.
Disclosure: I/we have no positions in any stocks mentioned, and no plans to initiate any positions within the next 72 hours.
I wrote this article myself, and it expresses my own opinions. I am not receiving compensation for it (other than from Seeking Alpha). I have no business relationship with any company whose stock is mentioned in this article.