Introduction
This article is my 26th installment in a segment called "Buy on the Drop?" where I choose a stock that recently experienced a large decrease in price and give a recommendation on whether investors should "Buy on the Drop" or not. This is a recurring segment, so if you enjoy the article, "Follow" me to see more. You can read about my previous installment discussing Ford (NYSE:F) here.
FireEye Gets Crushed
After the close Thursday, FireEye (NASDAQ:FEYE) kept its streak of horrible, no good, very bad earning reports going with a disappointing second quarter release. I wrote an article about FireEye, which got published 2 hours before the close, recommending that FEYE shareholders consider downside protection in the form of put options (or selling covered calls) to brace for what was likely to be a downward move after earnings. That article can be found here.
My disappointment in regards to FireEye was tempered in light of the put options I purchased, but nevertheless I find myself wondering why I'm holding on to the stock. After-hours trading certainly did not engender confidence: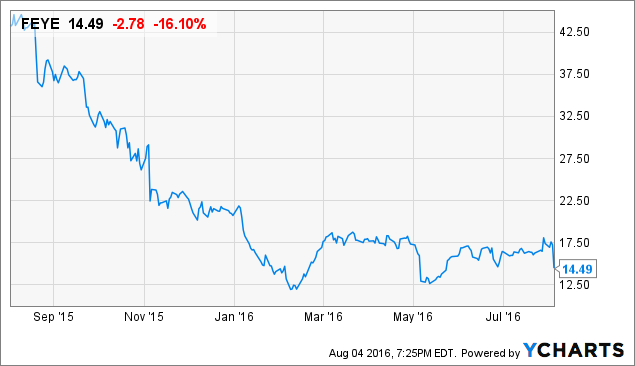 (The above chart also doesn't include the 3% loss FEYE suffered during Thursday's regular trading hours)
Assuming FEYE trades Friday similar to how its trading after-hours, we might see a 16% drop in share price. In my experience, after-hours trading usually lowballs losses, so I expect the drop come Friday to be worse. This is reminiscent of the post-Q1 drop we saw, which was caused by a one-two punch of bad results and CEO David DeWalt stepping down in favor of Kevin Mandia. So let's assess the damage shall we? I want to begin with the top line, which is perhaps the most disappointing portion of the report.
Revenue for the second quarter was $175 million up 19% year-over-year ("YoY"), but below Q1 guidance of $178 million to $185 million, which itself was lower than expectations going into Q1. Adding to concerns, billings of $196 million, up 10% YoY, were also below the lower bound of Q1 guidance. This continual downward revision of revenue is indicative of a company that is having trouble either predicting revenue growth or actually growing revenue. Frankly, it seems to me that the reason may be the latter, which worries me as a FEYE shareholder.
To make matters worse, full-year 2016 guidance was also revised downwards, and not slightly. This again added to the trend of ongoing guidance reduction. Here's a small table to show you what I mean:
| | | |
| --- | --- | --- |
| Quarter | FY2016 Revenue Guidance | Percentage Change |
| Q2 2016 | $716 million - $728 million | -9.1% |
| Q1 2016 | $780 million - $810 million | -4.2% |
| Q4 2015 | $815 million - $845 million | N/A |
(For Percentage Change, I used the midpoint of the guidance ranges)
FireEye has reduced its FY2016 revenue views by 13% in just two quarters. Q3 revenue is projected at $183 million, which would bring total revenue for the first three quarters of 2016 to $526 million, indicating Q4 revenues should be around $196 million in order to achieve the midpoint of FY guidance. Will FireEye be able to achieve even that lowly target? That will become clearer as we move forward, but based on the company's performance in 2016, I'm not so sure.
What we have seen in the past few quarters is that FireEye is making a concerted effort to pivot from a purely revenue growth model to a more fundamental business model. Management has taken steps to cut back operating expenses in an effort to get closer to profitability and positive cash flow. Whether this is because revenue growth has become too hard to generate or because management decided this was the optimal path forward, the ultimate goal is to reign in expenses and finally make some money.
It is with that introduction that I can get to some of the good news of the Q2 earnings report. As far as a path towards profitability and positive operating cash flow, FireEye actually made some encouraging steps towards that objective.
Non-GAAP operating margin in Q2 was negative 28%, which was 300 bps better than the upper bound (or lower bound, since the numbers are negative) of guidance issued in Q1. Q3 operating margin is expected to reach between negative 25% and 27%. The improvement in operating margin in Q2 likely led to the higher than expected operating cash flow (less negative, but you get the point) which was -$13.1 million. On the Q1 conference call, management said it expected Q2 operating cash flow to be worse than Q1's -$22.5 million, but the metric proved better than expected.
In further effort to achieve profitability, FireEye announced a restructuring that would reduce its workforce in an effort to cut operating expenses. You can go read the details if you'd like, but the interesting bit was that management stated it expects to achieve non-GAAP profitability in Q4 2017. Better late than never. I think this will be a useful benchmark for investors going forward, and I will be using it to gauge FireEye's progress.
While operating margin and operating cash flow were better than expected, the reduced top line outlook coupled with the restructuring have together caused operating cash flow targets for the year to go up in smoke. FireEye now expects to be about breakeven on cash flow in the second half of 2016, with about $15 million to $20 million in positive cash flow from operations projected in Q4 offsetting similarly negative cash flows in Q3.
This new guidance is down from the $70 million to $80 million of cash flow from operations expected in Q1 2016. Needless to say, but this is a disappointing and disheartening development. FEYE shareholders can at least take solace in the overall improvements in operating cash flow that will be evident going forward. This will likely lead to healthy figures in 2017.
What's the verdict here? While revenue growth is proving to be disappointing, FireEye has begun a major pivot in strategy towards becoming profitable and cash flow positive. There is still plenty of uncertainty, and therefore opportunity, in regards to FEYE, which is why I am tentative to recommend the stock as a straight Buy.
I think FireEye is in a bit of a limbo state right now with future growth prospects not looking very optimistic, but with the profitability strategy making good progress. For those investors with a high risk tolerance and some speculative money to throw around, FEYE has significant upside potential from current prices. However, investors who bought shares for the revenue growth might want to consider exiting stage left.
For the purpose of full disclosure, I will be looking to sell my put options during Friday trading hours for a healthy profit, and then I will probably wind down my FEYE position. I think the stock has a lot of potential, but there's too much uncertainty in regards to the top line for me to keep my capital invested indefinitely. Perhaps I'll revisit FireEye after we get more visibility into the future.
For those still holding out hope that FireEye will be bought out, I don't think those hopes are dead yet. A $30 per share buyout price is perhaps no longer on the table, but companies like Cisco (NASDAQ:CSCO) or IBM (NYSE:IBM) would still pay good money for a company like FireEye. Considering the slower-than-expected growth though, I don't know if the offers will come flooding in.
On the one hand, revenue growth is slowing and 2016 is shaping up to be year to forget for FireEye and its shareholders. On the other hand, operating margins and operating cash flow are showing signs of improving, and there's always the possibility of an acquisition. Both sides of this coin lead me to a middle ground where the stock has both significant upside and significant downside potential. In light of this, I rate FireEye a Speculative Buy on the drop.
If you want to stay up-to-date on my articles, you can Follow me by going to my author page or by clicking "Follow" at the top of this page.
Thanks for reading!
Disclosure: I am/we are long FEYE, FEYE PUT OPTIONS.
I wrote this article myself, and it expresses my own opinions. I am not receiving compensation for it (other than from Seeking Alpha). I have no business relationship with any company whose stock is mentioned in this article.