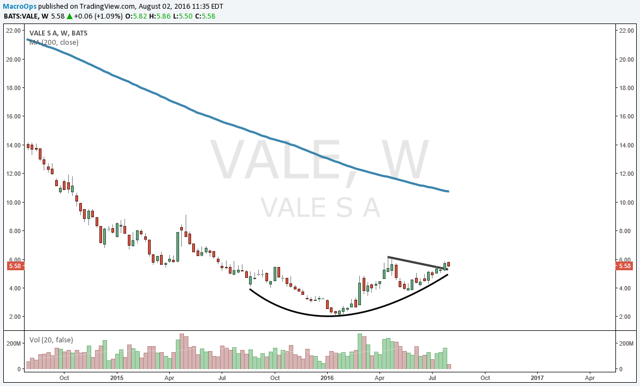 The commodity reflation theme has paid out well in 2016. Though we missed the gold and silver miners rally in the beginning of the year, we caught a great move in CLF (NYSE:CLF), an iron ore producer, earlier in July. VALE (NYSE:VALE) is another way to add to this theme.
Price has formed a nice rounded bottom and is just starting to break out from a 14-week wedge formation.
Vale is a Brazilian (NYSEARCA:EWZ) miner that makes most of its revenue selling iron ore to the Chinese. Ferrous minerals (iron) account for around 68% of the company's net operating revenue with 41% of that total revenue coming from China (NYSEARCA:FXI).
When it comes to equities we exclusively focus on key drivers. And the key drivers at play here are the price of iron ore and Chinese demand for it.
Iron ore, like all metals this year, has consistently surprised analysts to the upside. All the guys crunching numbers at Goldman (NYSE:GS) have been wrong about the commodity time and time again. (Not a surprise really.)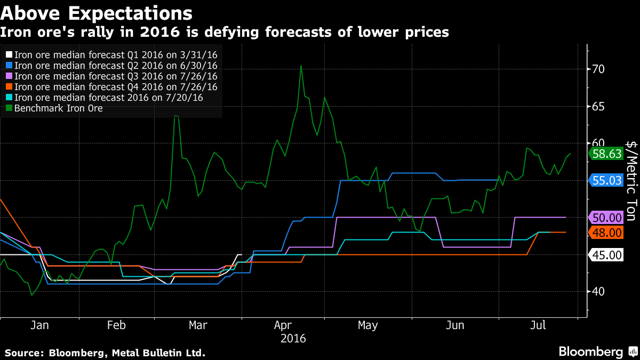 You've heard us frequently talk about China's incredible stimulus injections into the markets and its inflating effect on prices before. And from the looks of things, this doesn't seem like it will change anytime soon. Here's a comment right out of Bloomberg from a day ago:
"Iron ore has seen an interesting demand change over the past three months," said Evan Lucas, a markets strategist in Melbourne at IG Ltd., adding that demand for steel products is likely to remain high over the coming months. "The PMI data today suggests that China is yet to see any moderation in its infrastructure spending."
He's talking about the PMI data below. You can see the latest reading from July had a huge spike higher: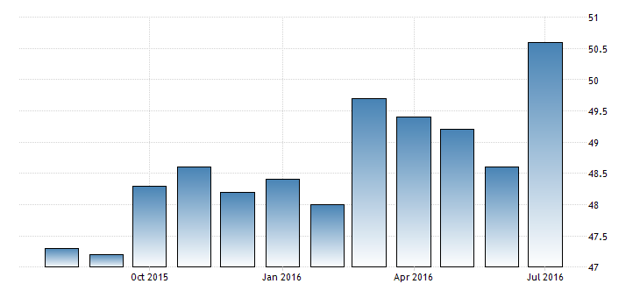 Chinese data keeps coming in strong and iron ore futures on the Dalian exchange have reached new highs for the year.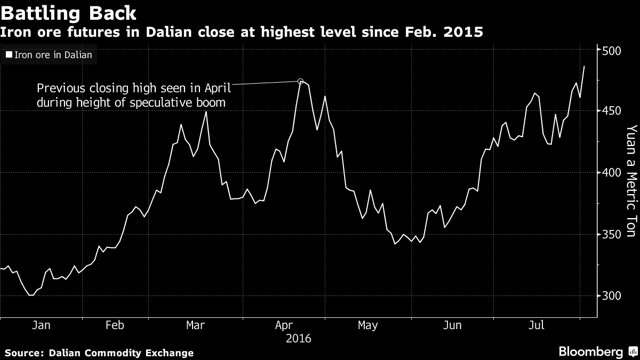 VALE is nothing more than a leveraged play on iron ore prices. Given the current backdrop of easy monetary policy from CBs around the world, and a consistent bid in metals, VALE looks like an attractive buy. But remember, the drivers at play here can quickly reverse, so be sure to keep a tight leash on your position.
Disclosure: I/we have no positions in any stocks mentioned, and no plans to initiate any positions within the next 72 hours.
I wrote this article myself, and it expresses my own opinions. I am not receiving compensation for it (other than from Seeking Alpha). I have no business relationship with any company whose stock is mentioned in this article.