Chimera Investment Corporation (NYSE:CIM) put together a fairly decent quarter, but the share price should be a huge concern. For the quarter, core earnings came in at $.51 per share. That covers the dividend of $.48 and may leave investors feeling pretty comfortable about the dividend. The TER (total economic return) for the quarter was also fairly solid. I'll be using economic book value figures (provided by management) rather than GAAP book value. The reason I'm relying on economic book value is because the mortgage REIT heavily depends on positions in consolidated trusts. The GAAP accounting for those trusts mixes fair value measurements with amortized cost measurements. Using economic book value leads to both assets and liabilities being measured at fair value rather than measuring assets at fair value and liabilities at amortized cost.
Economic book value increased from $14.46 last quarter to $14.65 at the end of the second quarter. The gain of $.19 combines with a dividend of $.48 to demonstrate a TER of $.67 on the quarter. As a percentage, that is a 4.63% TER.
Considering Prior Values
The economic book value at the start of the year was $14.65, which ties the current economic book value. Consequently, the TER for the first half of the year is simply equal to the dividends that were paid. Note that the dividend history includes a special dividend from a non-recurring event. It would be wise to exclude that from the values. The two regular dividends combine to $.96 and provide a 6.55% total economic return on the first half. Yes, the dividend is covered, but going from the end of December to the end of June represents a period in which investors became more optimistic. Since CIM is investing in very credit-sensitive debt instruments, investors should hope for the dividend to be more than covered during the favorable periods.
Fair Company Meets Insane Price
Shares closed today at $16.53. There is about a 12.8% premium to economic book value. This is incredible given that shares had precisely the same economic book value at the end of 2015, yet shares closed the year at $13.64. Think about that for a bit. According to management's best estimates of the fair values of assets and liabilities, their company is worth precisely the same amount. Yet investors bid up the share price by 21%, even after the fall seen following the earnings release.
There is nothing fundamentally wrong with Chimera Investment Corporation. They are a perfectly reasonable mortgage REIT. Their operating expenses are quite reasonable and they have a clear plan on how they intend to produce income, but a fair company doesn't justify an insane price. There are still some fair mortgage REITs trading at discounts materially larger than 10%, rather than premiums exceeding 12%.
Change in Strategy
The mortgage REIT modified their strategy by selling off some agency MBS assets and closing out interest rate swaps that were hedging those positions. That makes sense since they would need the capital to invest in their credit strategy. No big deal here, though it will require making adjustments to models for estimating book value. It is important for investors to recognize that this represents an even larger importance placed on the credit model. Consequently, the risk of decline in the value of assets during a retreat in broad equity values should be higher than in the past.
The asset allocation can be seen in the slide below, retrieved from the company presentation: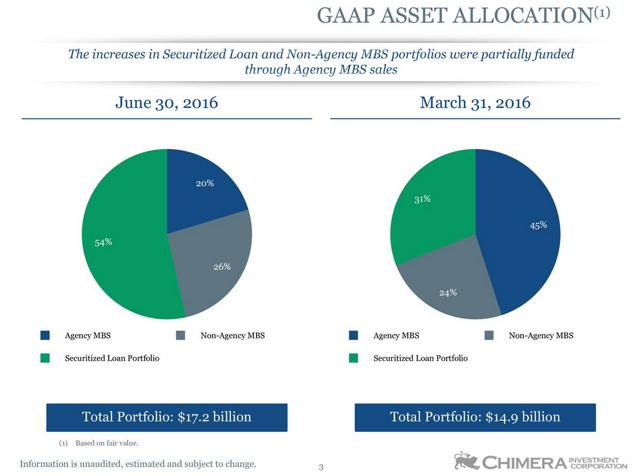 Click to enlarge
Conclusion
Chimera Investment Corporation put together a decent quarter, but their share price got punished anyway. Despite covering the dividend in core earnings and delivering a solid total economic return for the quarter, the mortgage REIT still fell short of expectations. The analyst forecast for Core EPS was $.53, which makes the $.51 look like a slight disappointment. This appears to be a case of expectations for CIM simply being too high. Those expectations are already baked into the share price, so I don't believe there is room for this to run much higher. On the other hand, there is plenty of room for decline if the equity markets start to dip lower.
I am reiterating my bearish rating. CIM's price is materially too high relative to economic book value when other mortgage REITs still trade at large discounts.
I expressed my bearish view on CIM prior to earnings through my quick and dirty discounts to book value for mortgage REITs.
Want to Know More About Mortgage REITs and Preferred Shares?
Since the Mortgage REIT Forum is a new exclusive research platform, the first 100 subscribers will be able to lock in their subscription rates at only $240/year. My investment ideas emphasize finding undervalued mortgage REITs, triple net lease REITs and preferred shares. With the market at relatively high levels, there is also significant work on finding which securities are overvalued to protect investors from losing a chunk of their portfolio.
Disclosure: I am/we are long ARR, MTGE, ZFC.
I wrote this article myself, and it expresses my own opinions. I am not receiving compensation for it (other than from Seeking Alpha). I have no business relationship with any company whose stock is mentioned in this article.
Additional disclosure: Information in this article represents the opinion of the analyst. All statements are represented as opinions, rather than facts, and should not be construed as advice to buy or sell a security. This article is prepared solely for publication on Seeking Alpha and any reproduction of it on other sites is unauthorized. Ratings of "outperform" and "underperform" reflect the analyst's estimation of a divergence between the market value for a security and the price that would be appropriate given the potential for risks and returns relative to other securities. The analyst does not know your particular objectives for returns or constraints upon investing. All investors are encouraged to do their own research before making any investment decision. Information is regularly obtained from Yahoo Finance, Google Finance, and SEC Database. If Yahoo, Google, or the SEC database contained faulty or old information it could be incorporated into my analysis.