By Parke Shall
Well for the longest time we have been saying that the whole point of Ford (NYSE:F) diversifying geographically is that so other regions of the globe can pick up the slack for regions that are underperforming. This is the beauty of global diversification and having an international footprint.
For those that have been reading us over the last year we have constantly commented in our articles that Ford's initiative to increase overseas operations and make a strong footprint for itself in countries like China, Mexico, and South America would pay off over the course of the long term.
This morning, we got results from China that blew our expectations out of the water for the month of July. Seeking Alpha reported the following results for Ford in China in July,
Ford announced it sold 88,189 vehicles in China during July through its joint ventures, up 15% Y/Y. The sales mark was a record for the month.
The Changan Ford JV sales rose 20% to 69,074 vehicles. Sales for the Jiangling Motor Corporation were up 6% to 17,748 vehicles.
Ford YTD China sales are up 6% to 652,836 vehicles.
As readers may recall, our last article on Ford was basically telling people that domestic sales figures from July were nothing to panic about. Yes, they were poor numbers, but it was only one month of data and we have yet to see Ford string along several months of poor data domestically. It is then that we said that we would worry about US sales. But we're hedged and we're watching overseas, too.
As our readers may also recall, we have stated in numerous articles that we are firm believers in Ford's commitment to invest in itself internationally instead of returning every last cent of its free cash to shareholders. Our argument has been that since the financial crisis ended, we were impressed with Ford trying to build a global footprint for itself.
We got evidence of this paying off in Ford's last quarter report when European sales beat out expectations. Here's what the international picture looked like from Ford's earnings report. As you can see, the company reported record second quarter pre-tax profit for Europe and saw "all second quarter metrics improved slightly".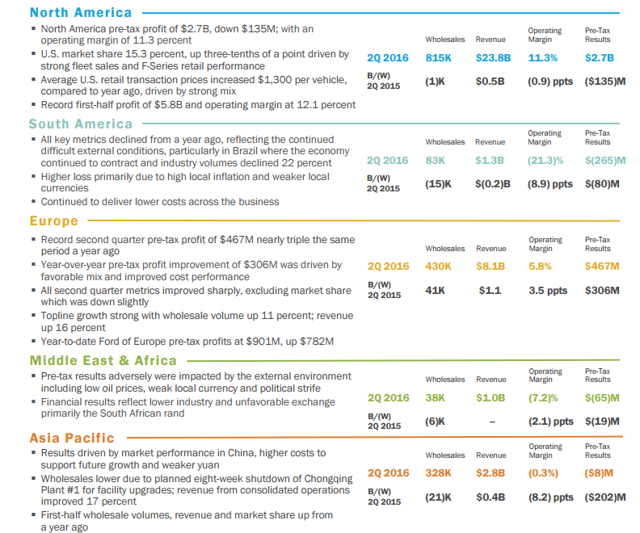 Click to enlarge
We think these recent China results should at least dampen the narrative that everything is terrible at Ford. Yes, the US is probably in a little bit of an auto bubble and we have talked about shorting CACC to hedge against that. Yes, incentive selling is at all-time highs as we are now eight years out past the last economic downturn. There is a lot of optimism and euphoria in the economic world. Central banks are doing everything they can to keep free money free. Conditions for a bubble are fertile.
But the average vehicle age remains at all time highs, over 11 years.
Make no doubt about it, we are not saying that we are in the beginning of an upswing here in the US. We know that the US is likely going to have some volatile results coming up.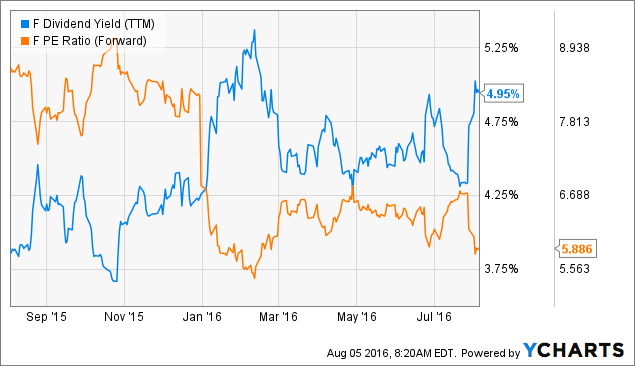 F Dividend Yield (TTM) data by YCharts
But again, with Ford's valuation and the company trading at around 6X earnings, we are banking on being able to capture the yield while staying hedged and having the company hopefully be able to ride out volatility due to its new footprint and other international locations.
We like Ford and remain long with a multiply year outlook.
Disclosure: I am/we are long F.
I wrote this article myself, and it expresses my own opinions. I am not receiving compensation for it (other than from Seeking Alpha). I have no business relationship with any company whose stock is mentioned in this article.