The buyback
HSBC (NYSE:HSBC) reported Q216 results. The numbers were weaker-than-expected, but HSBC surprised the market with a share buy-back of up to $2.5bn
Following the successful sale of the Brazil business, the Board has determined to carry out a share buy-back of up to $2.5bn to reduce its outstanding ordinary shares ('buy-back').

The Group has received regulatory approval from the Prudential Regulation Authority to commence the buy-back and intends that the repurchased shares will be held in treasury.

The Board intends to announce the commencement of the buy-back in due course. It is expected to be completed by the end of 2016.
Management also changed dividend policy from progressive to steady at $0.51 for "foreseeable future"
In the current uncertain environment we plan to sustain the annual dividend in respect of the year at its current level for the foreseeable future. Growing our dividend in the future depends on the overall profitability of the Group, delivering further release of the less efficiently deployed capital and meeting regulatory capital requirements in a timely manner.
However, the announced buyback should reassure investors of HSBC's ability to maintain the $0.51 dividend, corresponding to a 8% dividend yield, based on the current share price.
The fundamentals continue to deteriorate
As a reminder, revenue pressure remains the biggest headwind for HSBC. This is a far from unique position, with a negative revenue outlook a challenge for most global banks, given weak capital markets and a low interest rate environment. The key concern for investors is HSBC's exposure to Emerging Markets - the group generated 54% of its 2015 revenues from EM o.w. Asia 39%, Latin America 11% and MENA 4%.
Chinese sovereign CDS, a good indicator of Chinese credit stress, have somewhat stabilized since February 2016.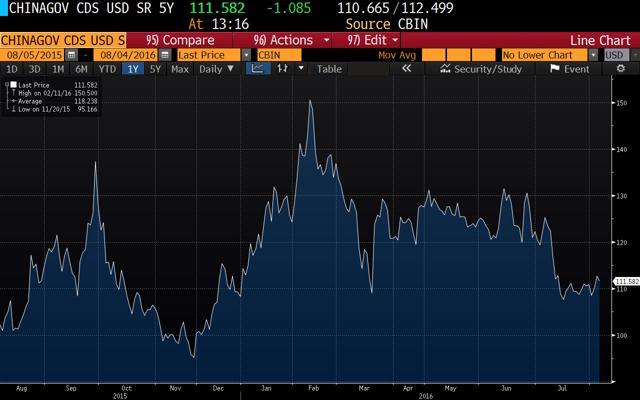 Click to enlarge
Source: Bloomberg
However, anecdotal evidence (delayed payments, rising NPLs, delayed bond issuance, widening corporate bond spreads, etc.) still suggest that Chinese credit risk is on a rising trend.
In addition, we think the Chinese Yuan devaluation is far from over.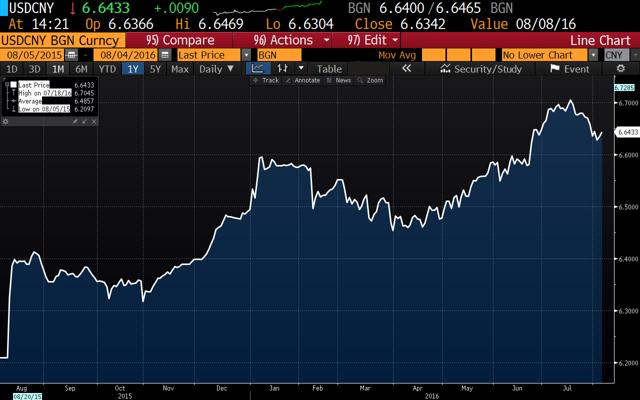 Click to enlarge
Source: Bloomberg
Although the People's Bank of China may insist that it has no intention to devalue the yuan, capital flows are putting significant downward pressure on the currency. Moreover, the Chinese Yuan is the most overvalued currency in EM - it is now 29% overvalued relative to its long-term average real effective exchange rate (REER) of 8.58.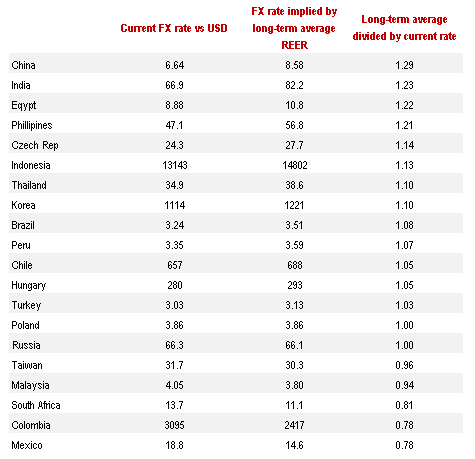 Source: Bloomberg, Renaissance Research
The 20-year average impairments rate for HSBC is 105 bps and even after excluding US which has had significant impairments due to Household Finance's sub-prime exposure, the average 20-year impairment rate is 73 bps. The current group impairments are running at just 39 bps; hence, investors should expect a normalization of impairment charges, which is definitely to pressure earnings.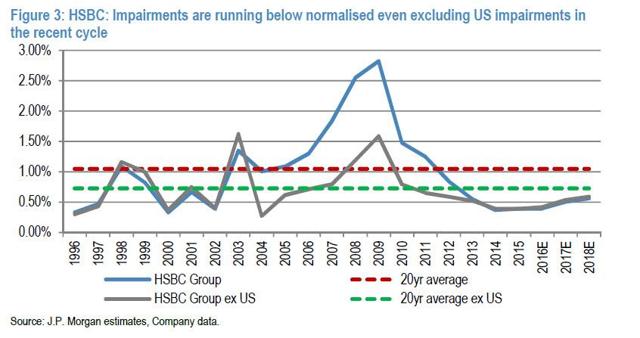 Click to enlarge
Source: JPM Research
Finally, a low interest rate environment is especially painful for a bank with a low loan/deposit ratio (LtD). HSBC's LtD printed at 69% in 2Q16, one of the lowest ratios among large-cap global banks.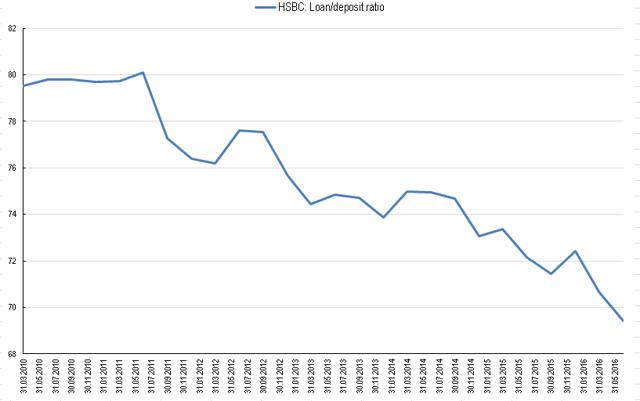 Click to enlarge
Source: Bloomberg
Strong capital position
HSBC reported a CET1 ratio of 12.1%, up from 11.9% at year-end and flat on 1Q. As a reminder, on 8 June, the Brazilian Administrative Council for Economic Defence approved Banco Bradesco's (NYSE: BBD) acquisition of the local unit of HSBC. The sale of the Brazilian business is not yet reflected in HSBC's CET1 ratio and would have pushed it up to 12.8%. The $2.5b share buyback would decrease the bank's CET1 by 20bps, bringing it to 12.6% - still a very solid CET1 ratio. HSBC reduced RWAs by $48bn in 1H16 and with further RWA cuts, we see HSBC's capital position as adequate and within its target 12-13% CET1 range by mid-2016, supporting the dividend.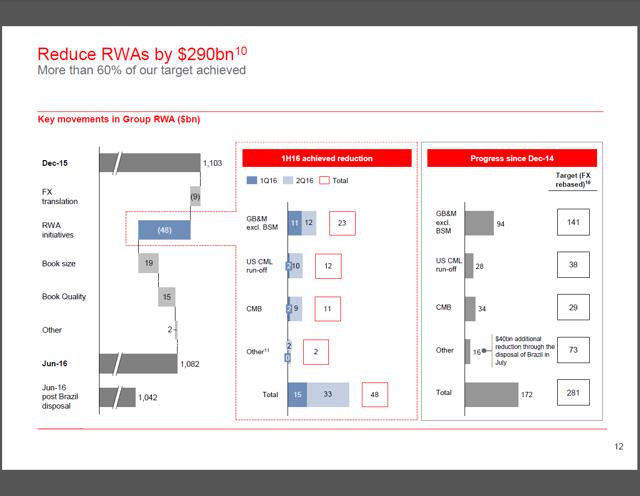 Click to enlarge
Source: Company data
Bottom line
HSBC's headline dividend payout ratio for 2016/2017 has already exceeded 100%, the fundamentals of business continue to deteriorate and a low interest rate environment is painful for a bank with a sub-70% loan/deposit ratio. Having said that, HSBC is switching from building capital to returning it and the announced buyback should reassure investors of HSBC's ability to maintain the $0.51 dividend. We believe a capital return of 10% should support the stock.
If you are interested in equity research on U.S., European, LatAm, and CEEMEA banks/financial companies, including fundamental analysis, DCF/multiples valuation, commentaries on price-sensitive events and actionable trading ideas, click the "Follow" button beside my name on the top of the page.
Disclosure: I/we have no positions in any stocks mentioned, and no plans to initiate any positions within the next 72 hours.
I wrote this article myself, and it expresses my own opinions. I am not receiving compensation for it (other than from Seeking Alpha). I have no business relationship with any company whose stock is mentioned in this article.