What if I told you that Back to the Future II was based on real events? What if I presented you with the once-in-a-lifetime opportunity to travel back in time to September 21, 1998, the day eBay (NASDAQ:EBAY) went public at a split-adjusted IPO price of $0.75? And what if you bought just $11,000 worth of shares that day. Well - including the 2015 spin-off of PayPal Holdings (NASDAQ:PYPL) in our time-traveling what if-scenario - investing only $11,000 in eBay 18 years ago would have made you a millionaire today.
Unfortunately for us, non-movie character investors, a time-traveling DeLorean has yet to be invented. But I do potentially have the next best thing in an emerging market company with a growth potential similar to eBay during its earlier years. That company is MercadoLibre (NASDAQ:MELI).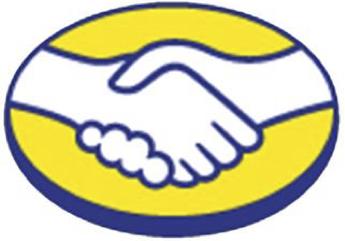 The Latin American Opportunity and Q2 Results
Latin America has one of the fastest-growing Internet populations in the world. It is in this region of approximately 605 million people - nearly double the U.S. population - that MercadoLibre operates in. MercadoLibre is the overall regional leader in e-commerce and the No. 1 e-commerce leader in each of the markets of Brazil, Mexico, Colombia, Argentina, Peru, Venezuela, Chile, Ecuador, Costa Rica and Uruguay.
After the bell on Thursday, MercadoLibre posted second-quarter earnings that continued the recent trend of thrilling the market. MercadoLibre post market-beating results in its MercadoLibre Marketplace e-commerce division and its high-growth, PayPal-like MercadoPago e-payment service division.
In the second quarter, overall company revenue increased 72.5% year over year in local currencies. The company's core MercadoLibre Marketplace saw its total number of items sold jumping 44.7% - the highest percentage increase since 2009. As a point of comparison, last quarter, eBay reported that its revenue grew by just 7% in local currencies. Breaking out MercadoPago specifically, that division saw total payment transactions soar to 76% year over year and total payment volume increasing to 101.6% in local currencies. PayPal last quarter reported that it saw total payment volume increase 29% in local currencies.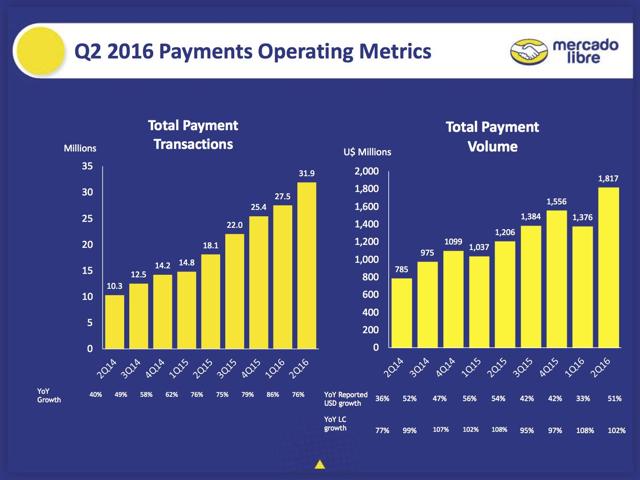 Click to enlarge
This second quarter growth that eBay and PayPal would envy is largely due to the strength of the Brazilian and Argentinean markets where items sold grew an astounding 56.6% and 46.4%, respectively. MercadoLibre also saw the successful launch of MercadoPago in Peru this quarter, bringing its burgeoning e-payment platform to now seven of the 16 markets it operates in.
Risks Abroad and At Home
As with any company, one risk is the entrance of new competitors. And one of the biggest risks in that area would be Amazon.com (NASDAQ:AMZN), which has very slowly been entering the Latin American region. Thus far, Amazon has been content to only offer an extremely limited selection of products in Latin America. In MercadoLibre's largest market of Brazil, for example, Amazon.com only sells Kindle devices, App Store apps and nothing else.
It is easy to understand why even Amazon.com is cautious about expansion into Brazil. The Brazilian market has historically been a hard nut to crack for multinational American companies looking to expand to the region. It is unclear if Amazon wants to truly compete with MercadoLibre at this point in time, but the risk of Amazon.com still looms large over MercadoLibre.
The risks to this company, however, are not limited to possible foreign competition. In recent years, various governments in the region have been a large concern for regional and foreign companies alike. A chief concern for all has been the deterioration in Venezuela - a long-lasting political, economic, and humanitarian crisis of that government's own creation. This situation has seen hyperinflation, government restrictions on foreign currency exchange, now even a mandatory labor regime (also known as slavery) to help restart that country's farm sector and feed its own starving people.
Bottom Line
Despite the one glaring negative that is Venezuela (and what a negative it has been and continues to be!), there is so much to love about MercadoLibre's results this quarter. It is my opinion that MercadoLibre's growth story has only just began. With over 600 million people living in MercadoLibre's Latin American footprint and so many who have yet to just have access to reliable Internet, I believe the company has a very long and profitable future for investors during the next five, 10, or even 20 years.
Disclosure: I/we have no positions in any stocks mentioned, and no plans to initiate any positions within the next 72 hours.
I wrote this article myself, and it expresses my own opinions. I am not receiving compensation for it (other than from Seeking Alpha). I have no business relationship with any company whose stock is mentioned in this article.