The non-farm payrolls number came out today at 255k versus expectations of 185k. The number was a strong number. It can mean one of two things: The market (NYSEARCA:SPY) is going higher, or there is a rate hike back on the table, which would be a huge market risk. For that reason we want to see what comes out from the Fed over the next few days and see how the market reacts.
Non Farm Payrolls Held Up
Here's the trend of non-farm payrolls.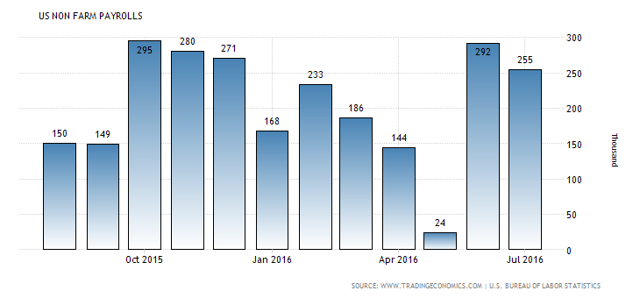 Click to enlarge
Above is the chart, and below you can see that July is faster than the last two quarters' average.
| | | | | |
| --- | --- | --- | --- | --- |
| | Q4 | Q1 | Q2 | Q3 |
| Month 1 | 271 | 186 | 292 | 255 |
| Month 2 | 280 | 233 | 24 | |
| Month 3 | 295 | 168 | 144 | |
| Average | 282 | 196 | 153 | |
After the last Fed meeting and Wall Street Journal article, we felt that the Fed shifted gears to more dovish. We think that was because the GDP number was weaker than expected.
Here's the GDP staying slow.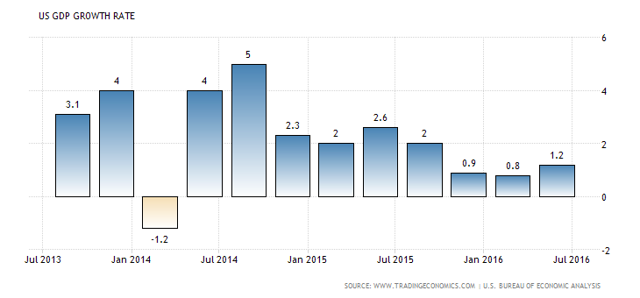 Click to enlarge
The GDP represents Q2 of 1.2%. Today's non-farm payrolls represents July and is of course the first month of Q3 so represents a different time period than the recent GDP report.
We Need To See How The Fed Responds To This Number.
The Atlanta Fed just upped their GDP target for Q3 to 3.7% up from their previous expectation of 3.6%. We think taking the jobs numbers today and their forecast for Q3 GDP, the Fed would think this number is a good number that can be used for forecasting. There likely are no one-timers in it.
We are guessing they could say a rate hike is back on the table.
The Wall Street Journal wrote that the Fed's "magic number in Friday's jobs report is 200,000."
That would tell us that a rate hike could be back on the table. If a rate hike is on the table then we'd guess that the market is capped with risk to the downside. The reason we say that is because the last rate hike crashed markets. We think a rate hike ahead of the elections is a material risk event for markets.
That said, we recently wrote that we thought a rate hike would be held until after the elections. We'll have to see how the Fed updates their recent dovish comments. If they become hawkish enough to raise rates ahead of elections, it's a market risk.
We need to see how the market responds to this number.
We're going to have to monitor what the market says and what the Fed says. We think the next couple of days of market interpretation will be key. If the market trades off against a solid number it will be a bearish sign. If the market can go up and have a good day today and tomorrow, we think we could have a follow through of upside thereafter.
We want to watch. Now that we have a clean good piece of data it's important to see how the market and Fed interpret it.
We would remind everyone that the last reaction to strong jobs numbers was a breakout to new market highs. If this report has weak follow through it could act as a market peak.
This market deserves watching to see what it wants to do. From there we will have a sense what to do.
Conclusion
We were surprised by a good non-farm payroll number today. It could imply a pickup in the economy. We are not sure if the Fed will put a rate hike back on the table. We are biased that they would not. That said, if they do it's a bearish story with material market risk.
If a rate hike is not on the table we want to watch markets over the next two days or so. If markets can continue up we'd take it as a sign for upside follow through to come.
Note: This article focuses on the medium term. Check out Your Trading Team to get Elazar Advisors, LLC's short term calls along with help handling the moves, risk and mind games of the market in the short, medium, and long term.
If you want Elazar's analysis on Seeking Alpha, scroll to the top of the article and hit "Follow." Elazar also writes real-time pieces as news is reported. If you want to be among the first updated check the box for "Real-time alerts on this author" under "Follow."
Disclaimer: All investments have many risks and can lose principal in the short and long term. This article is for information purposes only. By reading this you agree, understand and accept that you take upon yourself all responsibility for all of your investment decisions and to do your own work and hold Chaim Siegel, Elazar Advisors, LLC, bestideas, their related parties, and its authors harmless.
Disclosure: I/we have no positions in any stocks mentioned, and no plans to initiate any positions within the next 72 hours.
I wrote this article myself, and it expresses my own opinions. I am not receiving compensation for it (other than from Seeking Alpha). I have no business relationship with any company whose stock is mentioned in this article.