The impact of low interest rates on bank profitability
Banks, as is well known, make their money on the interest spread between deposits and loans. This looks like a relatively safe business to be in - borrow money at a lower interest rate and lend it out at a higher interest rate - until you factor in two complexities. One, banks usually have short-term liabilities (deposits) and longer-term assets (loans) resulting in a maturity transformation and secondly, a change in interest rates influences the borrower's behavior.
Usually, the short-term interest rates are controlled by the Central Banks and the longer-term rates are determined by market forces. However, the financial crisis in 2008 was unprecedented and so were the measures taken to contain it.
The Fed combined a Zero Interest Rate Policy with a massive Quantitative Easing program - in which a central bank buys longer dated treasuries, artificially increasing their demand, and therefore, their price, forcing yields down. The result - lower longer-term interest rates. A flattened yield curve is bad news for banks since borrowers scramble to refinance existing long-term loans at lower rates. This erodes the Net Interest Margin - a vital metric for profitability in a bank.
Click to enlarge
Greater focus on Fee-Income, Wealth Management increasingly a key business for most banks
In effect, reduced NIMs force banks to shore up Return-on-Equity (RoE) - a bank shareholder's prized metric - by investing in business segments that generate non-interest income or fee income. In fact, investors in banking stocks, generally do pick up industry inflection points such as these simply by latching onto management viewpoints and signals. Notice how, in late 2008, BOA's management gives its shareholders a firm signal, by stating "1Q09 expected to be negatively impacted as a result of asset repricing" and further, "given the low rate environment the balance sheet position has now moved to be asset sensitive"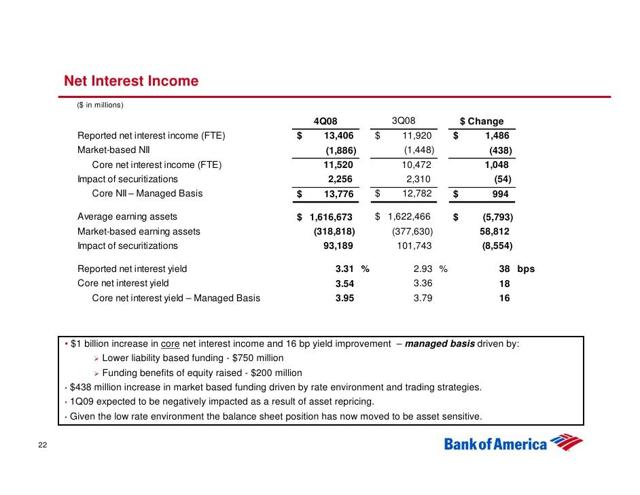 Click to enlarge
While a bank can earn fee income from multiple sources: annual fees on Debit and Credit Cards, account related fees and Locker rentals; the crown jewel for most banks, especially the retail focused ones, in the prevailing 'low-for-long' interest rate environment is Wealth Management.
Apart from bringing in fees from affluent clients who receive personalized attention with investments, Wealth Management units also give banks an opportunity to acquire new clients and deepen existing relationships with small-business owners who may have loans and lines of credit with the bank but might not yet have signed up for the personal finance proposition.
The 'low-for-long' interest rate environment has not just impacted banks, equally adverse has been its impact on savers. With real interest rates on deposits close to zero, affluent Financial Market Participants are seeking out Financial Advisory, Private Banking, Asset Management and Wealth Management solutions in their quest for better returns. When viewed as a scalable, broad-based opportunity, Wealth Management, in particular, looks like an extremely lucrative source of fee income for full-service banks.
With a profusion of millionaires, especially in emerging markets like India and China, the Wealth Management industry is set to grow at a scorching pace.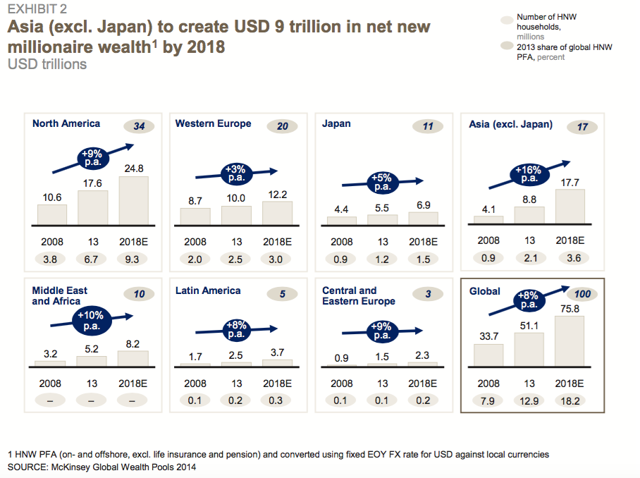 Click to enlarge
SEI - A niche player in the WM technology space
As a leading global provider of asset management, investment processing, and investment operations solutions for institutional and personal wealth management, SEI (SEIC) couldn't have had it better.
Founded as Simulated Environments Inc. in 1968 by its current Chairman and CEO, Al West, SEIs first solution was a computer-simulated training technology that it developed for loan officers. Since then, SEI has continued to develop an innovative suite of products and services that have directly addressed evolving client requirements in the Wealth and Investment Management space. The company counts Performance Dashboards, Goals-based investing, Turnkey Asset Management Program and the SEI Wealth Platform, among its many successes.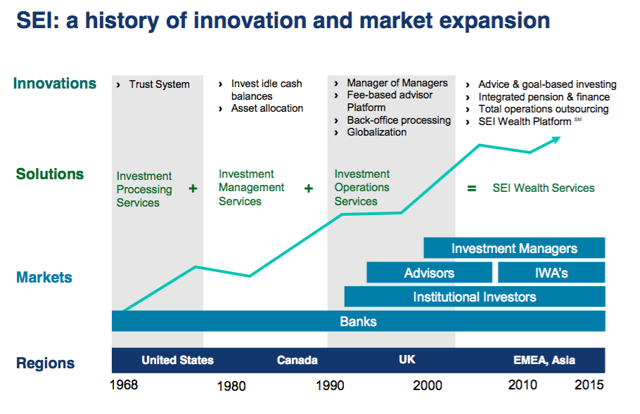 Click to enlarge
Not just banks, SEI's target segment includes IWA's, Boutique Private Banks and Platform Providers as well
Wealth Management is usually run under one of three types of business models:
1. Universal Banks
2. Platform Providers and,
3. Private Banks and Brokerages
Universal Banks, especially European Banks, have traditionally followed a singular approach - increasing Relationship Manager headcounts - to address declining front line productivity in their Wealth Management teams. Technology initiatives have mostly been a 'bells-and-whistles' approach; by adding 'patches' onto core systems (As a wealth management professional with nine years in the industry, I concede that most full-service banks run their WM operations with a disparate bunch of systems that are from the stone age).
Rarely have full-service banks (and a large number of incumbent IRAs) shown intent to overhaul archaic legacy systems, invest in 'full-service' technology (to integrate their front-middle-back office functions) and use that cutting-edge technology as a force-multiplier.
The lack of intent has helped though. This distasteful combination - of unwieldy back-office functions, manual procedures (For instance, the task of reconciling client statements with the records of the custodian is a hugely time-consuming task, done manually at most Financial Institutions) and unresponsive Relationship Managers (who, swamped with mundane tasks have little time left for client relationship management) - has adversely impacted client experience and created a strong demand among IRAs for 'full-service platforms'.
The SEI proposition, a unified approach, which combines Asset and Investment Management, Client Administration, Back-Office processing and built specifically for Wealth Management, is well placed to tackle the full spectrum of demand in the WM operations space, and can serve a target segment ranging from large universal banks to small-sized independent financial advisors.
SEI serves two related markets through 5 business units offering differentiated solutions.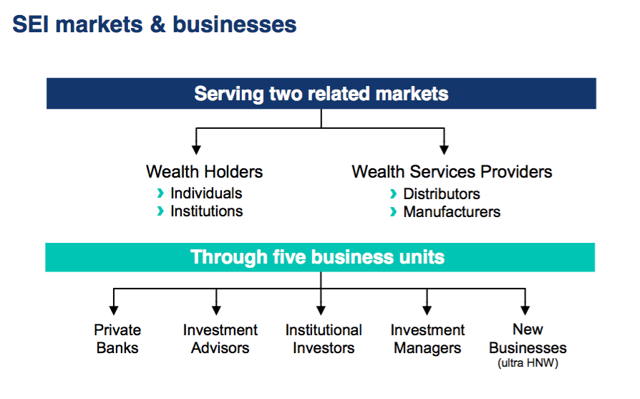 Click to enlarge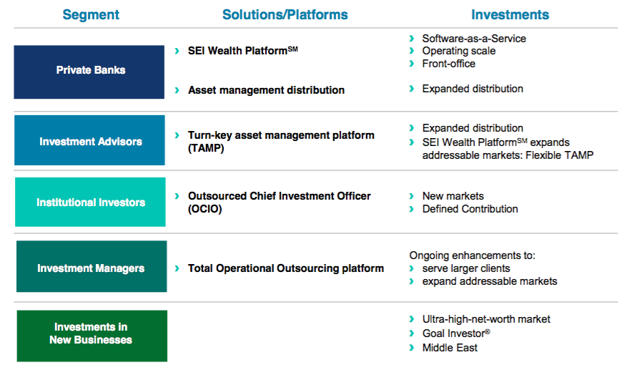 Click to enlarge
While SEI, with a strong track-record of profitability, growth and as an industry heavyweight, is uniquely placed to tap the explosion in demand for 'full-service' WM platforms; discerning readers might also like to evaluate Envestnet (ENV) and Adhesion as potential beneficiaries of this imminent disruption in the WM industry.

Click to enlarge
SEI continues to invest in new technologies and has committed to plough back 8-10% of revenues in new technologies and services like SEI Wealth Platform, Total Operations Outsourcing, Asset Management Distribution, New Investment Solutions and Defined Contribution build-out. SEI identifies, as key external trends: the need to replace legacy systems, acceptance of outsourcing, increasing popularity of hedge funds, spread of social media, mobile and cloud, and the demise of formal retirements.
Conclusion
Considering its impressive track-record spanning multiple decades, industry watchers could well expect SEI to successfully build on from here and latch onto the opportunities presented by the:
1. Impending transfer of wealth from the baby-boomers to the digitally-savvy millennials
2. Arrival of bionic advisors
3. Potential of the distributed ledger framework
4. Rise in popularity of passive trading concepts, like algorithm trading, and ETFs
5. Revival in Alternative Investments
As banks deal with a 'low-for-long' interest rate environment and increased capital requirements by raising technology-related spends to boost long-run profitability, established financial technology service providers will come into play.
SEI's is a classic case of the market itself moving into a service provider's cross hairs.
Disclosure: I/we have no positions in any stocks mentioned, and no plans to initiate any positions within the next 72 hours.
I wrote this article myself, and it expresses my own opinions. I am not receiving compensation for it (other than from Seeking Alpha). I have no business relationship with any company whose stock is mentioned in this article.