Daimler (OTCPK:DDAIY) (OTCPK:DDAIF) remains on a growth track: Deliveries, revenues, as well as earnings keep increasing, and the current year will likely be the best Daimler has ever had if things stay as they are. Daimler nevertheless continues to trade at a rather low valuation.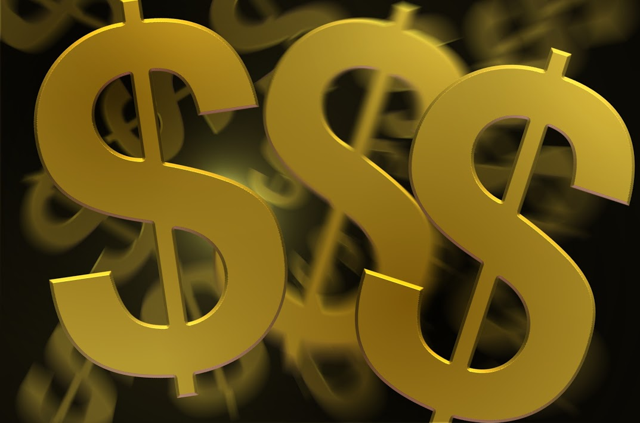 Click to enlarge
Daimler recently has announced its second-quarter results, which saw very compelling growth figures:

Click to enlarge
This year's second quarter saw total vehicle sales of 761,000, a number that's 7% higher than the prior year's vehicle sales. This was mainly based on a nine percent increase in the number of Mercedes-Benz branded cars the company has delivered (547,000 in Q2). This has not only been the best second quarter in the company's history, but the best quarter the company has ever recorded, which is very encouraging for investors. If the second quarter has been the best ever, it is likely that the next quarters will be pretty good as well, since the trajectory is pointing upwards right now.
Revenues in the second quarter grew slightly (up 3% yoy) to $43 billion, adjusted EBIT grew five percent (to $4.4 billion) and net income grew 4%. Daimler's earnings per share grew 7% to $2.52, which means annualized earnings per share of slightly above $10.0.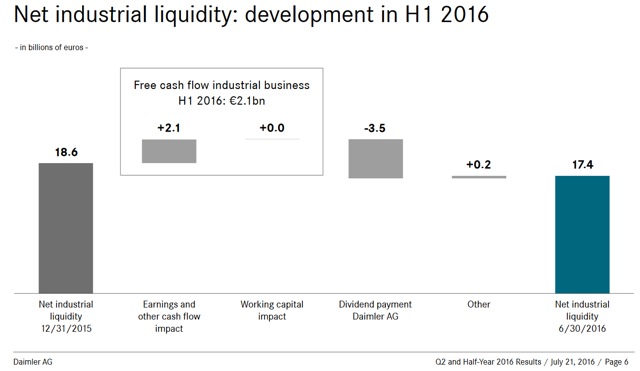 Click to enlarge
Daimler's balance sheet remains very healthy as well. The company's net industrial liquidity was $19.3 billion at the end of the second quarter. The fact that dividend payments were higher than free cash flows ($3.8 billion and $2.3 billion, respectively) should not discourage investors, as Daimler makes just one dividend payment a year (as do most European companies). When we annualize the free cash flows of the first half of 2016, we get to $4.6 billion, and we see that the dividend is very well covered by earnings as well as cash flows. Daimler's liquidity will build up over the next two quarters (The company does not make any more dividend payments in 2016) until the next dividend payment is announced next spring.
The only unit that saw lower revenues in the most recent quarter was Daimler's truck business, where revenues dropped 8% to $9.6 billion - this could be expected since the market for trucks is pretty bad globally, especially for class 6-8 trucks.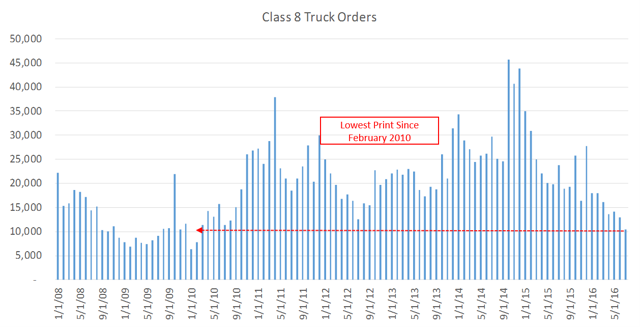 Click to enlarge
The number of orders for class 8 trucks in the US has hit a six-year low in the last month, and as you can see, the last quarters were not pretty for truck producers. The fact that Daimler's truck revenues dropped by only eight percent despite this huge downturn should be seen as a positive: Relative to the whole truck manufacturing industry, Daimler's truck business is holding up very well. Once the market for trucks gets better again, investors can count on significant improvements for Daimler's truck business.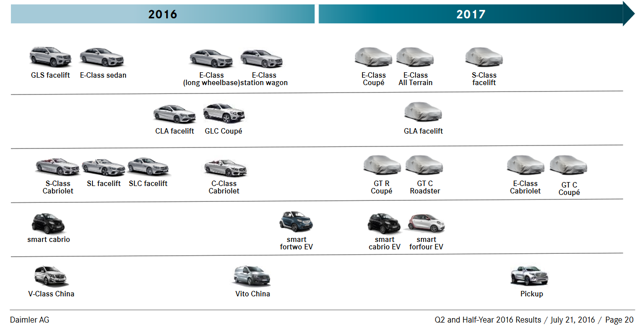 Click to enlarge
Daimler's car business (the main contributor to revenues as well as the main source for growth over the last years) has a bright future. Mercedes-Benz will continue to roll out new models through the rest of 2016 as well as in 2017, among them several new E-Class models and the face-lifted version of the S-Class (which is the best selling luxury limousine in the world). These rather high-priced models (which also come with higher margins than smaller models) will allow for ample revenue growth in addition to continuing volume growth. The pickup that will be released next year could become another growth driver as well since pickups see high demand in markets such as the US - advancing into this market (Daimler currently does not sell any pickup models) could turn out to be very beneficial for the company.
Daimler was not only able to grow during the first half of 2016, but also the July numbers are looking good as well: US sales of Mercedes-Benz cars grew by more than 7% in July, which is substantially more than the company's US sales growth in the first six months of 2016 (0.5%). With growth picking up in markets that were growing at a slow pace, Daimler will likely see very strong Q3 delivery numbers as well, and record deliveries number for the current year can (almost) be expected.
Daimler has the potential to earn about $10.0 per share at the current pace (excluding further growth in revenues and earnings), and yet the company's shares trade at just $65, which equals a PE ratio of 6.5. As an automobile manufacturer, Daimler will never trade at the broad market's valuation of more than 20 times GAAP earnings, but the current valuation looks very low. With an annual dividend of €3.25, which amounts to $3.61, the company provides a dividend yield of 5.6% at the current price. I believe this is a very compelling income yield, especially in today's low interest rate environment where even 30-year Treasuries yield just 2.3%.
Takeaway
All in all, we can summarize that Daimler continues to grow, its outlook is good, its valuation is low, the dividend yield is high and the current year will likely be the best year the company has ever had in terms of deliveries, revenues and earnings. For those not shy of buying an automobile company, Daimler looks compelling.
Author's note: If you enjoyed this article and would like to read more from me, you can hit the follow button at the top of the page, right next to my name and icon, to get informed about new articles.
Disclosure: I/we have no positions in any stocks mentioned, and no plans to initiate any positions within the next 72 hours.
I wrote this article myself, and it expresses my own opinions. I am not receiving compensation for it (other than from Seeking Alpha). I have no business relationship with any company whose stock is mentioned in this article.
Editor's Note: This article discusses one or more securities that do not trade on a major U.S. exchange. Please be aware of the risks associated with these stocks.